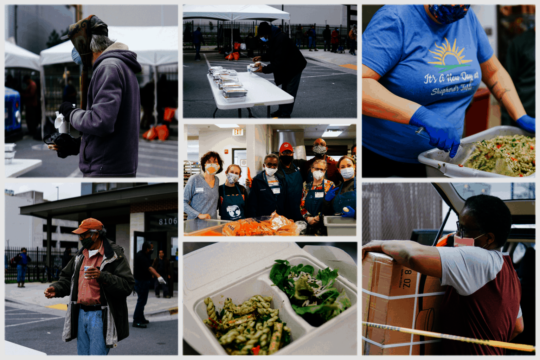 In response to the challenging times we are living in, Shepherd's Table is committed to remain open, while taking extra precautions to minimize virus transmission. As we have done for 36+ years, we have remained open every single day, to provide basic services like meals, mail, prescription medicine, toiletires and more. While our clothes closet and eye clinic have closed temporarily, we continue to serve hot meals in "to-go" boxes twice a day and provide services in our Resource Center. Our meal services are greatly appreciated, as meal guests express their gratitude every day.
Having transitioned to the to go meals handed out just outside our building on March 16th, we have continued to adapt the process to make it safer for staff, clients, volunteers and donors that have provided in-kind suport to supplement our meals. We rented tents to provide shelter when it rains, solicited in-kind donations of sandwiches and desserts (home made cookies, brownies, and other treats) that supplement the balanced and nutritious meals we serve. Our staff has doubled down on their dedication to serve, and luckily, we are all safe and healthy.
We still get the support of a few volunteers per meal service, to serve an average of 350 meals per day, and are so grateful for the community support that enables us to continue serving. Our County has seen a continual rise in cases, and with our proximity to DC, Coronavirus transmission is still a concern for everyone. Our goal is support our most vulnerable populations, many of whom don't have homes, families to care for them, or jobs to provide income. We will continue to remain open as the number of people in need increase. We are a grassroots community-based organization, and will do what we can to support everyone that seeks our assistance.
We have risen to meet the need of communities around us that cannot come pick up meals, such as seniors who can't leave their house, and a neighborhood in DC that was in dire need of meals. We packaged meals every day, that are delivered to them, and are grateful to be of service to everyone that is hungry or food insecure.
Everyday, since we pivoted our programs in response to COVID-19, we are reminded of our commitment as an organization: Together Meteing Needs, Changing Lives.
We cannot do this alone- THANK YOU for your support, whether you give monthly, occassionally, or one-time. It is all appreciated!
Stay safe, and take care of yourselves, especially as the Country starts to re-open.