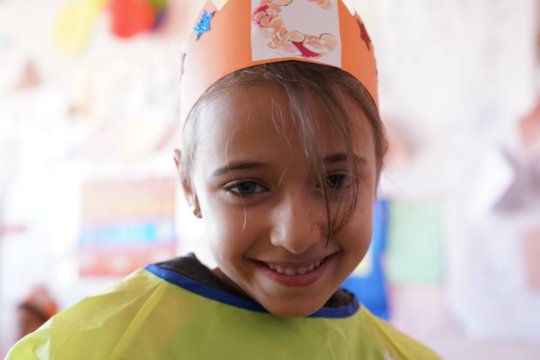 Even though we don't have everything we want in life, we always deserve to be hopeful.

Meet Fatma.

A 7-year-old Syrian girl who has a big smile on her face towards life. She lost her father two years ago in the war. Her mother, on the other hand, is unable to work because of her kidney disease. Her two older brothers, aged 12 and 14, contribute to her family's livelihood. Fatma receives psychosocial support in different areas such as self-care, body protection and friendship within the scope of ''Protection-Focused Preventive Preschool Program'' offered to children in one of our offices.

Thanks to your donations Fatma has a beautiful smile.

We still need your help to support many more children like Fatma.

Let's make all children share a smile.

We thank all of you for your incredible support.

Thank you so much!

Remember Zakaria, from our last report? Thanks to your support, we payed for exam fees.

He managed to enter a Medical School in Turkey. Now it's our time to support his dream in this challenging path of becoming a doctor. Only with your help, we can make sure that he achieves his dream.

We asked why he wanted to be a doctor and he replied (in his own words):

"The reason that I want to study medicine goes back to the childhood of me: once we (father, mother and I) were watching like a series and during an episode of it there was a character how represented a good-behaving person; I really loved that character and I've said at that time unconsciously that I want to be like him!! After some days from that situation there was my birthday and my parents gave me "toy doctor set" as a gift!! Since that time I want to be a doctor, not of anything, but just because that, in my opinion, studying the human body is one of the most holy and human things!! And as I have mentioned before, I always was active -and still- in Biology lessons so that I always could score full mark in the exams. I want to be a brain surgeon in the future because I was always curious about the brain and I want to do my own research in this field, hopefully!! "

But in order to continue his education, we wanted to provide him with the textbooks he needs.

We thank all of you for your incredible support.

Thank you so much!
Today we would like to talk about two bright people who wanted to apply for College education in two different fields.

Meet Zakaria, an 18-year-old Syrian student and a refugee in Turkey. He finished his secondary education with an incredible score of 99.95%. He craves to study in Medicine College in the next year. In order to apply for the college he wants, he needs to perform the SAT exam.

But SAT exam costs money, money he can't afford, unless it was you who donated for this project. Thanks to you, we could able to pay for his exam fee.

Thanks to you, he has a chance to pursue his dreams!

Meet Eibah, a 20-year-old refugee in Turkey who born in Damascus. After the conflict had reached him and his family, they needed to move to a safer place. One of the biggest dreams of Eibah was to continue school, so he persuaded his family to move to Turkey.

He wanted to improve himself and started to study Turkish, SAT and computer proggraming. He came to our office and informed us about he couldn't pay for the SAT exam fee.

But thanks to you, we could able to pay for his exam fee.

Thanks to you, both of this brilliant students have a chance to pursue their dreams, becoming doctors and engineers of our future.

Thank you so much!
WARNING: Javascript is currently disabled or is not available in your browser. GlobalGiving makes extensive use of Javascript and will not function properly with Javascript disabled.
Please enable Javascript
and refresh this page.