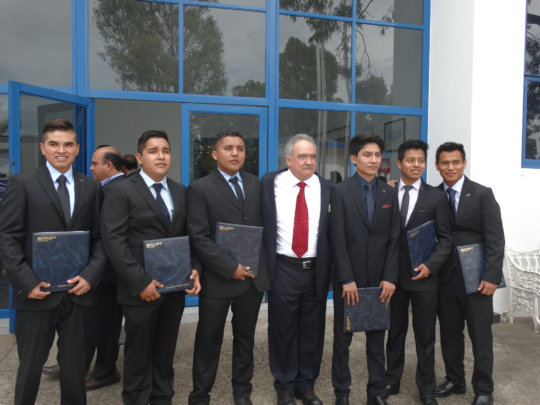 We are approaching the end of the year and many of our loyal donors are probably curious what has happened in JUCONI´s Youth House and what progress its residents have made in 2016.
What has lately happened in the JUCONI Youth House?
In the last couple of months, JUCONI´s Youth House Program has carried out a high variety of educational, cultural and social activities, complementing the therapeutic interventions and personalized vocational guidelines the young men receive on a daily basis.
In August, 8 Youth House residents participated in the Annual Youth Day with more than 45 other young people from different JUCONI Programs to spend time together while realizing educational workshops, integrated activities and sport sessions organized by the JUCONI team. In addition, 8 young men participated in the annual Provident Soccer Tournament and obtained the first place.
On October 16th the Chevez Color Run took place in the City of Mexico with 8 JUCONI youths among the participants. One of them even won the second place in the free category.
The annual Day of the Dead is renowned as one the most famous cultural events in Mexico where the complete Youth House group attended in the parade on November 2nd in the center of Puebla.
Every month, together with educators and operative collaborators the young men celebrate the birthdays of the month. Moreover, once a month all residents visit the cinema after agreeing on the selected movie in a community discussion. Another cultural event which takes place every month is a visit to a museum. In advance, youths have the opportunity to investigate and suggest a museum of their interest. But the most important event in their agenda plays the monthly reunion with their families. For JUCONI, it is essential to involve the families in the educative-therapeutic attention of their children not only to maintain this relation active but also to push forward a possible reintegration into their families after having graduated from JUCONI Program.
JUCONI´s innovative methodology to achieve long term results
As mentioned in our last report, all of these activities and services are integrated, addressing all aspects of human development and systemic, working in all contexts which influence healthy youth development so each sphere of action is mutually reinforcing. To achieve maximum impact and ensure positive changes in the youths, JUCONI has developed its own monitoring and evaluation system. This model includes more than 30 indicators within different categories such as emotional stability, social integration, education, work and health which are applied in different states of the therapeutic attention: an initial diagnosticto establish each youth´s starting points and an individual action plan responding to his specific needs, weekly joint identifications (by JUCONI´s educators and work team) of the individual goals to be achieved, a quarterly monitoring, and the six-monthly assessment by the youth and his facilitator on progress in key areas of interaction, among others.
This complex compound of methods not only facilitates JUCONIto identify good practice and guarantee sustainability of the work, but also forms the basis for the young men´s positive development.
This year, JUCONI´s Youth House residents have enjoyed many great moments and celebrated small and greater successes being on the right way to lead an independent life free of violence thanks to your confidence and generosity.
Help us to achieve our goal!
JUCONI has raised $22,704 USD through the GlobalGiving initiative so far. We are extremely grateful for all the support that you and others have provided in that effort. With the upcoming #GivingTuesday on November 29th and the Year-End Campaign we have set ourselves the high goal of reaching the total amount of our project by raising another $7,796 USD.
It is beyond question that this ambitious target can only be reached with the help of generous donors like you, so that we are cordially inviting YOU once again to help these 19 young men break the cycles of violence in their past and lead meaningful lives based on a successful development.
To learn more about the Youth House (Casa de Jóvenes) or any of JUCONI´s work to eliminate family violence in Mexico (and the world!), please contact proyectos@juconi.org.mx.
Once again, many thanks for all your support!
Sincerely,
The JUCONI team.