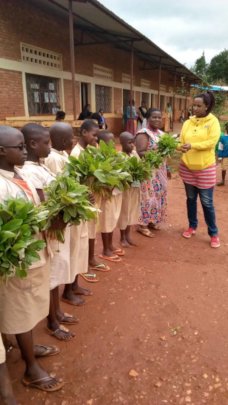 School is almost out for the summer in Burundi. The students are amidst exam season and most classes wrap up July 14th. As the third year of the Burundi 4-H School Gardening program comes to a close, we have been reflecting on how the program continues to evolve and grow every year. The Burundi 4-H School Gardening Program began as a way to teach youth hands-on gardening practices and to develop livelihood skills that would help them provide nourishment to themselves, and build capacity in their communities to improve food insecurity. For three years now, students, educators, and community members have achieved and surpassed the original goal of the program.
The Burundi 4-H school gardens received a plentiful rainy season this Spring and have been able to harvest crops since February. While there was some diversity among the schools with regards to what was planted, crops included: carrots, corn, beans, tomatoes, sweet potatoes, amaranth, cassava, greens and watermelon.
So, what happens to the food grown in the 4-H School Gardens? Turns out…A LOT!
Depending on the size the of the harvest, schools utilize the food grown in a variety of ways. One of the schools participates in a school food feeding program with the *World Food Programme (WFP). Some of the vegetables harvested from this school's garden were donated to the school lunch program and used to supplement the beans provided by WFP. Schools in the Gitega area also organize cooking events at the school, including open door celebrations. Open Door celebrations are an opportunity for the community to get together to learn and celebrate the success of the school gardens. During these events, students cook a meal using some of the harvest and serve it to the community, lead garden tours and showcase what they have learned in the schools gardens. This past June, the Gitega area held an Open Door celebration and invited local community leaders, school administration, the entire school population, families, and even extended an invitation to neighboring schools participating in the 4-H School Garden Program. Representatives (teachers, community members, and children) from schools in neighboring communities attended the Gitega Open Door celebration to learn about what is happening in other school gardens and to bring information back to their school's 4-H gardening program.
Sometimes the school gardens produce such large quantities of carrots, that the harvest is given to the children to take home to their families or are eaten by the kids at school. 4-H educators have reported that students love working in the garden and eating the carrots right out of the ground! They have also shared that planting carrots is seen as an innovative practice at the schools because carrots are not a very common crop and are primarily grown in some of the colder regions of Burundi. Due to the students increased interest and skill in gardening, some of the children have begun gardening in their own villages and are initiating planting carrots and other vegetables at home with their families.
Some of the harvest (e.g. beans, corn) produces such large quantities that the schools and community members have decided that this harvest should be shared and sold at market. Funds gained from selling produce are used to purchase supplies and educational materials for 4-H peace clubs (e.g. paper, dancing kits and costumes, tools, etc.). 4-H Peace clubs are an example of an indirect outcome of the 4-H school gardening program and began this past school year at a few of the schools. In 4-H Peace Clubs, children are brought together afterschool to discuss many topics including hygiene, peace building, conflict resolution, farming, cultural activities like drumming and dancing, and sports like football (i.e. soccer). Peace clubs have been an informal way for kids to come together to grow, develop their social and emotional skills, and work towards positive change for a brighter future together.
The immense success of the Burundi 4-H School gardening program is made possible through your continued support of this program. Thank you to all our donors, supporters, and partners! JOIN US in spreading the word about this program to your friends and family. Like and share our story on Facebook at https://www.facebook.com/Wsu4HBurundiProject/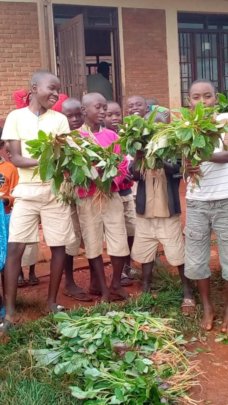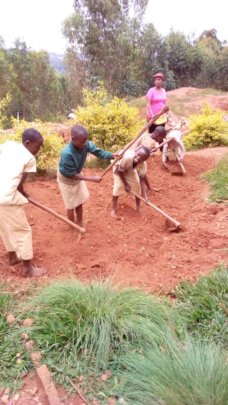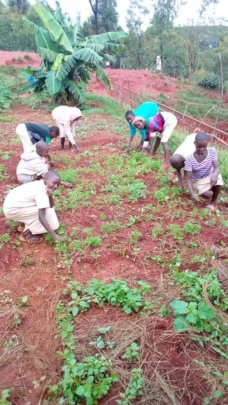 Links: