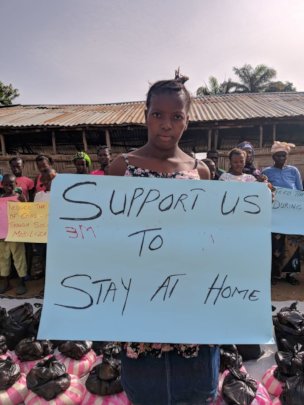 Dear Donors and GlobaliGiving,
Empowering the Girl through Education Project is a Life Changing activity which is improving the lives of girls in Rural Sierra Leone more especially in the North Region. This project has become more popular due to its role in the lives of these girl children, giving rights and power to girls has been the bedrock of this project, which has helped a lot of girls regain their lost dignities. Throughout this period of COVID-19, we have been focusing on rescuing these girls who have been engaged in forceful and early child marriages, teenage pregnancy and food distributions.
The level of suffering that has affected these girls during this period of COVID-19 is really much; with our intervention we worked very hard to cushion the situation by providing food items to these girls in order to help them stay safe and also from early and forceful marriages, teenage pregnancy etc. We provided food to 100 young girls in three villages (Mathinka, Mabere, Magbonah) to help cushion the hardship imposed by COVID-19. Since schools are now closed, the level of teenage pregnancy is on the increase though we are making a lot of efforts in order to stop this increase by creating a lot of awareness raising campaign programmes targeting young girls and boys within these communities and beyond. From our engagement, we came to realise that bike riders are more in the habit of impregnating young girls, our focus now as an organisation is to hold focus group discussion with these bike riders in an effort to cushion this situation.
The issue of rape and sexual abuse has rise sharply within the country as a whole, with a lot of children raped and died during the cause. A recent situation that sparked the attention of the government is a 9 years old girl, who was raped and died during the cause. Though investigations are ongoing to know details about the said situation. In a police report within six (6) months they have 8,500 of rape cases, but they realised that the number is twice the one that were never reported. We are working very hard along with law makes to popularise the child right act, so people will be well aware about it and also emphases on the dangers of rape and sexual assult.
With this we want to say thank you for your continued supports and we hope we can able to support more children if funds are available.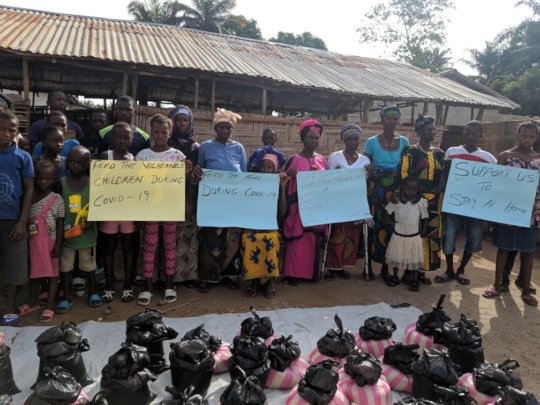 Dear Donors and GlobalGiving,
The Girl-Mother empowerment programme is a success in changing the perception about people in communities about girl mothers. They are always considered failures and dropouts due to the fact that they got pregnant and gave birth at an early age. So everything about these girls should collapse and there should be no place for them any more in these communities. With our intervention we have changed the dynamics by letting people be aware that these girl mothers can achieve greater height if given the opportunity. In the first instance, our campaign faced a lot of stiff resistance due to traditional beliefs and norms.
Our campaign and support has brought a lot of change and many have realized the importance of giving these girl mothers a chance to go back to school. Owing to the fact that they themselves are ready to change their attitude towards girls. Though, it was a bottleneck for them to accept change. This has been an ancient old tradition that the best place for girls is in the kitchen and early and forceful marriages. During our engagement with these communities the message of accessing education and training, for these girl-mothers were well appreciated and stakeholders in the various communities consider it key as a means to stop these girls from prostitution, HIV-AIDS, poverty, etc. After a lot of sensitization communities now embrace the reality that these girls deserve education and training rather than forcing them to get married.
During the cause of this dreadful pandemic (COVID-19) our approach changed a little by supporting these girls with food. Because this disease has brought about an untold sufering which has warrant some girls to go into prostitution by fend for themselves. Our intervention has cushioned the situation, but more needs to be done in order to meet the present demand.
Presently, this project is yet to attract the kind of support it should get, to shoulder it major responsibility considering the fact that it is addressing a huge concerns about girls, this has really slow down its operations, because the support is not available to accomplish it set demands.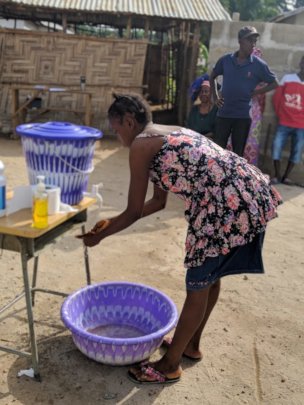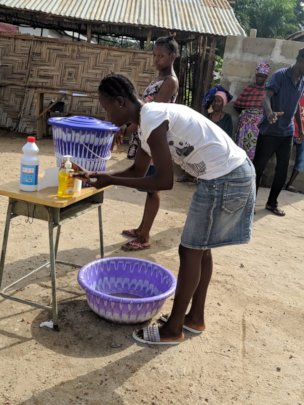 Dear Donor and GlobalGiving,

Considering the persistent violence mostly perpetuated by youths during political activities in Sierra Leone, where this project is currently implemented, this project is gear towards bringing youths together through medium of organized outdoor inter-community SOCIAL ACTIVITIES (games/sports etc.) where they will have opportunity to interact with one another since social activities are easy means of bringing people together more especially youths. In the process, we have use that medium to preach and campaign a message on "NO VIOLENCE BY YOUTHS IN POLITICS" more especially during and after electioneering activities. And owing to the fact that social activities more especially sports are faster means of bringing youths together and creating easy medium for interaction, the organized social activities for youths in all headquarter/major towns in Sierra Leone, and in the interim sensitize them on the effects of youth violence and emphasize to them the potentials they carry if they stay away from violence and work very hard- they are sensitized on how to be politically tolerant and stay away from violence and respect other people's view. During our awareness raising process, key in our messages are preach to tell youths and stakeholders involved that youths are also major partners in development and their participation is relevant in harmonizing lasting peace and stability. The process include huge participation from stakeholders and political parties who will also be actively involved to orientate youths about their roles in politics and highlight to them the potentials they have within and around them.
WARNING: Javascript is currently disabled or is not available in your browser. GlobalGiving makes extensive use of Javascript and will not function properly with Javascript disabled.
Please enable Javascript
and refresh this page.