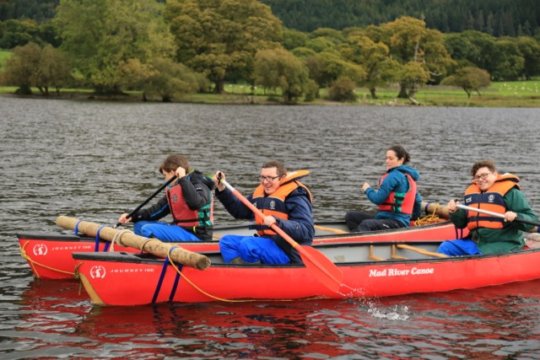 We're back! Back from the action packed VALUES holiday in the lake district with the Calvert Trust. From Friday to Sunday we did lots of different and exciting activities.
The adventure weekend to the mountains started on Friday morning as we set out on the 4 hour journey up to the lakes. We hired a minibus to take the 12 clients and 3 volunteer/staff up the motorway towards the exciting weekend. The journey was full of laughs, jokes and songs.
Once we got there everyone was quick to settle into the rooms that would be our homes for the next couple of days. Some of the clients had never been away from their family before so were keen to unpack and take ownership of their beds and draws. Matt, who had never been away without his mum said, "This place is great, can we stay here forever".
That evening, after introductions were made with the staff at the Calvert trust we had fun team building games in the sports hall on site. These included relay races, indoor bowling and penalty shootouts. We then headed out into the night for some orienteering in the dark. We were taught how to read maps and work together to find clues that were hidden round the site.
The next day we split into two groups and went off and did different activities. One group went and did cycling and the other went for a lakeside hike. The cycling was on three wheeled accessible bikes meaning that everyone could take part. Most of the group hadn't been able to ride before so when they went speeding round the course, wind flying through their hair it was a great new experience for all. Tofiq said, "I'm definitely going to try and learn to ride a bike now." The hiking was muddy and hard work but with the right footwear and the beautiful scenery to look at they had a great walk and got back in time for lunch.
After lunch there was Archery, where everyone's competitive nature came out. When all the arrows had been fired we headed back to the Calvert trust for some well earned dinner.
Sunday morning it was time to get out onto the water into our canoes. This was a new way to travel for everyone and was made even more exciting when we played water football and sped across the water in hotly contested races. Safely back on land without and anyone getting wet the groups then split into two again for more cycling and archery.
Sunday evening we were back on the bus home, still singing and laughing all the way. Tom said, "this has been the best weekend of my life." Even at 10 at night safely back in Leicester everyone was still in great spirit, having tried activities they'd never experienced before. A big thank you to all who donated money and to the Calvert trust for having us. Everyone who went wouldn't have had the chance to take parts in all these different activities without your help.