The empowerment of women is essential for effective development, both at a community level and in society as a whole. For almost 13 years Development Africa (DA) has been working with women who are HIV positive and where referred to the programme after losing their husbands to AIDS and then being diagnosed themselves with HIV/AIDS, or through various ante-natal programmes that check them when they are pregnant. These women come from poor backgrounds with low levels of education and due to the virus, have become ostracized in their communities and struggle to provide for themselves and their families. Little has been done in the areas of rehabilitation and creating income methods for these women.
DA provides the initial cost of setting up the business (rent, initial stock, etc.) and provides consistent educational training programmes and workshops on the development and management of their business. The women are monitored throughout the year to make sure the shops are operating effectively.
Since the first shop that opened near the end of 2006, DA to date has opened 66 successful shops/business in Ibadan, Oyo State.
These businesses have empowered and trained the women who had lost hope and a means to support themselves and their children.
To celebrate the shops that were opened and support group that successfully met each month during 2018 we held a Christmas party for the women and their families, as well as all members of the support group. It was a time to meet and celebrate the progress that was made during the past year and the support that each individual had provided for each other.
The party happened in the first week of December and along with food and gifts for the children, each family received a Christmas hamper with household and food items as well as some special treats to enjoy over the holidays.
We enter into 2019 with a plan for new shops as the women who's business plans have been approved and are on the waiting list are eager to get started.
Thank you to everyone who has been a part of this project throughout 2018 - many lives have been touched and changed in tangible and sustainable ways and they express their gratitude to you for the help that you have given to them.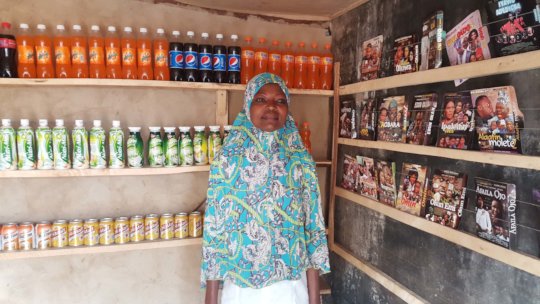 The empowerment of women is essential for effective development, both at a community level and in society as a whole. Development Africa works with women at grassroots level to identify key issues faced by women within their communities. Through providing small businesses for widows with HIV/AIDS in Ibadan, Oyo State, we aim to promote the agency of HIV-positive women, who are often ostracized from their communities due to the social stigma associated with the HIV virus.
From low-income backgrounds and often with little to no education, the women who are the target beneficiaries of the project are unable to adequately support themselves or their families.
Two new beneficiaries are now ready to embark on their journey towards economic sustainability and security through the help of donors contributing through GlobalGiving and other donors.
Mrs. K., a widow who is HIV positive, 40 years old and with four children, has been attending the support group for several months and has received the necessary training to start her business. She is aiming to open a tailoring shop to make women's clothing.
Mrs. A., also an HIV-positive widow with four children, was initially meant to open a shop in November 2017, however she wasn't physically strong enough. She has been attending the support group for the past year and with the medical and nutritional support provided to her, she is now healthy enough to manage her own shop. She also aims to open a tailoring shop.
Mrs. K. and Mrs. A. are currently looking for shop premises with the support of our local partner and will soon be open for business.
WARNING: Javascript is currently disabled or is not available in your browser. GlobalGiving makes extensive use of Javascript and will not function properly with Javascript disabled.
Please enable Javascript
and refresh this page.