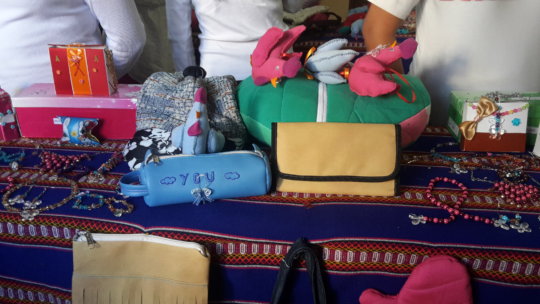 Dear all,
Today is a good day for our project as every day is since we began working to empower the young but strong girls of the 2 centres we're working with.
These young girls and women are brave, they went through hard times but are learning and enjoying every bit of our empowering workshops with a wide and bright smile on their faces.
Nothing could make us happier than seeing them developing their skills in sewing and in jewellery while including recycling of clothes and using recycled materials.
And that's not all, those past months, they also developed their skills in marketing, micro projects building and business planning !
This is happening thanks to your support and our skilled local team. We're very grateful!
They are able to speak up and they began thinking deeply about their professional future. At the end of the first workshops session we organised a graduation ceremony in which we handed them their diplomas over.
Some of the girls told us how proud they were for it was the first diploma they've ever gotten. Many of them never finished school. Their eyes were sparkling and they couldn't wait to tell their family.
Here are some of the translated comments of the girls:
During the ceremony, N. told us "I want to give my young brothers the opportunities I didn't have and make them proud of me. I want them to want the best for themselves".
M. said "I want to help my family by giving them some stability and resources so that they can be happier and less concerned by our day to day needs."
Unfortunately, some of them are going to turn 18 in a couple of months and they won't be authorised to stay in the centres. We hope to be able to follow them after they leave to support them in their life choices.
We know for sure that the skills they learnt are going to be useful if not right away, some day.
Mostly because now they know deep down they CAN do great things and buid the life they want and that we will be there to support them.
Loads of energy from the Bolivian Team and our skilled and confident girls,