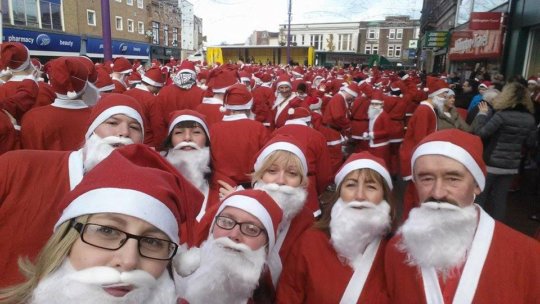 It is not long until Christmas now. Our new emergency beds have arrived and are in full use. So far we have taken 7 people off the streets since the 1st December and this would not have been possible without your donations and support, so thank you. We have been busy decorating the Falcon Centre and have held fundraising events including a Bag Pack and the Santa Fun Run!
What difference has your support made?
We asked one person off the emergency bed what it meant to recieve an emergency bed, knowing the community had funded it. His response: "It means everything to me. It shows that some people actually care and the world's not full of nasty people."
We then asked what he wants to achieve. He said "I want to start building me life and aim to get my own accommodation, have my own family and have a job to support all of us. I would like to give something back to the community when i achieve my goals in life to show i appreciate what's been done for me."
Falcon Support Services have been overwhelmed with the generousity everyone has shown and we have exceeded our £2,500 target, with now over £3,500 raised! We have increased our target and hope to raise further funds so we can continue to provide emergency beds for longer throughout the winter period in to 2016.
In addition this fundraising challenge is a group competition and we are currently 2nd in the 'total raised' category, meaning we could have an additional £1,000 added to our fundraising total, or even better, if we get to the top of the leaderboard an extra £1,500. To keep up to date with our position on the leaderboard or to help us stay at the top you can view it here: http://www.globalgiving.co.uk/leaderboards/gateway-challenge-winter-2015/
To make any further donations, or to spread the word to others that may be able to help, please see the link here: https://www.globalgiving.co.uk/projects/falconsupportservices/
Links: