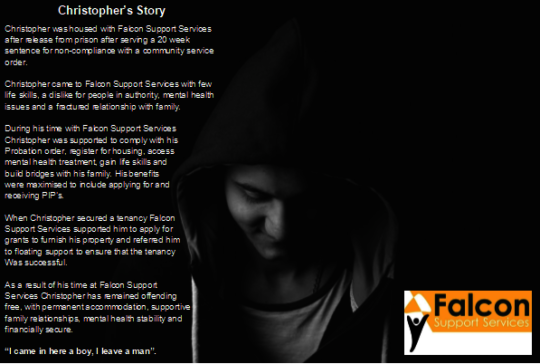 December is well and truly here now, and with the run up to Christmas we are ready to open our Festive Shelter beds! We are really pleased with the donations we have received, and although we have not yet reached our target, we will not let that stop us helping those most in need.
In the last 6 years Falcon Support Services have housed 329 individual people and increased our bed spaces by 213%. With increasing needs, we hope to keep expanding our accommodation and community services so vulnerable people can receive the correct support and housing.
If you are aware of anyone rough sleeping, please refer them to Charnwood Borough Council or The Bridge to access our #festiveshelter beds. You can also contact Streetlink on 0300 5000914 to report a rough sleeper. This information is then sent to the Local Authority who will try and make contact with the person and offer assistance. We will endeavour to help as many people as we can. Read Christopher's story to find out the difference we make.
In addition we have launch our Shoe Box Appeal requesting donations of goods so we can provide Christmas presents to our service users. If you are able to help, or know of anyone else who may be able to, please feel free to share the information.
Thanks again, and we hope you have a good Christmas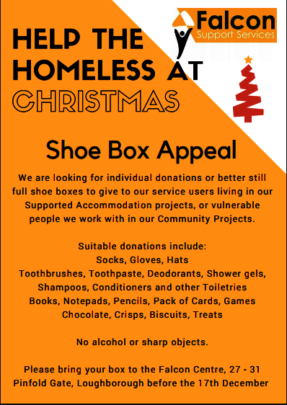 Links:
Festive Shelter was another great success this year thanks to you!
This year we received amazing donations of gifts, toiletries, food and of monetary value from individuals, businesses and local community groups. Falcon Support Services took part in the Loughborough Santa Fun Run, held a Bag Pack at Loughborough Marks and Spencers as well as ran a Christmas Raffle.
All of this enabled Falcon Support Services to provide three additional emergency beds for those that otherwise would have been street homeless from the 31st November 2016 until the 5th January 2017 and a Christmas Lunch to our residents and vulnerable members of the community.
We have accommodated 22 extra people on the emergency beds over this period and made a difference to so many lives. One of the people that stayed on the emergency bed said:
"When I came to the emergency beds I was sleeping rough. FC gave me somewhere warm and safe to get a decent nights sleep. It gave me somewhere to shower and clean my clothes which I otherwise wouldn't have been able to do. The staff were amazing and nothing about them made me feel uneasy or unwelcome at any point. I now have a room here and they have continued to help me get things back on track and I can see the light at the end of the tunnel now. I'll always be grateful for what everybody here did for me."
Over Christmas we had lots of requests from the public who wanted to volunteer, and they all joined us on Christmas Day to make a difference.
From Falcon Support Services we would like to say a huge thank you to all those that got involved in #festiveshelter whether it be volunteering or donating goods or money. We really appreciate all the support given to Falcon Support Services and you can stay updated by going to https://www.facebook.com/falconsupportservices or https://www.twitter.com/falconsupport_ or signing up to our quarterly newsletter https://www.facebook.com/FalconSupportServices/app/100265896690345/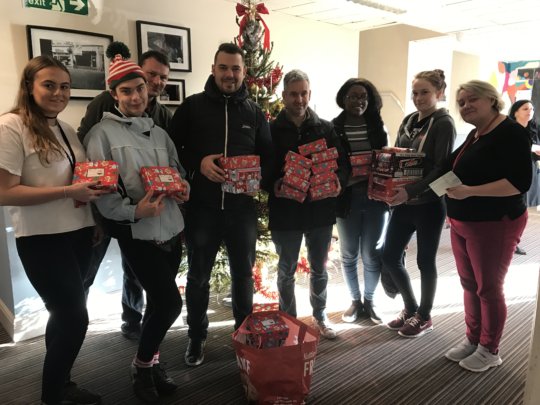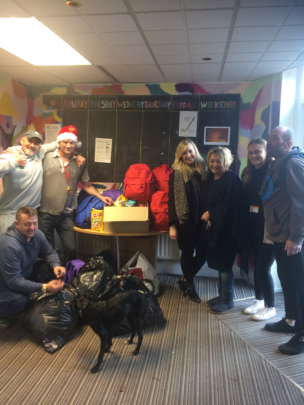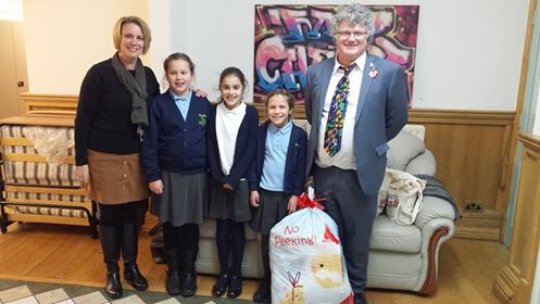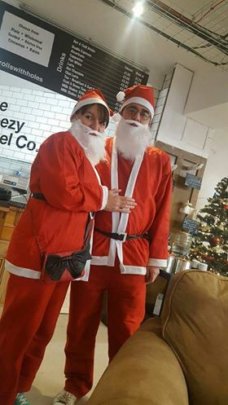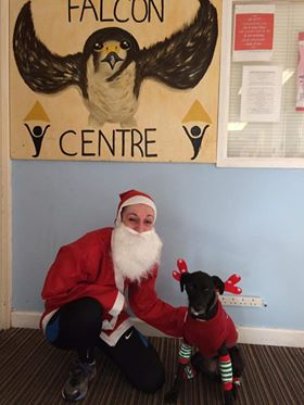 Links: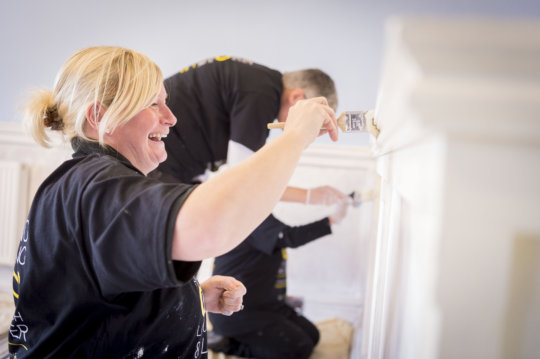 Thank you for donating towards #Beacon24 for refurbishing our accommodation.
#Beacon24 event was a great success and many donations were made offline from the actual fundraising event, raising over £2,000.
Residents all benefited from a refurbished communal area and we are taking steps to refurbishing and painting the rooms in all our accommodation projects including the Falcon Centre, Park House and Holly House.
Your support and donations mean a lot, and improve the accommodation we can offer to those that are homeless or at risk of homelessness. Good quality accommodation provides people with safe, secure and welcoming environments, which help improve people's mental health and future life chances.
If you feel you can assist in any other way, please do not hesitate to get in touch, as we welcome any support.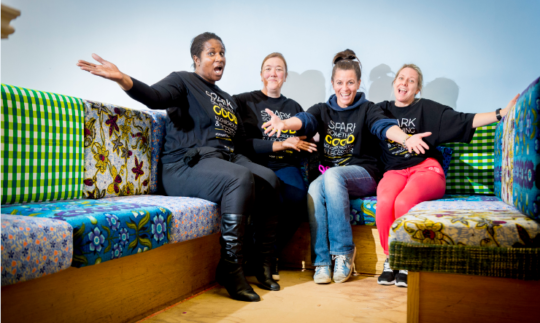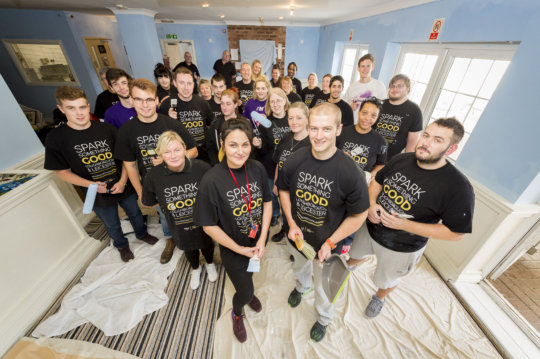 WARNING: Javascript is currently disabled or is not available in your browser. GlobalGiving makes extensive use of Javascript and will not function properly with Javascript disabled.
Please enable Javascript
and refresh this page.