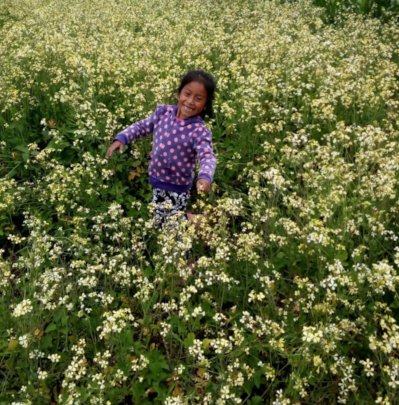 Juliet Guadelupe is one of the newest girls in our programme. She started coming here at the beginning of this year. A shy but happy girl who barely have missed an afternoon of our programme. Recently, she additionally was enrolled in our Lunchroom where she now shows up from Monday to Thursday to eat lunch with the rest of the 53 children that attend the lunchroom. One of her favourite things to do here is to skip a rope together with her friends during the free games and in the lunchroom, her favourite food is chorizo and vegetables. During the 10 months she´s been attending our programme she has shaken off some of her shyness and it is easier for her to play with new friends.
Another effort that we have enhanced this year is related to our scholarship programme. We are now doing more to obtain scholarships for the children that graduate from primary school so more will continue studying in secondary school. Juan Carlos, 14, is one of the kids that has already found a sponsor. According to him, the scholarship is a huge help. Juan Carlos is not at all sure that he would have been able to continue studying after he finishes primary school in a couple of weeks. He´s very thankful for the opportunity that his sponsor will be giving him. Juan Carlos´ dream is to keep studying until he graduates from the university as a proud and professional architect.
In the end of October, the children graduated from the respective grades and have now started the two months of vacations they have ahead of them. As anticipated, now the children are out of school, the number of participants in our afternoon programme has increased slightly, and we expect it to continue increasing the rest of the year. Furthermore, there are some specific activities we usually do during vacation time and we hope to be able to execute these activities this year as well. These include a Christmas lunch, a special activity with the oldest children that graduate from sixth grade and bingo day for all our participants.
Lately, we have been working closely with a group of MA students in graphic design from a local university. They are helping us in improving our PR material and have been planning and elaborating material for a new promotion campaign. We are very eager to see the fruits of this collaboration and have found it very beneficial to engage in collaborations with groups of university students in order to benefit from their expert knowledge and abilities while also providing local students with real cases and a higher purpose with their studies.
Caras Alegres has been running well this year. We have been trying out new activities both by ourselves and in collaboration with other entities; NGO´s, universities, more national volunteers and so on. It has been a busy year, but also a year that has represented growth for our organisation. We have decided to rethink our fundraising strategies because the more we grow and expand our activities, the more funding we need. For this reason, we have decided to deactivate our GlobalGiving fundraiser and reorganise our fundraising efforts. This, however, requires some time to develop a strategy. In the future, we hope to continue a good collaboration with GlobalGiving, but for now, we will take a step back. To both donators and the GG team, thank you for your support.