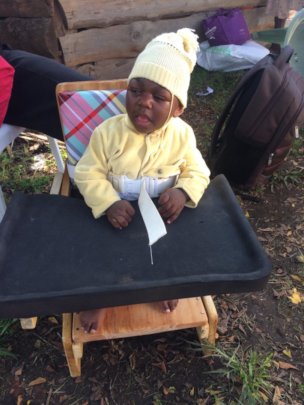 Therapy and rehabilitation services are very poorly distributed across Uganda with only 32% of districts having any rehabilitation therapists or community-based rehabilitation services (MUST 2016). With an estimated 2.6 million children (13%) and 16% of adults living with disabilities in Uganda, there is currently a significant unmet need for therapy and rehabilitation services. 76% of the population is rural dwelling, with high levels of poverty, making access to services, mainly located in the major urban areas, unaffordable and unreachable, leading to poor social, economic and functional outcomes.
Widespread local beliefs that disabilities are an untreatable curse often cause disabled children and their families to be excluded from their communities. This causes increased family stress, financial burdens and a reluctance to seek help, in particular, from health and educational institutions. The poor understanding of disability is a huge barrier to the progress, learning and independence of most disabled children.
Kyaninga Child Development Centre's (KCDC) baseline surveys showed the need for a holistic, community-based rehabilitation service across western Uganda. This holistic approach needs to tackle the lack of knowledge regarding disability in children, and provide training to parents, caregivers, teachers, health care and community workers in the diagnosis, care and management of a child with a disability.
By partnering with local health centres, KCDC is able to provide reliable, high quality therapy and education services (physio, occupational, speech and orthopaedic therapy and special education) that are more easily accessible to families, while ensuring holistic healthcare provision for the child and their family. Training village health teams and healthcare workers in identification and management of disability leads to increased understanding and awareness of disability and development, ensuring timely referrals that can prevent secondary disability and complications.
Community-based rehabilitation (CBR) is a multi-sector approach developed by the World Health Organisation (WHO) to increase access to rehabilitation services in resource-poor settings and improve the equalisation of opportunities and social inclusion of people with disabilities (PWDs). Children with developmental disabilities, including those with cognitive, motor, vision, speech and behaviour challenges, lack access to rehabilitation due to the limited number of specialist health facilities, high treatment costs, limited training of health care workers (HCWs) and caregivers, and social stigma within their communities.
Using CBR, KCDC provides low-cost, high-quality therapy to CWDs; train local stakeholders, including parents, HCWs, teachers, and community leaders; and raise awareness on disability within communities. This reduces stigma and discrimination and increase uptake of rehabilitation services that improves the quality of life for CWDs and their families.
The CBR has five components:
Therapy services: provide access to physical, occupational, speech, and orthopaedic therapy for CWDs in health centres, homes, schools, and orphanages
Capacity-building for stakeholders: train caregivers, teachers, and HCWs on the proper care of CWDs, and teach leaders how to advocate for CWDs
Health education and peer support for caregivers: enhance caregivers' understanding of disability, create support groups for parents
Economic empowerment for parents: provides opportunities for mothers of CWDs to earn a living to support their child's ongoing rehabilitation costs and augment their family's income
Community awareness: develop informational materials to raise awareness on disability within the community
KCDC has employed CBR for more than five years in Western Uganda and has proven to increase the quality of life for CWDs and their families by 23%. Since 2014, KCDC has worked with more than 2,700 children with a wide range of physical, intellectual and communication disabilities and provided training to more than 470 teachers, healthcare and community workers.
This is the story of Stella, sadly a fairly typical story here in Uganda for the families that we work with, but demonstrates the importance of the work we do:
Two years ago, in a small community health centre in western Uganda a little girl was born.
"Pushing was really hard and it took such a long time. My baby was really tired and weak when she was born, and the doctor sent us to another hospital for extra care, but that was over 150km away from home and my family. I was really scared and alone, and no-one told me what was going on. The staff eventually dismissed me, saying that she would be ok".
The first few months were really difficult. The baby struggled to breastfeed, didn't gain weight as she should and was always very quiet. At 6 months old the baby was very floppy and weak and was unable to sit or hold her head up to look around, like all the other babies her ages. Her mother started to look for answers…
'I thought that disability was caused by witchcraft and her disability was my fault. I cried every day and hated ... the burden she caused'
"At first, I thought that one of my neighbours had bewitched her, and I was really resentful towards them. I spent a lot of money and time visiting traditional healers trying to find a cure".
Eventually a healthcare worker referred her to KCDC.
"At KCDC they explained about the causes of disability and invited me to join the early intervention programme. Through the group and the regular therapy sessions I got my hope back, I understood more about what had happened and I met other mamas with babies like mine. I felt less stressed and more comfortable"
'The exercises and positions that I learnt in the group helped so much, my daughter can sit and is now learning to walk."
"I learnt about feeding; before I didn't know how to prepare foods properly and my baby vomited every time I tried to feed her, and she got thinner and thinner. I learnt that the food wasn't smooth enough for her and was causing the choking and vomiting. Her feeding has really improved now, she now longer vomits and can even now chew foods as well. She is finally getting fatter".
Her mother now works with KCDC as an expert mother facilitating the early intervention programme for other families in her lcoal communities.
'As an expert mother I want to teach other Mamas about disability so that they understand clearly. From my own experience, understanding properly has really helped me. I want to share the importance of the need to love and care for our babies and to have hope'.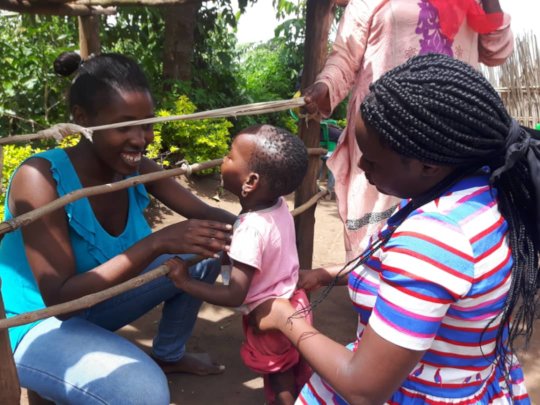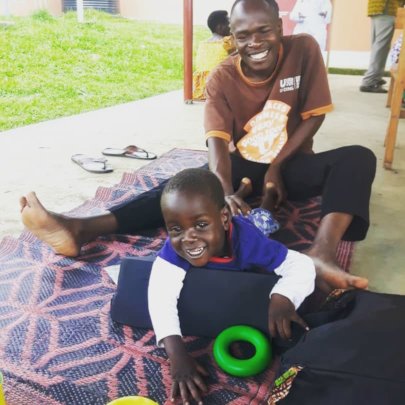 Links: