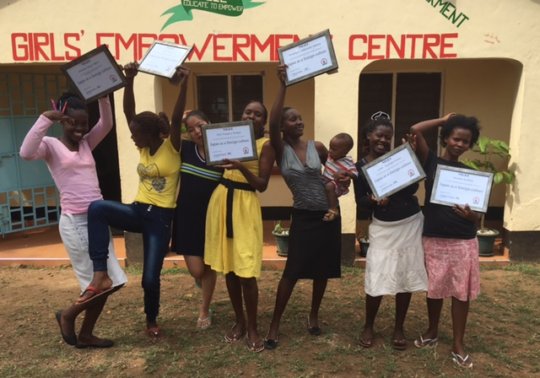 "My window of a better life was shattered when I had to drop out of school because my mother couldn't manage to pay my school fees. It worsened when I got pregnant and the man responsible denied any involvement and declined to take any responsibility" says Milka
During the period under review (August-October 2016) NIGEE continues to advance the Girls' Empowerment Centre (GEC) within Kisumu:
Presently, 41 girls have been enrolled for vocational training and out of these, 7 were new recruits during this period. Mobilization has been slow and we have revamped our approach and started reaching more girls (see below).
Currently there are 30 girls enrolled in computer classes, 8 girls in hairdressing and 3 girls in tailoring
There are 6 girls at present boarding at our hostel which has a total capacity for 16 girls
The girls at the hostel were given a small space to use as a kitchen to cook their meals and provided with 2 jikos (charcoal stoves) and a 6kg gas burner.
There were an additional 4 girls who were hosted at the hostel while issues at home were being dealt with such as sexual harassment, gender violence and family conflict
A newly appointed Community Mobilizer, who is herself a past beneficiary of sponsorship by NIGEE's director, is using a peer to peer approach, has mobilized over 100 girls within the catchment area and they await enrollment in the coming months
We have also engaged a GEC Coordinator and a Training Coordinator - this will expand our training capacity, identify employment and internship opportunities in Kisumu County, and prepare the girls for the job market.
There are 3 volunteer tutors for computer, tailoring and hairdressing courses, who receive a small stipend for their services.
An intern from Japan stayed for 3 months, mobilizing girls, helping with the computer classes and teaching a component of the life skills class (Japanese Society & Cultural Practices)
Milka story
Milka today is a self-assured, independent 26 year old young woman. She is a partial orphan and a mother of a young boy. She is amongst the beneficiaries who successfully completed her secondary school education last year after joining the NIGEE scholarship program in 2013.
It was her inner strength and resilience that enabled her to never lose hope of completing her studies and seizing the opportunity when NIGEE presented it to her.
"I managed to complete my secondary school last year and joined the Girls Empowerment Centre where I finished the stage one on computer packages and hoping to join hairdressing after stage two of computer class, which will help me be employable and self-reliant "
Due to her courage, excitement and determination, currently Milka is also a validator employed by NIGEE, one of 9 extraordinary young women who were chosen to participate in another project helping girls in similar circumstances:
"I share with the girls my life story and those who are hopeless like I was before NIGEE got me. I encourage them and help them view the world in a new angle and also boost their morale since NIGEE is here to help them overcome some of their problems"
Our NIGEE girls' successes and willingness to give back to those in similar situations is concrete proof of our belief that education empowers young girls so they can be self-reliant, chart out their own destinies and live well within the society, the nation and the world.
"NIGEE has made me the woman I am today and I'm hoping to join college soon with the savings I have been making from the allowance I get from being a validator; and have also been sending some money to my mother for her upkeep and that of my son."
Milka is also the Chairperson for the Girls Steering Committee, which is one of the governance structure in NIGEE. The committee spearheads designing of girl-led interventions to address emerging issues raised by the girls. She is a mother, a mentor and valued member of society, thanks to her changed attitude from haplessness to believing she can!