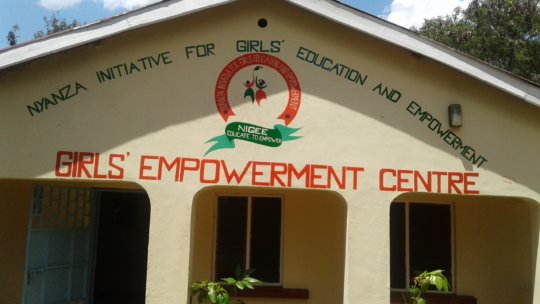 During the period under review (February – April 2016), NIGEE finalized the Girls' Empowerment Centre (GEC) within Kisumu.
The team conducted several activities during the period including:
Trained 14 NIGEE girls on data collection methods and beneficiary verification processes, and linked them with internship/job opportunities in other NIGEE project activities.
Advertised for vocational training opportunities at the GEC targeting teen mothers living in informal neighborhoods of Kisumu.
Advertised for casual trainers for the vocational skills training at the GEC.
Initiated partnership with Kisumu Gender Recovery Centre based at the Jaramogi Oginga Odinga Teaching and Referral Hospital in Kisumu to support sexually abused girls.
The girls really appreciate the donors who have made this project (GEC) a reality. The first group will be graduating in the next quarter. Below is a story of a GEC beneficiary:
Milka : 'A new lens to view the world'
Milka is a 26 years old partial orphan raised by her mother. She successfully completed secondary school education last year after joining the NIGEE scholarship program three years ago. Before NIGEE identified her she says, "I was hopeless and I had almost given up on life. My mother struggled to take me to school and when she couldn't manage it anymore, I had to drop out. I got pregnant during the same year I dropped out of school," she says. Milka wasn't prepared for what would happen next. The man responsible for her pregnancy denied any involvement and she was on her own. She was devastated but that did not dampen her spirit.
"I always wanted to go back to school and so when I later met a man who promised to take me back to school so that I could fulfill my dreams, I married him at the age of 14," she explains. This however did not happen. "When I asked him about going back to school he became violent and sent me away with my son. I was shattered," she laments.
She however picked up her pieces and figured out a new way to ensure she went back to school. She left her son with her mother and became a house help. "I agreed with my employer that she would save the money while I worked so that I could get back to school. But this was not to be," she explains. "My mother and son became ill several times and I had to use my savings for their treatment. In the end I also developed health complications and had to quit the job," Milka adds with tears rolling down. It is then that NIGEE identified her and took her back to school.
Currently Milka is a volunteer intern at NIGEE within a project supporting girls' education. She also attends computer training sessions at the GEC and hopes to become a nurse once she gets a stable job to support her fees in a nursing school. Her parting shot: "NIGEE has given me hope and a second chance to become the person I've always wanted to be. I hope that in my lifetime I will also be able to empower someone else."