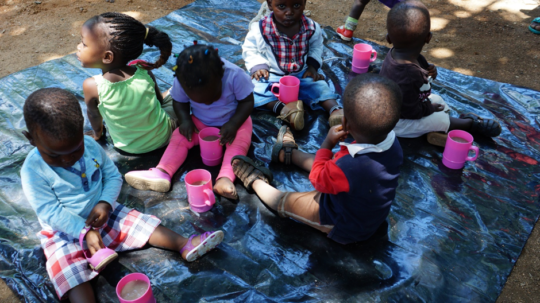 "I like staying at the GEC [Girls' Empowerment Centre] because I do not have many chores to do. I can now concentrate on my studies and I do not doze off in class because I am not hungry. I can play with friends in school and during the weekends I can relax and study. It feels good." - 'Jane', rescued by NIGEE in January 2017.
It has been an incredible quarter with many more beneficiaries accessing training at the GEC, bringing with them vibrancy to our activities and classes. Our girls' babies are especially happy as they enjoy nutritious porridge provided daily, thanks to our donors!
During the period of January to March 2017 NIGEE continued to advance the Girls' Empowerment Centre (GEC) located within Kisumu City:
So far we have reached 142 girls with the skills training since the inception of the program. In the period under review, we were able to enroll 68 new girls.
Presently, 72 girls (68 new & 4 from the previous period) are registered at GEC for vocational training. Furthermore, we had new girls coming to the centre throughout March asking to be included in the courses; as a result, we have taken on another location where additional temporary classrooms will be put up and a make-shift hostel established.
Currently there are 12 girls enrolled in computer classes, 44 girls in hairdressing and 16 girls in tailoring. We are in the process of purchasing two tents to accommodate the large number of girls enrolling for hairdressing; an additional room has been vacated by staff for use as a tailoring class, and new sewing machines have been procured; and we plan to add more computers to the lab to accommodate more girls.
In March, 5 girls completed their computer packages training and are awaiting graduation and certificates of completion.
Our porridge program is an important part of our activities. Currently we have 15 toddlers benefitting from the daily porridge offered at 10am. Knowing that their children are close at hand and are being cared for enables our beneficiaries to concentrate on their studies.
Our dedicated matron cares for the children while their mothers attend classes and we now have an allocated room for the toddlers where they take naps and play; however, we still need playing materials such as toys and a mat for the room.
There are 12 girls at present boarding at our hostel which has a total capacity for 14 girls (three of the girls have their children with them)
The girls at the hostel continue to pool their resources to shop for groceries, to cook their meals together and support one another, so that none is left out
NIGEE rescued two girls who are currently being hosted at our safe space while issues of family dysfunction at home are being sorted out; both girls continue going to school from the centre, with one is in primary school and the other in secondary school. The story of one of the girls is featured below.
The GEC Coordinator and Training Coordinator are working towards expanding our training capacity by engaging additional 2 tutors to cope with the growth in enrollees.
We prepared 29 girls for the job market through CV and cover letter writing, and interview techniques
Our 3 dedicated volunteer tutors for computer, tailoring and hairdressing courses, continue to give quality lessons by extending their hours of work and placing the girls in classes of different levels of competency so individual needs are met.
Other achievements during the quarter:
During International Women's Day on March 8, NIGEE joined with a partner organization, Plan Kenya, to celebrate the day guided by the theme: Bold for Change
Two of our volunteers participated in an interview with Radio Dala FM; the 15 minute interview focused on the challenges of teenage pregnancy and provided an opportunity for the girls to tell their stories to a wider audience and encourage girls in similar situations to never give up.
In our Kuria FGM (female genital mutilation) project, the field coordinator visited all the 16 schools where 60 beneficiaries are studying to check school retention/address challenges.
NIGEE participated in the March 1st – 15th Girl Fund Campaign and through the generosity of our supporters and staff, raised US$2,732.92
NIGEE is proud to share a success story of one of the beneficiaries:
Jane's Story
Jane does not hesitate - she says "Journalist," when asked what profession she envisions for herself. It's in this moment that it dawns on her how far she has come and how far she still has to go to achieve her dream of becoming a journalist.
Coming from a family of five, she cannot tell exactly when she became the breadwinner of her family, but she knows it was after her mother passed away (her father passed away earlier) and her uncle was ailing. She was fourteen and would walk to the nearest town, source for sukumawiki (kales) from a farmer's group and then travel almost 15 kilometres to Kisumu to sell them at the market. She would give the farmers their share of the profits and use what was left of her earnings to buy a few household items. She did this every weekend when she was not in school. Their humble home was in a sorry state of disrepair and offered no security and little comfort; it was the path of motorbike riders who are known for sexual abuse of young girls they transport to/from school.
Her two elder sisters were married but their living conditions could not enable them to sustain Jane and two younger siblings. Being a total orphan coupled with the fact that their home was now left to her and her two siblings, Jane would wake up every school day at 4am, do all the household chores: fetch water from the nearby stream, prepare her brother and sister for school, and prepare packed lunch for her siblings, if available, before they all left for school.
It was when her uncle who was partially supported them passed away that her head teacher contacted NIGEE. Following discussions with her aunt, siblings, and school community, it was agreed that Jane would be hosted at the GEC hostel - a safe space for her where she is able her concentrate on her studies. Her aunt agreed to take in the two smaller siblings despite also caring for 11 other children.
Jane is looking forward to sitting for her Kenya Certificate of Primary Examinations at the end of this year. She attends the nearest public primary school which is within walking distance of the GEC. NIGEE provided her with all the necessary items for her to be in school.
She says "I like staying at the GEC because I do not have many chores to do. I can now concentrate on my studies and I do not doze off in class because I am not hungry. I can play with friends in school and during the weekends I can relax and study. It feels good."
She now wakes up at 5am and with the support of the GEC Matron and another beneficiary, they prepare for school and make it on time. She has friends now and can play during games time without worrying about rushing home to take care of her siblings. They prepare their own food and do the dishes and laundry.
She also receives help with her homework, making it easier for her to understand what she is taught at school. Now that schools have closed, she would like to go home and visit her brother and sister because she misses them. She knows that she has to work hard so she can take care of them.
At this point she says that she was hesitant to leave her home when NIGEE agreed to have her at the hostel because they had made a promise to their mother before she died that they would not leave their home. She fears that some of her relatives might take their land, but refuses to dwell on the thought: "I hope they do not, because that is our home. Our parents left it to us."
Despite her worry for her home, her eyes light up and she says, "I forgot something…" she stretches her hands out and then says "the other important reason why I love being here is that we have electricity, at the switch of a button, I can sit down to do my homework and even polish my shoes and prepare for school. It's good to have electricity."