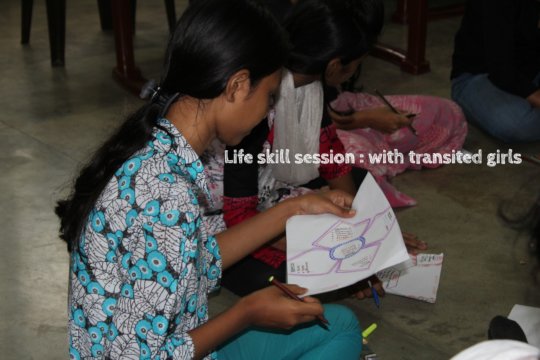 Udaan Future Programme For Young Adolescent Girls
Udaan : Taking Flight!
Dear Donors, I would like to extend our gratitude, on behalf of whole Rainbow Homes family. When we think of doing good in the world, one might expect a sense of gratitude and accomplishment of having done a noble deed. But for these young ladies at rainbow homes you're a true source of happiness and joy!
Under our futures programme for young adolescent girls, named "udaan" which means 'taking flight' in hindi, we aim to tap into hidden potential of teen girls so that they can take control of their lives, encouraging them to become independent and responsible global citizens of the millenial age. The very need of this programme was felt, becasue its not enough to bring them into care and nuturing dwellings and educate them, but for proper inclusion of these girls as part of mainstream society, one needs to build their inner confidence, bottom line, empowering them. On this note, stepping in the legal age as an adult, we train and instill in the pattern of 'group living' in the girls, where they share in their resources of living and accomodation and take care of each other as family.
After giving her 12th board exam Priyanka Achajee was determined to continue her studies. She knew that she has turned eighteen and it is her time to take a transit from Loreto Sealdah. For Last 10 years she has been living in Loreto Sealdah Rainbow Homes and it had become her family. Her mother lives in a temporary settlement in central Kolkata which is not at all a safe place for her to live. She was a beggar when priyanka got admitted in Rainbow and now works as domestic helper. Priyanka was part of Rainbow Futures Programme since 2016 and had attended 3 days of Udaan workshop in Dhyanashram. There she expressed her wish to stay with her rainbow friends even after moving out from Rainbow Home. From Sealdah some of her other friends like Buddhin, Ruma, Aloka also joined her in this plan. Similarly Dipika Bora and Serina Khatoon from Loreto House and Dipika Mondal from Shanti Rani Rainbow Homes planned to stay in group living as it was not possible to live with their families after transition. Another trio, Neelam Ram, Puja Paswan and Radha Paswan had already left Bow Bazar Rainbow homes in past years but they went back to live on the pavements as there were no other alternatives. Neelam and Puja were continuing their studies in college but Radha left her studies after class IX four years back. Then they attended Udaan refresher programme and shared their condition with other young friends in futures group.
These ten young friends from 4 different homes formed a group and made a decision to stay together. That time some other girls also got inclined towards the idea of group living but slowly changed their minds. The girls opted for group living underwent a series of discussion and planning session under futures programme in kolkata from April to July. By this time four girls from Sealdah Rainbow homes got admitted in college for graduation. Radha and Dipika Bora who had left their studies years before registered back under NIOS for secondary exam and Serina entered in senior secondary. Dipika Mondal who is yet to clear one subject in her secondary exam is sent for special tuition. All of them except Neelam and Puja had been admitted to NSHM and I-Lead Institute for vocational training in Retail, Hospitality and Fitness Trainer trades. They expected to get a job by end of December 2017 on part time or full time basis. In the end of July these girls attended a meeting with state team members of Kolkata Rainbow Homes and were told that State office can not initiate group living facility for the transited girls due to operational and legal constraints. In this situation girls were asked their choice of accommodation if they were given monthly stipend. Though they had option of living in hostel, they chose group living.They then planned to cash out funds from their individual stipends and use it as common resource. Voluntarily they nominated Puja Paswan, who is a third year college student and academically senior among them as their leader.
With the help of state 'futures' team they rented a three bedroom house in Sonarpur area. The reason behind choosing Sonarpur was because of its local train and bus route connectivity with Kolkata. Finding a house was not easy for them as nobody was ready to open their house for ten young girls formally living in institutional care. But after a searching for months finally Mrs. Shampa Mukherjee agreed to give the first floor of her house on rent to the girls. They made an agreement between Mrs. Mukherjee and their leader Puja and took the house on rent. Once the house was finalized, the group made a list of articles they need for setting up the household and also prepped monthly requirement list along with the budget. The total amount was divided between ten girls and they made individual applications for stipend from Kolkata Rainbow Homes State Office. The application was granted and the girls allotted Rs. 6000 each as allowance to set up the house and Rs. 3000 each as monthly allowance along with Rs. 600 as travel allowance. All the girls then opened their Bank Accounts and received the stipend directly to those accounts. Under the leadership of Puja they went to markets in groups and bought all the required things like mattress, pillows, mosquito nets, utensils, fans, lights, bucket and cleaning stuff etc. They also stored one month's provision and shifted to the house at end of August 2017. Immediately they applied for LPG connection and also got it by mid of September, 2017. Initially it was little difficult for them to do their work like cooking, marketing, financial management, studying, vocational training all together. To manage things properly they distributed their duties among themselves and started maintaining registers to keep records. These girls shall get initial six month's financial support from Kolkata Rainbow homes and will run the home by their own once they get jobs. This group of girls is standing beside each other and planned to walk miles ahead. They often visit to their respective Rainbow Homes and already are role models to inspire the upcoming batches. It is thanks to your support in our mission to empowering these girls,that they are able to take their flights to freedom and self esteem.