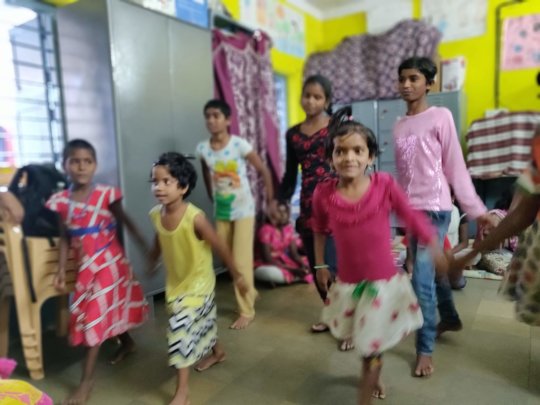 New Rainbows
Dear Readers aka the extended family of Rainbow Homes Program.
The very purpose of these reports is to share with you the newest exciting additions and impactful journeys that we make as an organisation when reaching the maximum number of street children. One such wonderful addition to our reach and extent is placing a new Rainbow Home in Domlur Area of the metro city Bangalore. This report talks about how Mahadevi, a girl aged 13 found happiness, shelter, care, protection and a new world where she can read, write, question, and explore herself and the world around her.
Mahadevi, 13 lives in Domlur Rainbow Homes in Bangalore. Its been six months of exhilarating journey for her here, where she was first brought in from the streets where she roamed and begged around bus stops and railway stations with her parents. Mahadevi had never learnt to read or write, never known what schools are like or how one speaks in different languages, hers being regional Kannada. The newest Rainbow Home, home of Mahadevi currently hosts 27 girls of different ages, all belonging to the poorest of poor, nomadic and street situation families. Never been enrolled into school, Mahadevi is currently pursuing her Bridge courses, which helps her to gain the time she lost on par of a normal student her age. When talking to her teachers, she's seen making remarkable progress. She says numbers are very interesting and so are the stories she learns in her English lessons. When she first came to the home, she was a shy but always a cautious girl on her feet. One thing that we learn from these children is that streets have already made them into a fighter, a quick and constant vigilant person of their own. It is now our responsibility that in the homes, they come out of their shells and let down their guard a bit to live and laugh with the children their age. Mahadevi now freely socialises with her friends in the home, her three sister committee, where she has an older and one younger Akka (sister). During meetings with her parents, she properly addresses them and reflects on her bonds with her mother and father and how she plans to support them when she grows up. Having built up a stronger base in numbers and basic English and her regional languages, the home mothers have started planning Mahadevi's enrollment in a school by the start of next session. Her child progress report as maintained in all the Rainbow Homes highlights her attributes like quick thinking, socialising, self-confidence as a person. When asked about what she loves the most in the home, she tells her tales of delicious food that she eats every day with her sisters.
Over the course of the build-up of this Rainbow Home, it has the current strength of 27 young girls aged from 7 to 15. Even being new, the project Incharge Mr Santosh makes sure the homes never stay mundane in its everyday activities. They have an all-time arrangement with international volunteers from Spain, and abroad to teach children Mindfulness, sports, dance and music. Other activities since the month of its inception in April 2018, the home has participated and conducted activities like Yoga class, Meditation class, Iron and colour Therapy, Craft Class, Bharatanatyam and Singing class, Monthly Birthday Celebration, Outings, All Religion Festivals, Counseling Facility from Banjara Academy. And also an appointment of a Counselor. Once in a month, the home conducts health camp for the girls.
From Organisational POV, the home in its build-up stage is self-sustainable when it comes to creating its own image with stakeholders like local schools, school Teachers, volunteer, Visitors, Donors, and Locals. The smiles and peals of laughter and the jovial nature of the girls create a happy home and good bonding with its residential staff of 9 members, where the two home mothers and counsellor are every girl's top favourite. An international volunteer who is a regular in the homes states " this rainbow home provides Nutritious food, Homely feel, Friendliness, Cleanliness, Good Environment...I have personally experienced it in the food I ate and the girls I taught."
Apart from local resource mobilisation, what the home truly needs is a corpus to build better facilities and infrastructure which is rather slow because of lack of funds. The challenges Mahadevi's homes currently faces include Blockage of Drainages, Lack of Toilets, No proper Bathrooms, Lack of rooms, Scarcity of Drinking water.
The other challenges faced by the homes social mobilizers, in particular, are; parents, they change their residence and contact number, often without prior information, making it difficult to make follow up. We hope your continued support with talking about us to your friends and collegues will bring in more awareness and inlcusion of people from far and beyond to help these young'uns in reclaiming their rightful childhood and help them become strong independent , empthatic and responsible global citizens of Urban India.