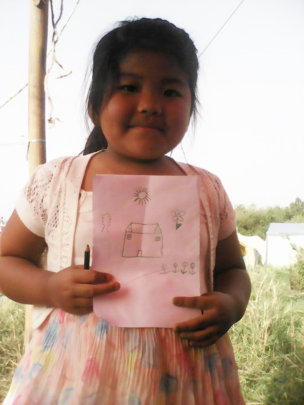 It's been nearly five months since the Gorkha earthquake and its aftershocks shook Nepal and disrupted the lives of millions of individuals throughout the country. Our grassroots partners in and around Kathmandu experienced the effects firsthand, as these disasters inflicted structural damage on the buildings in which our partners' programs operate and caused emotional distress for the already vulnerable children they serve.
But with your support, The Global Fund for Children has helped its partners meet the immediate needs of their communities and is providing ongoing assistance in helping them plan for and fund their next stages of recovery. Within weeks of the initial earthquake, we mobilized financial support from our Emergency Fund, enabling our Nepalese partners to provide basic necessities such as food, water, and temporary shelter to the children and families in their communities.
With this support, our partner PSD Nepal organized health camps in the Nuwakot, Sindhupalchowk, and Dolakha districts, providing medical care and professional psychological counseling to 700 individuals. The organization has also supplemented its programming with safety education, including an awareness class that teaches children how to stay safe during and after earthquakes, and the distribution of a children's book entitled Gita and Shyam: The Day When the Earth Shook, which discusses earthquakes and their effects in child-friendly language. Another partner, CAP Nepal, has been offering psychological counseling, including art and group therapy sessions, to children who have suffered trauma as a result of the earthquake. CAP Nepal conducts many of these sessions at mobile camps where thousands of people are living outside due to the destruction of their homes.
Over the next two to three years, The Global Fund for Children will provide its grassroots partners in Nepal with funding and technical expertise to support their medium- and long-term recovery efforts. Throughout this time, we will continue to support these organizations' core programming activities and organizational priorities in accordance with our model of offering flexible cash grants that enable our partners to invest in vital infrastructure and capacity-building developments.
On behalf of everyone at The Global Fund for Children, thank you for your support at this critical time in the lives of our grassroots partners in Nepal and the children they serve. Together, we are helping these children and their communities become more resilient in the face of natural disasters and beyond.