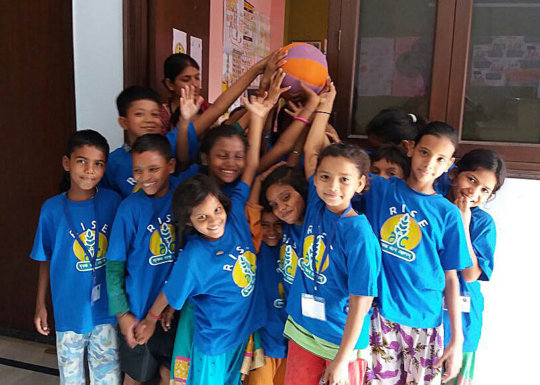 More than 500 poor children in Sangam Vihar are learning to unlock the golden door to their bright future! Thanks to generous support from funders, volunteers, well wishers, guides and mentors, the children are no more vulnerable. Their empty minds are now becoming open minds in which they are able to absorb and assimilate. What started as an attempt to restore 100 childhoods, is now helping more than 500!
One of them is Pooja. When Pooja was brought to the remedial education centre (RISE) at I Block, Sangam Vihar, she was a bundle of nerves and could not utter a word. Dirty hands, shabby clothes, sweaty brow and the look of misery and desolation was writ large on her face. This barely 9 year old child was the hardworking breadwinner of a poor family. The time that should have been spent in gaining basic education and in playing with friends was being devoted to scrubbing floors and washing dishes and listening to the scolding of the lady master. The hands that could be used to build the future of the country were being taught to wash dirty floors and utensils. A valuable life was being severely ruined.
After 6 months of being at RISE, Pooja has a spark in her eyes as she dreams of a future for herself. If you ask her, she says she wants to be a doctor, to be able to cure her ailing mother. Pooja was freed from domestic labour with the help of dedicated efforts of RISE team as they were able to convince the mother and the employer. The employer agreed to provide extra salary to the mother.
Education is not a privilege. It is a human right. Thanks to the Right of Children to Free and Compulsory Education Act or Right to Education Act (RTE), every child in India is entitled to get free and compulsory education. This has vastly improved the access to education in India.
However, quality remains a major concern. More than 50 per cent children in India are not able to access quality education and their learning levels are much below the prescribed grade-specific and age-specific learning levels. This is a violation of their Right to Education. Due to educational deficiency, a large section of vulnerable children are not able to realise their full potential and thus will never be able to partner in nation's progress.
AROH Foundation strives to bridge the gap between access and quality through remedial education to poor and vulnerable children. Project RISE aims to improve learning outcomes poor and marginalised children living in slums and rural areas, so that they are able to harness their full potential and become the productive force of Indian economy.
RISE is striving to improve the lives of more than 500 under privileged children between the age group of 6 to 14 years, who come from backward lower income groups in Sangam Vihar. With an objective to improve the learning ability of these economically weak children enrolled in government schools, support is being extended to facilitate their elementary education across 10 centers. Each centre caters 50 children with the help of an educator. The student are taught in two batches in sync with their school timings.
These underprivileged children in slums belong to poor households where parents are struggling to make both ends meet. They work as laborers, vendors, rickshaw pullers, domestic servants, drivers, etc., generally serving the needs of nearby affluent colonies. They cannot afford high cost private education and tuitions for their children.
To help such children, the RISE centres provide free of cost remedial education of 3 hours each day. AROH Foundation has specifically focused upon the quality of its educators, ensuring that these educators are well qualified, educated and trained. The educator is well equipped with knowledge of teaching all subjects like Maths, English, Hindi. The educators are taken from the community to improve the sustainability of the initiative and they are given intensive on-the-job training.
Regular parent-teacher interaction is an important component of the project. The idea behind this move is to ensure that parents become more attentive about their children's performance in the class and this is well accessible through pre - post test and other extra curriculum activities including painting, dance, games, quiz, sports.
AROH was able to help Pooja and others like her because of your generous support for this noble cause. There are thousands of children living in slums who need help to be able to get free from shackles of poverty and deprivation. We can give these children a better tomorrow by giving them an opportunity. An opportunity and access to quality education. Join us and be a part of this extraordinary journey where dreams turn into reality.