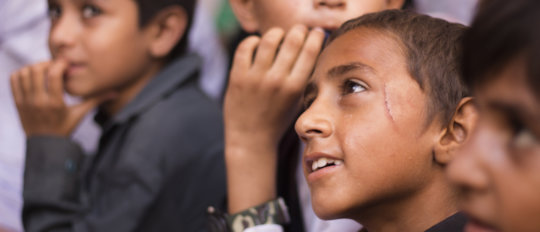 When Jan saw the Taliban overtake her village in northern Pakistan and begin to brainwash her friends and family with hate speech, she felt compelled to stop the them, and begin to teach her community about peace and conflict resolution instead. In 2013, she attended training with Peace Direct's local partner in Pakistan, Aware Girls, during which she learned about how to effectively combat the Taliban's Islamist agenda. She now gives lectures about countering violent-extremism to children in her community. This is her story:
'I always liked reading and from early childhood, I would read anything I could get my hands on. I read books on Gandhi, Nelson Mandela and Indo-Pak Partition, which had a strong impact on me as a person.'
'When [the] Taliban started taking over our area, I didn't know what to do. I knew how to write, so I started writing against them. They used to collect funds for constructing mosques and started conducting three-day trainings [where] they would preach hatred against [the] army and other people.'
'I was never very religious, so I was not attracted to them. They slowly took the best students of my class, brainwashed them and used them for their own gains. I lost most of my friends, one-by-one to these Taliban who were used to carry out suicide attacks in Afghanistan and Waziristan. Some of the students who went to college were also trapped when they returned to Federally Administered Tribal Areas (FATA) in their summer holidays. Mullahs inducted them in their trainings and sent them to Afghanistan where they carried out suicide attacks and lost their lives.'
'Writing against [the] Taliban did not seem enough. I felt the need to somehow stop [them], so I, along with a few of my friends, started to educate youth about peace and conflict resolution. I advised them to keep away from such groups.'
'In 2013, I came across Aware Girls, and [began to attend] their training [sessions]. The most beneficial part of their training for me was the clarity they gave on the Taliban and their agenda. I sent some of the youth I work with to their trainings as well. I started giving lectures on peace, conflict resolution and women's history in the trainings organized by Aware Girls.'
'At the same time, I continued conducting sessions for youth in the FATA, trying to save them from being taken over by the Taliban. I would educate them about what Islam actually says; citing references from Quran and Hadith in order to show them how they were being miss led from religion. Then I would tell them about the importance of education, take them to Peshawar for exposure visits to show them how educated people in developed cities are living peaceful lives.'
'Gradually, I started conducting sessions with the youth who were being trained by Taliban. The first two sessions would be the most dangerous, because I would either convince them of what I was saying, in which case I could save them, but in the cases where I failed to convince them, they snitched to Taliban about my activities. Their threats turned into attacks, from which I escaped, fortunately.'
'One of my students, Imran, who is very dear to me, had started attending trainings of Taliban when he was in the 4th grade. Fortunately, because he is so close to me, I was able to revert him and sent him back to regular school. Now he is in the 8th grade. He writes very good poetry and looks after my library, which I have opened for youth to expand their horizons on the world, peace and pluralism.'
'Things have changed considerably since the operation started. I hope that all this militancy ends soon.'
Your support creates opportunities for people like Jan to develop their skills and contribute to health, safety, and peace in their communities. With your support, we can provide training to more young women like Jan, and help them practice peace and enable others to embrace peace within their communities. Like Jan, every individual who benefits from this project can have an exponential impact and inspire others to find alternatives to conflict.