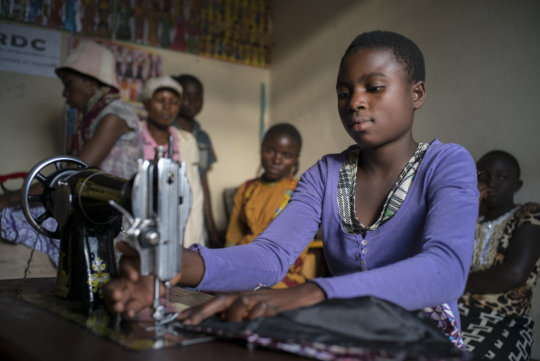 When drawn into militia life, children often witness things no child should have to witness. But thanks to your support, we are able to work with CRC to rescue children from armed groups, and help them build the peaceful futures they dream of. This is Kahindo's story.
''My name is Kahindo and I'm from Butembo. It's a large town in North Kivu province, surrounded by fields and forests.
When I was a young girl, I wanted to go to school. I loved studying, and begged by father to let me go and learn. But we were a poor family, and he didn't have enough money to enrol me. As I grew older, I decided to try and make enough money to pay my own school fees. I started selling water and palm nuts, but I wasn't making much and life became tougher and tougher.
As life became harder to bear, a friend suggested that I join a gang in a local village. They said I would be able to get food, and have things to do. So I sought out this gang, and I joined the militia, having lost all faith in making a living another way.
In the militia, I fought as a soldier. When I wasn't fighting, I was at the mercy of the officers who repeatedly raped and sexually assaulted me. The pain in my heart was almost too much to bear and I thought about ending my own life.
After 5 years of terror and abuse in the bush, I overheard on the radio a broadcast about an organisation called Centre Resolution Conflits. They spoke about rescuing soldier like me, finding them a home, and helping them lead a life outside of the bush.
I realised that there was hope, that I didn't need to end my life, and that if I returned to my community I could be happy again. With the help of CRC I left the bush and began living in the city of Halungupa. I now have a new life, new friendships, and enough money to support myself.''
With your support, we can continue to rescue children like Kahindo, and give them a peaceful, stable future.