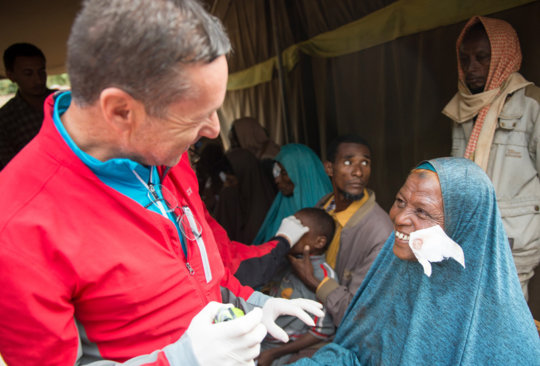 A surgical outreach intervention held at Arbaminch General Hospital in the Southern Nations, Nationalities, and People's Region (SNNPR) region from March 20-25th provided 981 cataract surgeries. The surgical team consisted of HCP co-founder Dr. Geoff Tabin, Dr. Demoze of Hawassa University, Abraham Aregay of Woldiya Hospital, HCP Volunteer Timmy O'Neill and visiting staff from other Ethiopian partners, including Quiha Zonal Hospital, Hawassa University, Mekele Hospital, Jimma University and Peace Corps. HCP and its 10 implementing partners in Ethiopia are working to reduce the backlog of cataract blindness. It is estimated that over 600,000 people are blind due to cataracts. HCP's support for outreach campaigns provide much needed service while building ophthalmic capacity for Ethiopia's present and future eye care personnel.
Also in March, HCP Partner Abba Philippos Memorial Eye Clinic of Ethiopia conducted 3 consecutive outreach events, yielding a total of 549 surgeries – the highest number of people this outreach team has reached in a single month. The team began at Bodji Clinic, where 90 cataract surgeries were performed in two days. From there, they traveled directly to Aira Base Hospital, where a huge crowd was waiting for treatment. That week, they were able to complete 174 cataract surgeries, which is a record high for the base hospital. Finally, the surgical team made their way to Dembidollo, where they did an additional 285 cataract surgeries in six days. Advance screening of patients was conducted by the Aira Base Hospital and Dembidollo staff.
"On behalf of the eye team and the patients, we would like to thank you and our donors for this huge help. May God bless you all. We are very glad to be part of this."
Patient Stories from the Field:
A female patient, age 25, had been blind for two years. She completed grade nine but could not go back to school due to her poor eye vision. Her exam revealed bilateral cataracts. Surgery went well with excellent post-operative vision. The next morning upon removing her eye patches, she smiled and stared at her brother who had brought her to the hospital. She is very eager to go back to school.
A female patient, age 30, had been blind for 13 years. She had been advised by traditional healers not to seek modern medical care and thus remained at home for many years, unable to see. The surgery was uneventful and she had an excellent outcome. After the patch was removed, she told her story to other patients and kept on smiling and laughing.
A male patient had been blind for the last 12 months from cataracts. He moved to Wellega from the eastern part of Ethiopia 8 years ago due to drought in that area. He could not afford to go to Aira Hospital and had been waiting for the arrival of the Abba Philippos eye team. He had excellent post operative vision and was very happy.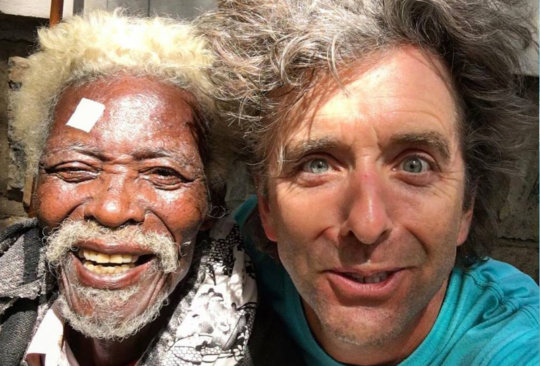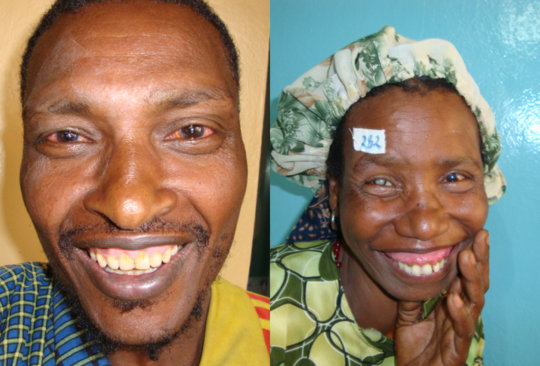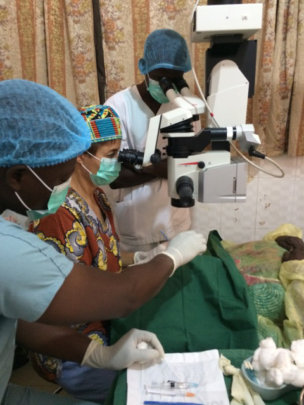 In December, HCP partner Dr. Judith Simon brought a team from the Tamale Teaching Hospital to Yeji, a village along the Volta River some 300 kilometers south of Tamale. It was Dr. Simon's second trip of the year to Yeji — both on Saturdays, the day she leads outreach trips into the countryside to provide eye care for residents living in remote and hard-to-reach places. Her team performed 30 cataract surgeries that Saturday, contributing to the record number of 3,494 total surgeries HCP and its three implementing partners performed in Ghana during 2016 - more than half took place in outreach settings.
The numbers, though, don't tell the heart of the story about our work in Ghana. Every single cataract surgery we perform changes a human life for the better, in many cases, profoundly. In Yeji, Dr. Simon's team gave sight to a 23-year-old woman who had been blind since birth. Another woman, from a nearby village, returned to Yeji after having had surgery there during the previous outreach. She brought five members of her village with her, all of them blind, all of them living with the belief that blindness is simply an inevitable part of aging. While one of those people had untreatable glaucoma, the team from Tamale was able to restore the sight of the other four with a simple, inexpensive procedure. Dr. Simon, who has worked full-time in Ghana for the past three years, joked about the unofficial recruiting that helps spread the word of HCP's work. She said, "We told that woman she'll be getting a percentage soon!"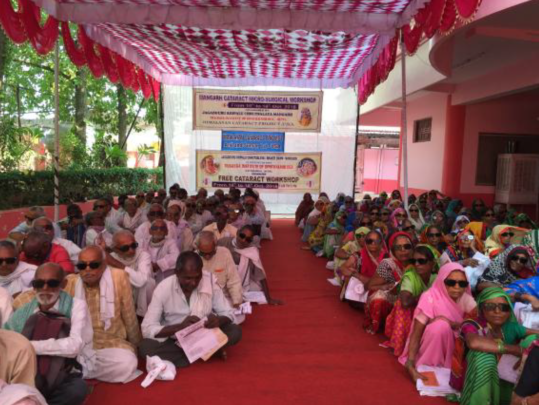 Two outreaches were held at the end of 2016 in India. Four days were spent in Mangarh, where a total of 723 cataract surgeries were completed, and two days were spent in Vindraban, where 359 surgeries were completed. The outreach was organized by the Himalayan Cataract Project, Tilganga Institute of Ophthalmology, and JGK Mangarh and Vindraban.
Since 2004, the Himalayan Cataract Project and our flagship partner in Kathmandu, Nepal, the Tilganga Institute of Ophthalmology, have treated over 200,000 patients and provided over 24,000 sight-restoring surgeries in Northern India.
The Himalayan Cataract Project and Tilganga have drastically improved eye care by creating a proven eye care model worthy of worldwide replication. Our top priority is to reach the greatest number of unserved blind people, with the highest quality care at the lowest cost possible.
More outreach events are planned throughout the coming months and we look forward to sharing more photos and stories from the field!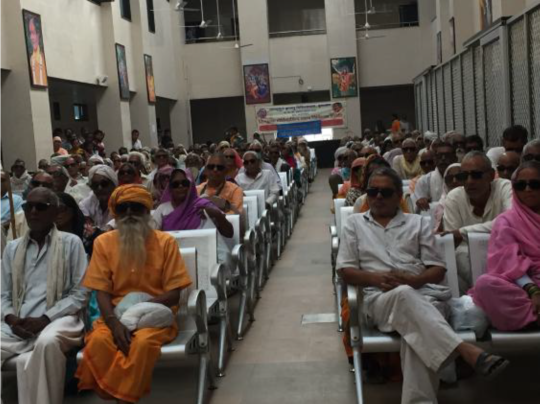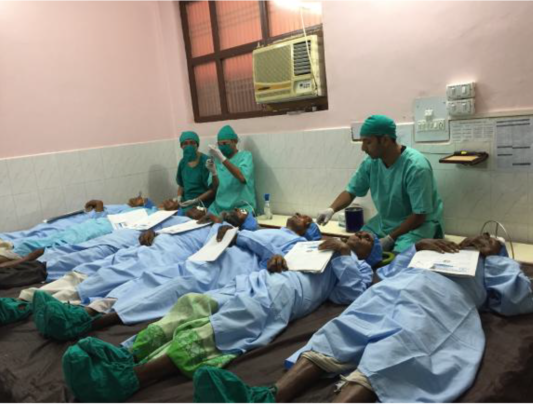 WARNING: Javascript is currently disabled or is not available in your browser. GlobalGiving makes extensive use of Javascript and will not function properly with Javascript disabled.
Please enable Javascript
and refresh this page.