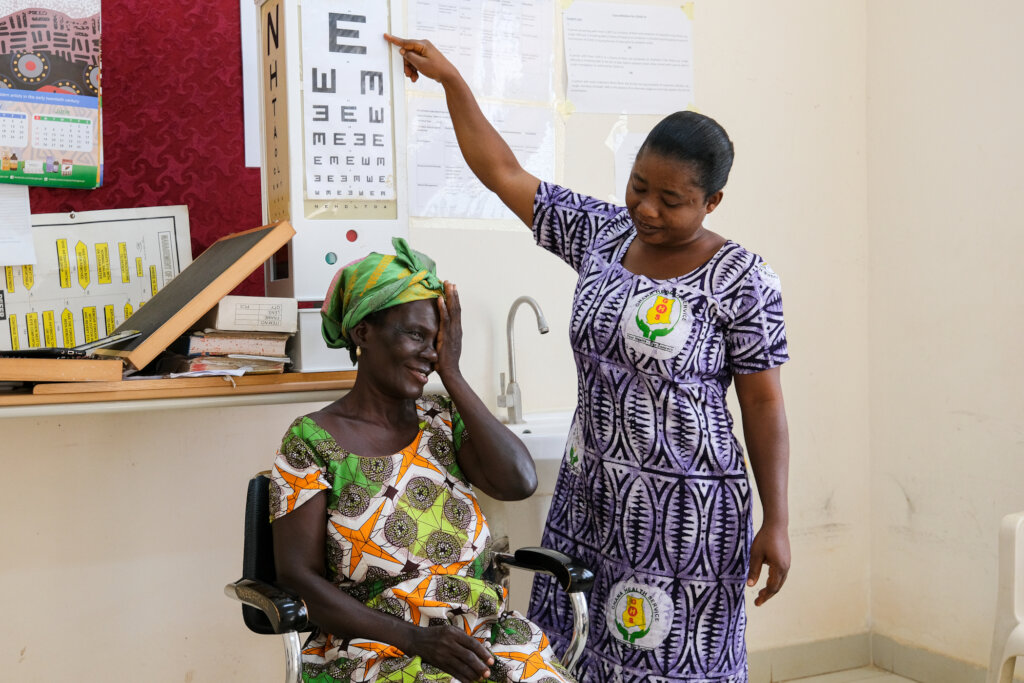 Cacao farming is typically carried out by small-scale producers, like 70-year-old Adwoa. As a widow, Adwoa relied on cacao farming to support her ten children for years. But five years ago, she lost her vision entirely due to cataracts.
"During my active years as a farmer, particles, and dirt kept flying into my eyes as I tended to my farm. Rubbing my eyes always relieved me until it didn't work anymore. That day, I went home complaining to my children about the pain in my eye. The pain turned into a cloudy film that appeared over my eyes, and before I knew it, my sight was gone."
Adowa's daughter Alice, 36, has taken care of her since then. Alice's children, aged between five and three, have also been helping their grandmother get around the house. But on days when no one was at home to help, all of Adwoa's necessities were placed within reach until someone came home to help. Asongwaa had to bear the darkness in solitude.
The Sweet Relief of Restored Sight
This past year, Adwoa's children decided to seek medical help. Alice accompanied her on her first trip to the Tarkwa Municipal Hospital, where HCP Cureblindness supported a surgical outreach that removed the cataract from Adowa's left eye and restored her sight.
"The first surgery was not scary because I knew everything would go well. My whole life, I have not done any surgery, so I had no expectations," she said. "In a short time, the surgery was over. There were no complications afterward."
Then, just last month, Adwoa returned to undergo the same procedure on her right eye. Again, she and Alice sat in the waiting area of the Eye Clinic in the Tarkwa Municipal Hospital – this time accompanied by her five-year-old granddaughter Veronica. Veronica was so excited her grandmother now had "fresh eyes" that she insisted on joining to see Asongwaa's right eye fixed as well.
After a simple ten-minute surgery, Adwoa walked out of the hospital beaming with her vision fully restored. For the first time since Veronica's birth, Adwoa could finally see her grandchildren.
"They are healthier and much more beautiful than I imagined," she said. "With my sight restored, I can help care for them instead of these little ones caring for me. The fact that I was helpless truly frustrated me. Thankfully, I can now babysit as my daughters go out to work. God bless the doctors."
How We Help: HCP-Donated Equipment Helps Local Doctors
HCP Cureblindness works to bring life-changing eye care to people in underserved areas of the world with continual focus on training, direct service, and long-term infrastructure. In addition to these focus areas, HCP is empowering local teams in various locations, including those without permanent infrastructure, by sending them outreach kits filled with essential equipment and instruments for eye surgeries like small incision cataract surgery (SICS). These kits profoundly impact patients' lives, as shared by Dr. Gloria Kyeremeh, an Ophthalmologist from rural Ghana.
Dr. Gloria's story is a testament to the impact of outreach efforts and the transformational power of providing necessary medical tools to in-country teams. As an ophthalmologist serving a bustling region in Ghana known for its mining activities, Dr. Gloria was all too familiar with the devastating effects of eye injuries caused by explosions and cataracts on her patients.
Despite her expertise and determination to make a difference, Dr. Gloria faced significant challenges in providing urgently needed eye care to her patients. She lacked the necessary tools and equipment to perform surgeries and often had to refer her patients to distant facilities, which caused delays and limited access to timely care.
However, everything changed when Dr. Gloria received a Surgical Outreach Kit from HCP. As she opened the kit, she found all the essential equipment, tools, and consumables needed for performing eye surgeries, including small incision cataract surgery (SICS). Dr. Gloria was overwhelmed with gratitude and excitement as she realized the impact this would have on her patients and her community.
With the Surgical Outreach Kit in hand, Dr. Gloria could perform emergency surgeries on patients who had lost their sight due to cataracts.
Here is Dr. Gloria's perspective, in her own words:
For the past two months, we have had the capacity to do cataract surgeries every week. We are clearing our backlog, and new patients are getting surgeries done within a week of tests. HCP's intervention has been highly impactful and is changing the lives of our patients. Gone are the days when patients stayed home with their eye problems due to the laborious task of journeying long distances on bad roads to seek medical attention.
As a surgeon, I am happy. I get to practice what I have learned daily. I am getting better at performing surgeries, managing complications, and feeling more confident because I get to do surgeries weekly. Since the hospital was established, this is the first time we have had a resident ophthalmologist. I am the only surgeon here and have been working for a year. The video recording system is an exciting piece of equipment that came with the HCP donation. I can play back surgeries and see the mistakes I made to improve. I am a very young surgeon at the beginning of my career, so this asset is life changing. I take medical emergencies very seriously; the sooner you intervene, the better. The hospital's emergency theatre has been repurposed into a dedicated eye theatre with one bed donated by HCP. With an operational and equipped eye theatre, we can provide emergency help promptly to save lives and avoid complications.
Because of your support, local doctors like Dr. Gloria are empowered to provide life-changing eye care to their patients, restoring vision and improving lives in remote and underserved areas.
Dr. Gloria with Adwoa after she successfully removed Adwoa's cataract.