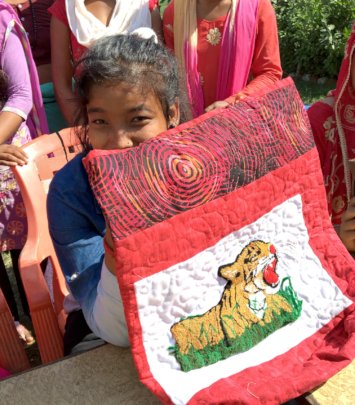 This report is offered to friends of The Advocacy Project who have donated to one of five appeals we have launched on GlobalGiving on behalf of 35 remarkable women in western Nepal. The fifth appeal was posted late last year and is still active.
All 35 women lost loved ones to the disappearances during the conflict in Nepal (1996-2006). It is not surprising that they are still haunted by the memory. The group's coordinator, Sarita, lost her father after he was falsely accused of Maoist sympathies by a relative. Sarita and her mother were then driven from the village. Sarita's husband died from a snakebite shortly afterwards. Poojah saw her father taken away by the army, never to return, and is still demanding an explanation - even though she is married to a soldier. Most older members of the group work in the fields for a pittance. They need justice. They also need money.
The women live in the district of Bardiya. AP began to support them through Global Giving in 2015. So far, our appeals have raised $15,735 from 259 generous donors.
AP was set up to support community-based associations like the Bardiya cooperative that are led by determined survivors of abuse like Sarita. But we – and the women – also understand that it will take more than determination to produce sustained benefits for the group members.
And this is why they are making bags.
They began in 2016 by using embroidery to describe the disappearance of their loved ones, often in graphic detail. The following year they turned from human rights to the environment, and made squares about the tigers that live in the nearby Bardiya National Park. AP brought the squares to the US where they were assembled into three delightful quilts by Bobbi, a talented quilter from North Carolina.
The women of Bardiya then decided to go into business. They commissioned several shops in Kathmandu to turn their Tiger squares into bags, but were dissatisfied by the result. So they turned to Sarita, who made 30 sample bags at the end of 2018.
And this is where we now stand.
There is no doubt that this project has empowered these brave women. We pay $20 for each piece of embroidery, which puts money in the pockets of the women and gives them the chance to work together and learn new skills. They have shown discipline in sharing out their income at the end of the year. Helped by a new sewing machine, Sarita has become an excellent seamstress and teacher. She dreams of opening a store at the Bardiya National Park where her friends can sell tiger bags to tourists.
This dream, however, will only be realized if the group can sell bags, and this is proving difficult. We do not know why. It could be the quality of the bags, or the cost of production (which includes the $20 paid to artists), or simple competition in a country where every trekker and tourist owns a bag.
It is hard for AP to help from Washington, so we have decided that Bobbi the quilter and Iain from AP will visit Bardiya in April. Bobbi will help the women assemble their commemorative squares into an advocacy quilt to be exhibited in Nepal and the US. She will also advise Sarita on her bag-making – the first time (to our knowledge) that an American quilter has visited the Global South to provide such technical assistance. Iain will seek out markets at tourist lodges and shops in Kathmandu, help the cooperative to design a new business plan, and profile the group on the AP website. Whatever we raise on Global Giving will go to the cooperative.
AP is committed to these women and to their vision. If they can launch a successful business they could influence the national debate in Nepal over how to compensate family-members of the disappeared, which has reached an angry stalemate. But we also understand the importance of investing your donations wisely. Right now, it hangs on finding a market.
Are we on the right track? We would love to hear from you!
In the meantime, know that the ladies of Bardiya are deeply grateful for your support.
We'll keep you posted!
The AP team