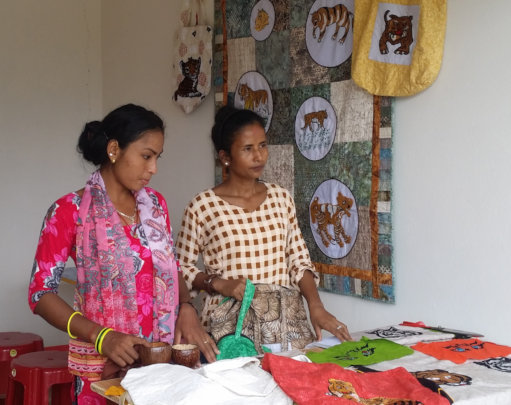 This update is being sent to friends who have kindly donated to our appeals on behalf of family members of the disappeared in Nepal since 2015.
Over the last four years, with your help, we have channeled over $15,000 to a group of 28 courageous women and girls in western Nepal who lost relatives during Nepal's long conflict. When we last reported to you in February, they were on the point of launching a new business to make and sell their special brand of Tiger bags. They were also preparing to join a new campaign by their national movement, the Network of Families of the Disappeared in Nepal (NEFAD), to demand justice for their lost loved ones.
The women live in the western state of Bardiya, which suffered more disappearances than any other district during the war. In spite of this grim past, there was a mood of optimism and even excitement. Helped by our Peace Fellows and your donations, the women had formed a cooperative, told their story through two wonderful memorial quilts (one of which was shown at the UN); and developed a handsome and sturdy tote bag carrying the motif of a tiger. We had brought samples of their bags to the US and received several commissions.
Things were looking up in Nepal and the US. We recruited two very capable Peace Fellows from The Fletcher School (Tufts) and Georgetown to serve at NEFAD and help the Bardiya cooperative to pursue their twin goals - building up their business and securing a system of transitional justice that addresses their needs.
And then came the COVID-19 pandemic.
Since early March, it has been a struggle every step of the way. As with countless other community initiatives, the Bardiya bag project was put on hold. The cooperative had rented a shop near the Bardiya National Park in the hope of selling bags to tourists, but the shop closed. Members were unable to meet in person – an unbearable prospect for women who rely on each other's company. The sewing machines fell silent.
The cooperative members looked for other ways to help in their communities. Using a small grant from AP, they made 200 face masks at home for local medical centers. This was useful, but masks are no longer needed because there is a glut of masks on the market. The cooperative will have to find other solutions if it is to stay together.
Sarita and her friends have responded by adopting a bold strategy that could carry lessons for others facing the same predicament. Instead of surrendering to the pandemic, they have decided to exploit the opportunities it offers for a new approach.
Their first goal is to increase their stock of tiger bags. They will rent a new room nearer to their homes and take turns to work the sewing machines (and social distance) while the lockdown gradually eases. They had made over 40 bags when the pandemic struck and hope to make 100 by the end of the year. That will give them a cushion for when sales resume.
The cooperative will also use innovative branding as part of a new marketing strategy. Each bag will carry a small woven signature by the bag-maker to link it to her own unique story. Back in the US, the AP team will post photos of the bag-makers with their bags and hopefully drive sales when life gets back to normal.
AP is fielding an accomplished team this summer, and we want partners like NEFAD to take advantage of this to expand their market and their networks. One of our assistants, Grace, who studies at the Walk Whitman High School here in Washington, is reaching out to tiger conservation groups. Another, Taylor, at Elon University in North Carolina, will be posting regularly to our five social media platforms. We have also invited our friends at NEFAD to post blogs on our website. We hope to Zoom with bag-makers like Alina, 17 and Kushma, seen in the photos.
Last, and most important, we are not forgetting the core issue of traditional justice. Peace Fellow Beth from the Fletcher School at Tufts, is working with Ram, the founder of NEFAD, to produce a report for the United Nations on transitional justice. The report will help the UN Human Rights Council to assess Nepal's human rights record in Geneva next year.
In other words, there's a lot going on! This has given us a morale boost, in Nepal and the US, after some grim months. It also suggests a new beginning. As a result, we have decided to close this appeal and start afresh with a 3-month microproject ro raise seed money for the Tiger bags on July 15 – GlobalGiving's matching day. We want the Bardiya cooperative to be prepared when markets open and travel resumes.
To all of you who have supported our work with NEFAD through these five years, thank you! We hope you can continue to support Sarita and her remarkable team.
And to you all - stay safe.
In gratitude,
The NEFAD and AP teams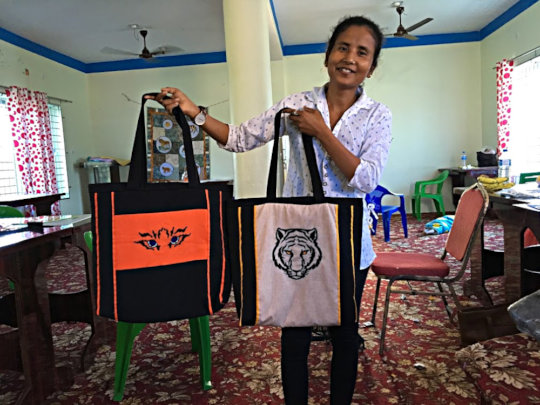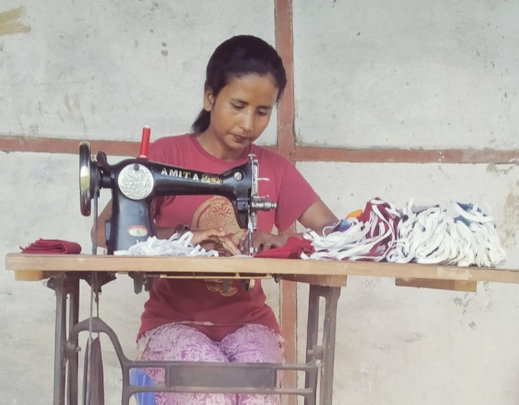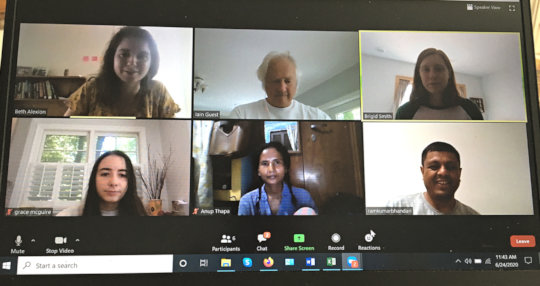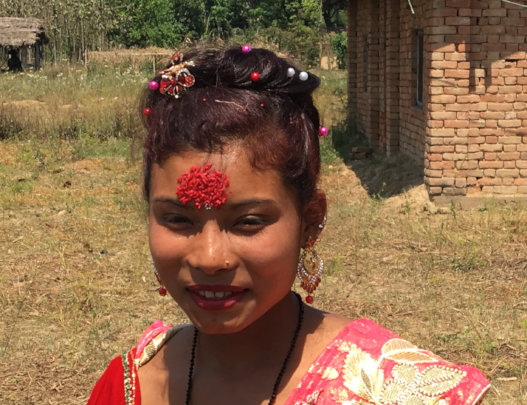 Links: