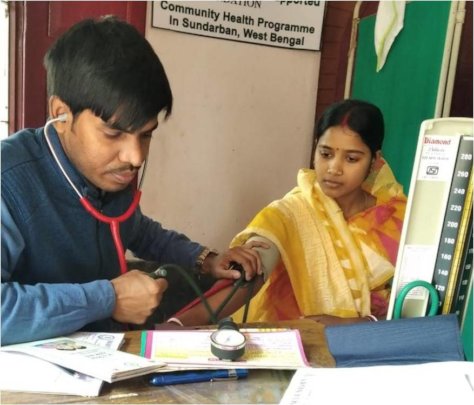 'Sabuj Sangha' remained persistent to reach out the communities in remote villages of vastly spread Sunderbans under with various activities who are still deprived of basic amenities education, employment, health etc. and continued to live at the mercy of destiny. Coupled with this deprivations Nature's sudden fury often make their lives miserable. In such circumstances Sabuj Sangha's robust health team continued reaching out them with regular health camps at remote locations and services through their established Rural Health Centre at remote Nandakumarpur village namely 'Swarnalata Sabuj Seva Sadan'. Thus they continue the services through the Community Health Programme.
Worthy of mentioning that ever since the devastating severe Cyclone Bulbul made a landfall in the vast areas of Sunderbans on 9th November, 2019 Sabuj Sangha consistently making their health services reached out the affected communities under Namkhana, Mathurapur II and Patharpratima blocks of coastal South 24 Parganas district of West Bengal, India.
Also the routine services of community health care continued.
Health care service through OPD at Rural Health Care Unit – 'Swarnalata Sabuj Seva Sadan'
OPD clinics at 'Swarnalata Sabuj Seva Sadan' remained operational and treatment including diagnostic services continued during January, 2020. The trend diseases observed during the month was common cough & cold, fever, eye related problem, gastroenteritis, hypertension, ache in bone joints, complications due to high sugar, respiratory trouble, abdominal pain, skin infection etc. During January, 2020 total 603 patients received health care facilities.
Diagnostic cares provided:
- Pathology: 235,
- ECG: 10,
- USG: 44 and
- X-Ray: 26
Health care services through IPD
Through IPD general patients as well as patients through Govt. Health schemes were treated and institutional deliveries conducted. During January-2020, the number of persons provided health care in IPD through RHTC are as follows:
- IPD Delivery: 2
- Others: 8
Health services through Outreach Health Camp
Health checkup & treatment facility with medicinal support & diagnostic care through outreach camps were provided to people, which benefitted people to a large extent. It has been noticed that; the people are gradually being conscious to take care of their health and as such, patient's flow increased. The type of diseases treated was same as mentioned under OPD services. During January, 2020 - 873 patients were treated through outreach camps.
Case Story
Now pregnant Mrs. Suchitra* Dalui lives with her husband Mr. Krishna* Dalui and family at remote Herambagopalpur village of Patharpratima block in South 24 Parganas district. Mr. Dalui is a daily wage labourer in closely located bricks field to sustain his family expenses. Sumitra also shares hand with her husband in earning sustenance.
She got married at a very tender age of 16 (sixteen) testifying the fact of prevalent child marriage trend in the area. When she was found to be pregnant her hemoglobin level was 10.2gm/dl with a height of 142 cms. At such low hemoglobin level and being pregnant at such young age she was identified and as belongs to Risk Motherhood Category by the community health worker of Sabuj Sangha while visiting her house. Thus she was taken under observation by the Sabuj Sangha health team. She was continuously monitored by the Community Health Workers and was provided with essential consultation, medicines and supplementary micro nutrients through the Antenatal Care (ANC) camps.
At the most shocking course of incident even during pregnancy she was being forced to go for laborious works to ensure the earnings. When she denied obeying such dictum she was forcedly separated from her family.
In such circumstances only Sabuj Sangha's consistent monitoring and acre remained as Suchitra's* only ray of hope. The Sabuj Sangha health team now in consistent touch with her providing her all care and support she requires at such tender period of motherhood. She is being provided medicines, doctor's consultations supplementary foods etc. free of any cost.
At deep gratitude Suchitra* says that she is extremely lucky to have such affection and care from Sabuj Sangha. Felt with tears in her eyes she expressed her indebtedness to the organisation.
* Names of all individuals altered to maintain privacy and safety.