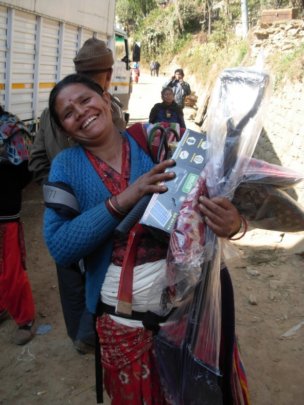 Initial position
The two devastating earthquakes that struck Nepal in April and May 2015, as well as a series of strong aftershocks continuing for over a month have caused severe damage and human loss. It is estimated that the lives of about eight million people, almost one third of Nepal's population, have been impacted. Overall, 8.898 people have been confirmed dead, 22.309 have been injured.
31 of the country's 75 districts have been affected out of which 14 were severely hit. District Sindhupalchowk, in which Caritas Austria is implementing a majority of its earthquake-related projects, is considered as one of the most severely hit districts.
43.000 people supported
During the first weeks and months after the earthquakes Caritas Austria reached and supported 43.000 people with food, shelter materials, hygiene kits and medicines. Thanks to temporary school tents, 5,700 children were able to pursue their education in a secure environment.
The reconstruction of the compound wall of the Mary Ward School (a partner Caritas Austria has supported for many years) was an important contribution to the safety and security of the 375 children.
Winter support
During December 2015 and January 2016 Caritas Austria was able to distribute CGI-sheets, solar lights and much needed warm blankets for the cold winter season to more than 470 households in Tauthali, Sindhupalchowk. The whole community of Tauthali was very active in taking part and facilitating the distributions and all people were happy to receive the extra support to get through the cold winter-months.
Back to school
Nearly all educational establishments in the project area were severely or completely damaged and are in need of retrofitting or rebuilding. This project will thus also rebuild 40 completely destroyed classrooms and retrofit 30 partially destroyed classrooms using earthquake resistant construction methods. Additionally and in order to offer appropriate hygiene standards, 5 toilets and 5 water supply systems will be rebuilt. 1,750 children will have access to a structured school day/rhythm. The principle of Cash for Work will be applied here again involving the parents of the school children. They will be instructed by a qualified team, experts in earthquake-resistant construction methods. They will benefit by gaining valuable skills and earning much needed money.
Target group
- 1.750 direct beneficiaries (school children)
- 125 beneficiaries for Cash for Work activities