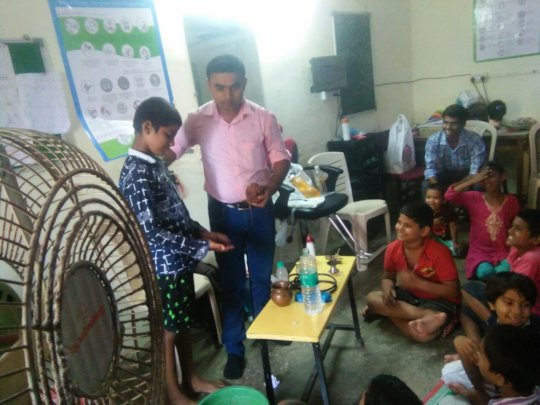 India is said to be one of the most superstitious countries in the world. Superstition is prevalent among all classes- rich and poor. Superstition is contrary to development and hence is also a sign of illiteracy, poverty and above all backwardness. Superstition is anything that is based on blind faith and mostly leads to some harmful consequence. In summary, it is opposite to rationality.
In order to fight the plague of superstition and superstitious beliefs among people, Andhshraddha Nirmoolan Samiti (ANIS) was founded by the great mind Dr. Narendra Dabolkar. Dr. Dabolkar identified superstition as one of the biggest social evils in the Indian society and envisioned a society where each person could leave free of the shackles of baseless practices and beliefs. The organization therefore works towards spreading awareness among people.
Maharashtra Andhashraddha Nirmoolan Samiti (MANS) or (Maharashtra Blind faith Eradication Committee) is a voluntary organization working through 310 branches located in rural and urban Maharashtra, Belgaum in Karnataka and Goa. It does not receive foreign or government funding. It's a People's movement working solely on support of the people and for the people.
Maharashtra has a long legacy of rationalist social reformers who always took an objective and informed stand against superstition. The constitution of India has stipulated adoption of scientific outlook as one of the responsibilities of every Indian and has included it as a value to be inculcated through education. MANS has resolved to further this rational legacy through purposeful activities and programmes. The eradication of blind faith can be achieved by these four main Aims and Objectives:-
1. To oppose and agitate against harmful superstitions and rituals which misguide and exploit.
2. To inculcate and propagate scientific outlook, scepticism, humanism and critical thinking.
3. To encourage constructive and critical analysis of religion, traditions and customs.
4. To associate and work with progressive social reform organizations.
In keeping with spreading awareness against superstition and introducing a scientific temper among children, session on Science and Magic was organized by ANIS. About 40 children attended the session. They were excited to see how camphor reacts with fire, knowing about chill-lemon superstition to prevent ghosts entering the house on the night of no-moon. They also learned about muhurat and how there is no impact from it. Children also said that hence forth they would avoid keeping unnecessary fasts, as nutrition for the body is extremely important and long fasts induce problems of acidity and dehydration.
As it is said by the Father of Economics, Adam Smith, said 'Science is the antidote to the poisonous enthusiasm and superstition'; this is reflective in the awareness sessions and the need for a scientific temper among all classes and age groups.