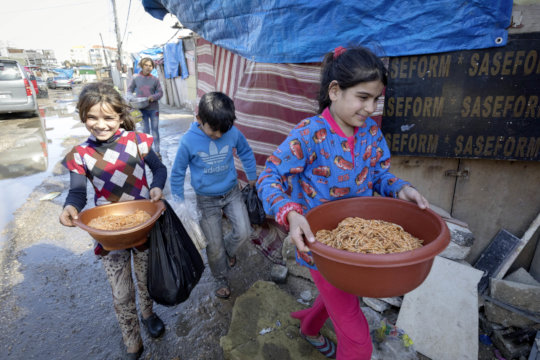 More than 6.1 million people have been displaced within Syria in recent years - more than in any other country in the world. A further 5.3 million have left the country and are registered as refugees in the neighbouring countries. The average life expectancy is only 55 years. The Syrian war, which has lasted for eight years, is one of the most complex humanitarian crises of our time. According to United Nations estimates, 13.1 million people depend on humanitarian aid, including 5.3 million children.

More than 5.3 million people have left the country and are mostly registered in the neighbouring states as Jordan or Lebanon. There are currently around 1.4 million Syrian refugees living in Jordan. According to UN estimates, 12% of the population have fled another country.

The ongoing Syrian crisis has led to a quasi-permanent stay of the Syrian refugee communities in Lebanon and Jordan. Around 80% of them live below the poverty line and many are therefore dependent on humanitarian aid to cover their basic needs.
We are helping both, Syrian refugees and the hosting communities in Jordan and Lebanon. With our project we want to reduce vulnerability and the suffering of the refugees and population affected by the Syrian conflict.
For this aim we are acting in serveral activities:
Shelter/ NFI: distribution, winter equipment (winter clothing, blankets, etc.), cash assistance (cash for rent)
Food security: distribution of food packages and vouchers for food, distribution of hot meals
Repair of hygiene and sanitation infrastructure, distribution of vouchers for hygiene articles, implementation of hygiene training courses
Health and Nutrition: free medical treatment days, health and nutrition sessions for beneficiaries, maternal care courses, health referrals, prophylaxis, community health education sessions
Please keep going on with your support, especially the permanent support of our work.
Thank you so much, yours
Michael Tuerk
Heavy rainfall in some parts of the Somali and Oromian regions of Ethiopia led to severe flooding.
The floods in the Somali region have affected over 40,000 families/households (approx. 264,000 persons), of which 25,000 households (over 150,000) have been displaced and need emergency shelter. Over 12,500 hectares of arable land have been destroyed, numerous health facilities and schools have been damaged and are not functioning.
The government's response is delayed because the extreme rainfall and damage could not be foreseen after the prolonged drought. According to recent information from the Ethiopian government for the Somali region, there is still a significant need for safe drinking water and sanitation and hygiene measures to prevent the recurrence of AWD (watery diarrhoea) and other WASH-associated diseases.
To react fast with our Partner RACIDA we plan to ensure the emergency supply of flood victims with vital Non-Food-Items for 2.5 months. In addition, the health of the target groups is to be positively influenced by hygiene education measures.
More than 10,000 flood victims are being supported with emergency aid to ensure their survival. For example, 3,400 mosquito nets are distributed, water treatment tablets and soap are dispensed. In addition, the 1,700 families benefiting from the project will receive plastic tarpaulins to make their makeshift shelters rainproof.
Please stay strong and support our work. For the people it will be a strong sign if you donate!
Yours
Michael Türk
Project Manager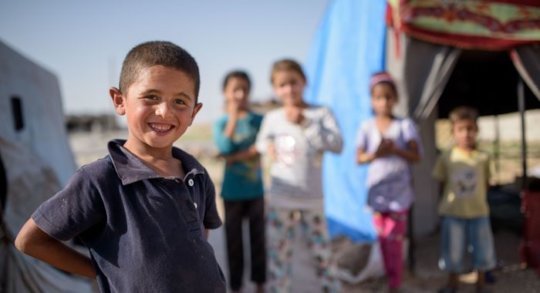 The three million refugees in Turkey have a difficult everyday life. They suffer from food shortages, lack of work and prospects, but also from the psychological wounds that have left their mark on them. Together with our Turkish partner organisation Support to Life (STL), Diakonie Katastrophenhilfe provides help for particularly needy refugees: electronic money cards made it possible to buy additional food, warm clothing helped to survive the winter, and psychosocial support facilitated the processing of the traumatic escape experiences.
Survival outside the camps
The refugee families, who have to make do with little money, often try to take out a loan as a short-term solution and get into debt. Many sell their last valuables, such as wedding rings, to secure basic needs. Many families also save the costs of educating their children in order to have sufficient reserves for their daily needs for food and hygiene articles. Parents sometimes give up meals so that their children don't go hungry. The majority of refugees are already showing signs of malnutrition.
More than 70,000 refugees, most of them Syrian, were supplied under this project. With the help of the additional income, people were able to buy food or commodities that they needed most. The local partner STL reports that families who had received cash cards no longer had to skip meals and were able to include food such as eggs, milk or meat products back in their diet. In addition, some 30,000 refugees were helped to survive the very cold winters in both south-eastern Turkey and Istanbul. With the help of the money cards they could buy winter clothes and warm blankets.
We appreciate your support so much. Many steps could already be taken. But futher support is necessary to reach more affected refugees. It would be great if you are getting a part of this project.
Thank you so much
yours
Michael Tuerk
WARNING: Javascript is currently disabled or is not available in your browser. GlobalGiving makes extensive use of Javascript and will not function properly with Javascript disabled.
Please enable Javascript
and refresh this page.