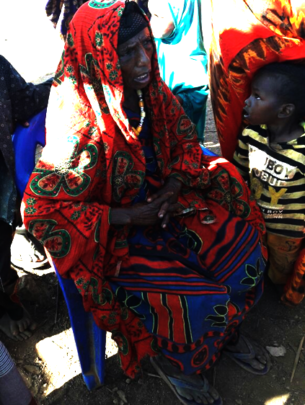 The Somali region in southeastern Ethiopia is one of the driest areas in the country. The region is increasingly affected by severe droughts. Together with its partner organisation RACIDA, Diakonie Katastrophenhilfe has been active in the region for years when the drought situation is particularly acute and people's lives are at risk.
Asura is one of many displaced people in Walaysalam, a community in Dheka Suftu. Due to the severe drought in 2017, she and her family had to flee to Walaysalam in the hope of finding help from relatives. They used to live as pastoralists from their cattle herds. But then came the drought, the cattle died, and with it their livelihood.
"Before RACIDA came to the area, our situation here was really bad," says the mother of eight children. "People did not have enough to drink, let alone water to wash or cook. Thanks to the help of RACIDA and the tank trucks, we were able to supply ourselves with fresh water in just 30 minutes. We also received water treatment tablets so that we could prepare water for safe consumption." In 2018, Asura and her children received 45 litres of water per day over a period of five months, which was brought to the region by tanker truck. The number of diarrhoeal diseases in the project area was significantly reduced by the water purification tablets.


Around eight million people in Ethiopia are dependent on humanitarian aid. This is due to internal conflicts and displacements as well as frequent natural events such as droughts and floods. In particular, continuing drought in the south and southeast of the country has severely impaired food security and the livelihoods of thousands of small farmers and pastoralists. Some 8.3 million people depend on food aid, especially in the Somali region. After the drought became particularly severe in 2017, weeks of heavy rainfall with extreme flooding occurred in 2018. Entire towns and villages were under water, hundreds of thousands lost all their belongings.

In this situation it's so good to know you at our side. Thank you for the support.

Yours
Michael Tuerk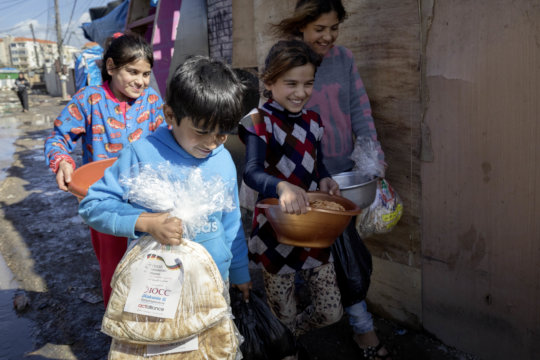 The Syrian crisis is now in its eighth year, and the population is marked by destruction and displacement. There are some 13.1 million people within Syria who need humanitarian aid, including 5.3 million children. More than 5.3 million people have left the country, most of them registered in neighbouring countries. Around 570,000 people fled Syria in 2017 alone. The critical response to this refugee crisis therefore lies largely with the neighbouring states (especially Lebanon, Jordan and Turkey). The already fragile situation of the receiving communities is further exacerbated by the high number of refugees. About every third person in Lebanon has fled another country, including one million Syrian refugees. Jordan currently has about 1.4 million refugees from Syria. Therfore it's very important to continue the support of the refugees.
With one of our current projects we want to reach refugees in Lebanon and Jordan to help reduce the suffering of the refugees and population affected by the Syrian conflict. The measures include the distribution of winter clothing and blankets, cash aid for rent payments, the distribution of food packages and vouchers for food, the distribution of hot meals, the distribution of vouchers for hygiene articles, the implementation of hygiene training, health education and care for mothers, vocational training to build a new livelihood and financial support for school fees.


I thank you for the during and strong support. Keep on. Together we can give sustained help toward the affected families.
Yours
Michael Tuerk

Climate change has many negative impacts, especially on people in the South. Since 2010, Diakonie Katastrophenhilfe has been carrying out a model project for disaster prevention in Ethiopia in the wake of climate change - because climate change is having a particularly strong impact there due to increasing droughts. The project is divided into three phases and aims to enable people to cope better with the consequences of climate change. A special feature of the project is the combination of disaster prevention with development work.
The project area ist located in the district of Dereba in Central Ethiopia, southeast of the capital Addis Ababa.
The measures will benefit 4,600 families with a total of around 19,000 people.
One project component is aimed at the conservation of natural resources. This involves water protection measures that will be implemented on 100 hectares of the community's land. Water basins, terraces and planted ditches will be created, rainwater will be better collected and the drinking water supply improved. A further component of the project will create new income opportunities for needy women and landless young people. More than 470 women receive small livestock such as sheep and chickens in order to build a livelihood by breeding offspring. The young people are trained in bricklaying.
The measures are supplemented by the introduction of new plant and vegetable varieties that are more resistant to frost and drought. In this way a contribution is to be made to food security for the communities.
Women and young girls in particular benefit from the project: The improved drinking water supply reduces their workload to such an extent that they have the chance to attend school. The income-generating measures, which are targeted specifically at women, secure the women an independent livelihood and bring about a growing self-confidence of the female population - as well as active participation in household and community affairs.
Thank you so much for your during support to help the people in ethiopia!
Yours
Michael Tuerk
WARNING: Javascript is currently disabled or is not available in your browser. GlobalGiving makes extensive use of Javascript and will not function properly with Javascript disabled.
Please enable Javascript
and refresh this page.