In terms of population, the largest humanitarian crisis in the world is currently taking place in Yemen. More than 20 million people are suffering from hunger, and two million children under the age of five are malnourished. Nearly 18 million people have no safe access to safe drinking water or sanitation. In the first half of 2019 alone, almost half a million cases of suspected cholera have been reported. "The need in Yemen is unimaginable. With our help, we want to specifically improve the nutrition and hygiene situation of people, "said Keßler.

The civil war has so far displaced more than 3.6 million people from their hometowns. They live under often inhumane conditions in makeshift camps.

The infrastructure of the country, which is one of the poorest in the world anyway, has collapsed completely. The livelihoods of the population, which were based mainly on livestock and fishing, were destroyed. Lack of income means that millions of people can no longer meet their food needs.

Diakonie Katastrophenhilfe, together with its partner organization AD Development for Woman and Child Organization (ADO), provides hygiene kits to new arrivals in refugee camps with hygiene kits. In addition, a latrine will be built for each family to provide sanitation. This aid benefits 300 displaced households, which corresponds to around 3,000 people.

In the province of Shabwa, the population is supported by hygiene measures. Together with the Yemen Family Care Association (YFCA) partner organization, public drinking water stations are being maintained and repaired. Tank trucks and water treatment tablets improve the supply of clean drinking water. About 35,000 people benefit from the project

To combat hunger and malnutrition, Diakonie Katastrophenhilfe in Mokhaa District, Taizu Governorate has launched an emergency relief project to improve nutritional status.

In the villages of Al-Hayee and Yahktual, bakeries are provided with baking material. A community committee is set up to organize the distribution of bread vouchers and ensure the distribution of coupons to 700 families. This benefits 4,900 people. This project is being carried out with the partner organization For All Foundation for Development (FAF).
Thank you so much for your support!
Yours
Michael Tuerk
Links: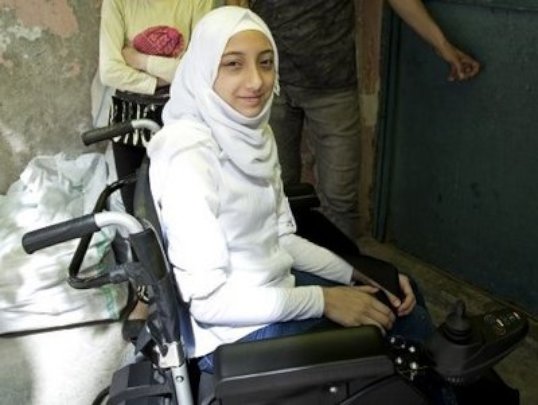 Manar was born with Spina Bifida, a rare congenital malformation of the spine. She is paraplegic. Thanks to our partner organisation Support to Life, Manar now has a wheelchair that she urgently needs in everyday life. Together with her headmaster, our project partner also helped the family to obtain the necessary papers, which, for example, give them access to health services.
We are currently active in the provinces of Istanbul, Mersin, Mardin, Diyarbakir, Batman and Sanliurfa. We distribute relief supplies to the refugees or give them vouchers and money cards with which they provide for themselves.
We offer them psychosocial support and help in individual cases so that they can cope better with the experiences before and during their flight.
Our partners offer courses and workshops to educate refugees about their rights and how to register with the Turkish authorities.
Turkey is home to the largest number of Syrian refugees in the world: almost 3.5 million people, the majority of whom are women and children. Since 2012 we have been helping the refugees in close cooperation with our Turkish partner organisation Support to Life.

Only about ten percent of Syrian refugees in Turkey live in refugee camps run by the Turkish government. The others live all over the country, but above all in Istanbul and the cities in southern Turkey, on the border with Syria.

The Turkish government is trying to integrate the refugees, but they face great challenges. They often do not speak Turkish, find it difficult to find their way around and are therefore often unable to use state services, or only to a limited extent.
Thank you so much for your strong support!
Yours Michael Tuerk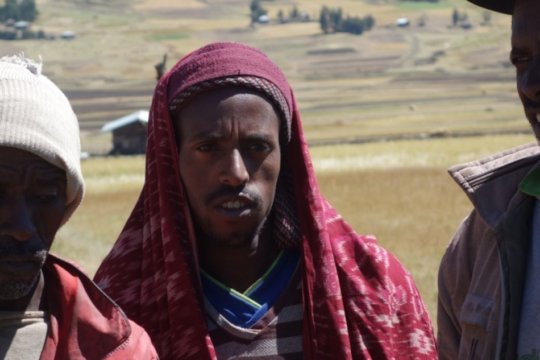 Endris, 25, is married and has one daughter. He lives with his family in one of the villages most affected by climate change. They do not own their own land, but lease it from older people in the village. Endris wants to improve his family's nutrition and strengthen their income by farming. But the profits are not enough, especially the heavy rains destroyed part of the harvest last year.
Endris has joined forces with 13 neighbours to run a climate field school funded by the project. There they try out various cultivation and irrigation methods and test new seeds for their resistance to drought. The group meets weekly and evaluates the weather and the condition of the seeds. They pass the data on to the district's local weather station for analysis. Based on the data, they want to better combat plant diseases and pests in the future. For example, the project has given them early germinating and frost-resistant wheat, which they are testing on several fields with different organic fertilisers and irrigation methods.
The work in the Climate Field School enables the men to identify their greatest challenges in adapting to climate change - and they are given various options for action. Because one thing is clear: only together can they secure their livelihoods.


The aim of our project, which has been running since 2010, is to strengthen people's resilience and their livelihoods. Over the years, around 4,600 families have been involved in the various project components. One component is aimed at the conservation of natural resources. This involves water protection measures that are being implemented on 100 hectares of municipal land. Water corners, terraces and planted ditches will be created, rainwater better collected and drinking water supply improved. "There is no perfect solution for the affected communities when it comes to adapting to climate change," says Carlos Huérfano - as project manager for Ethiopia at Diakonie Katastrophenhilfe, he has accompanied the project right from the start. "The aim is for the communities to come together and try out what works and what doesn't. What proves itself is then followed up."

As you see, sustainible changes are only possible with a long breath. Please support our work in Ethiopia - for a sustainible success.
Thank's a lot for your support
Yours
Michael Tuerk
WARNING: Javascript is currently disabled or is not available in your browser. GlobalGiving makes extensive use of Javascript and will not function properly with Javascript disabled.
Please enable Javascript
and refresh this page.