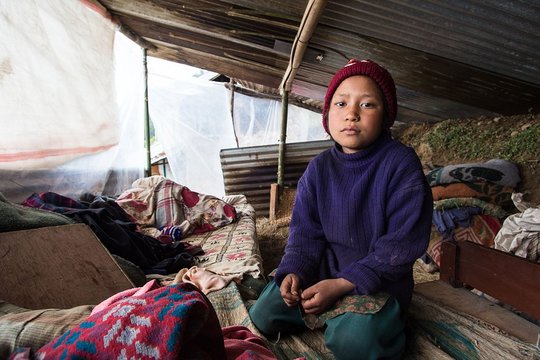 Three months have passed since the earthquake has put large parts of Nepal in ruins.TV crews and salvage teams long time ago returned to home, the tourists also got save to their homes. For the inhabitants of the destroyed towns and villages, however, the struggle for survival continues. Since June also the monsoon has set in, which complicates the situation. The partners of DKH therefore continue to do everything to help the earthquake victims with corrugated iron and plan to build weatherproof accommodation. Still nearly 2.3 million people are living in makeshift shelters and provisionally repaired homes. Nearly 600,000 houses have been destroyed, some 280,000 have been severely damaged. In some places, not a single house remained intact. Despite the obstacles, thank's your donations the task forces of the partner organizations of DKH were able to reach by mid-July already around 375,000 people with vital aid. For example in Ghorka over 1,000 corrugated sheets, 2,000 tarpaulins and tool kits and more than 4,000 blankets and 2,000 hygiene kits were distributed.

Cost Examples
• A hygiene kit for a family affected by the earthquake in Nepal costs around 14$. They include 1 kilogram washing powder, toothpaste and toothbrushes 5, towels, soap, shampoo, disinfectant, sanitary napkins, a basin and a sewing kit.
• Around 53$ costs a relief package with important practical life, which is to alleviate the most urgent needs of the earthquake victims. Each set consists of 4 ceilings, 1 large sleeping mat, 1 bucket and a 12-part Haushaltsset with cooking pot, pan, plates, cutlery and cups.
• A food package with the most important staple foods such as rice, lentils, salt and oil costs about 49$. It covers the needs of a family of 5 for about 3 weeks.
• corrugated iron to build an emergency shelter or repair of a house will cost around 82$. Each family receives two sheets of valuable material that helps make their shelter weatherproof for the rainy monsoon season, can be started up with the reconstruction.
More help is need, so we request you: "Dont't forget Nepal!"