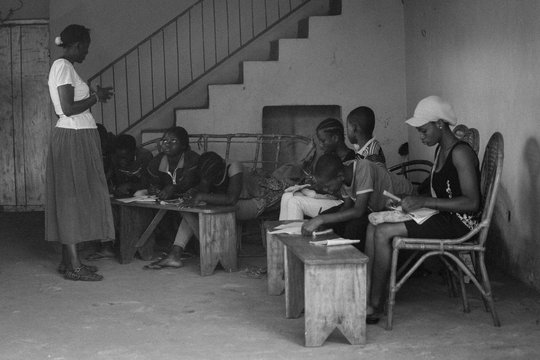 It's Tuesday morning and teacher Mariatu Sesay sits with a group of junior secondary school-age students in an unfinished concrete room in the bottom of a house in Hill Station in Freetown, Sierra Leone. Having started with an hour of maths, it's now time to move on to phonics. "Today we're going to finish off the 'ssss' sound", she says. "I'm going to read out the sounds, and you are going to blend the word for me."
It might seem strange that this group of secondary school-age students (most are 13 or older) are having to go back to basics. But when they started attending lessons as part of our Ebola Crisis Home Outreach programme, many of them were found to be struggling readers operating four, five or even six grades below their actual level.
When they entered the programme, students were tested using the Word Reading component of the British Ability Scales (BAS). As part of this assessment, they were asked to read out a list of 90 words that increase in complexity and difficulty, and from the number and difficulty of the words which they read correctly an inference can be drawn about their reading age based on UK norms. On average, these students read just 40 correctly, implying a reading age of about a British seven-and-a-half year old. 40% had a reading age below seven. To say they had been badly let down by their primary schools would be an understatement.
Teaching reading through synthetic phonics – the 'synthetic' referring to the emphasis placed not just on the sounds but on how they are blended together to form words – has become standard practice in many countries due to its superior track record in building reading skills. But it remains relatively unusual in Sierra Leone where the emphasis is typically on whole word memorisation and recalling words by their spelling. 90% of students in the Ebola Crisis Home Outreach programme were unable to read phonetically when they first joined the programme.
Lack of access to phonics teaching is a major impediment to improving reading levels both because students cannot read sentences fluently and because they don't recognise words that they might actually already have in their spoken vocabulary.
Mariatu's lesson is based on a highly successful programme developed by literacy expert Debbie Hepplewhite's Phonics International (PI). The programme introduces students to new sounds piece by piece and in a logical order, with activities, videos and worksheets to support learning. Rising Academy teachers were trained in how to deliver PI last autumn and it was then rolled out across the Ebola Crisis Home Outreach programme, which currently serves 150 out-of-school students across 18 study groups in 9 communities.
The results of the PI programme have been fairly remarkable, especially considering students are only attending lessons for two and a half hours per day and phonics is only one part of what they do in this time. Preliminary follow up assessments indicate that, after just 3 months of lessons, students' reading age as measured by the BAS increased by an average of 8 months.
Not only has the phonics programme proved effective, it has also turned out to be very popular with students. "Now, when I meet a word, no matter whether it has come from Nigeria to Sierra Leone I will be able to pronounce it", says student Richard Dedi Narcisse. Fellow student Mary Nichol agrees: "If you see big words, no matter how big you will be able to pronounce them", she says.
"I expected our students to think of phonics the way I think of spinach," says Rising Academy Network CEO Paul Skidmore. "They wouldn't enjoy it but they'd know it was good for them. It turns out I was dead wrong: they really like the phonics. The thing I underestimated is how empowering they would find it to be able to pronounce a word even if they hadn't come across it before."
Of course, while this early progress is encouraging, there's a long way to go. And being able to read a word isn't the same as knowing what it means. Instead, reading is sometimes described as a 'two-lock box': the ability to decode words and the background knowledge and vocabulary to make sense of them. Phonics helps with the first but not the second. That's why, alongside phonics, ECHO students also learn about strategies for reading comprehension (such as getting the gist before looking for details) as well as starting to build up their vocabulary.
"We're only at the beginning of this and our students still have a lot of ground to make up," says Skidmore. "But by building their confidence, our phonics work is showing that it is possible to make rapid progress in building some of the foundations for reading and, in the process, make it something kids will enjoy and look forward to."
The Solon Foundation and the Rising Academy Network are participating in GlobalGiving's Ebola Match Funding Campaign. From 5am UK time (midnight US East Coast time) on April 1st until the money runs out, all donations to our programme via GlobalGiving will be 100% match funded. So put a reminder in your calendar with a link to this page and make your gift go twice as far!