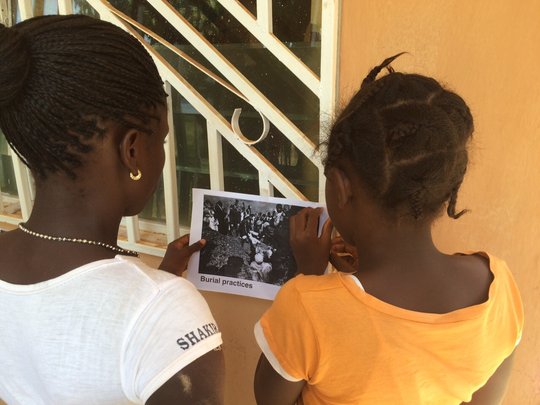 "On the first day that I attended this lesson," says Ann-Marie Bangura, "I experienced a lot of things that I never did before in my school." Before she started coming to the lessons, held in the home of a parent from her community, Ann-Marie spent all day sitting at home, playing with friends, or helping her mother. "From the time I start to now, I see a lot of changes to my work", she says.
Ann-Marie is one of 99 new students to enroll in the Ebola Crisis Home Outreach (ECHO) program, an initiative of the Solon Foundation and the Rising Academy Network. The program has been providing daily Ebola screenings and safe learning spaces for students in a number of communities in Freetown since September 2014, when schools in Sierra Leone were forced to close because of the Ebola epidemic.
The program launched with 25 students, and had grown to 70 by the end of December. But thanks to support from the GlobalGiving Foundation and other donors, the program has recently been able to train an additional 8 teachers and more than double its student enrolment. The program is now serving more than 150 students across 9 communities.
The program recently carried out an assessment of students' knowledge and awareness of Ebola. The results of this Ebola Knowledge Quiz were alarming. Although awareness of basic dos and don'ts was reasonably good, overall understanding of the disease was very poor. 30% thought Ebola was just another name for malaria. 24% thought that if someone recovers from Ebola it meant they were dangerous or a witch.
"It was a wake-up call", says Rising Academy Network CEO Paul Skidmore. "Given the bombardment of public health information, including from us, we thought more would have got through." Students who had been attending ECHO lessons for longer did indeed show a higher level of knowledge than those who had joined more recently - on average scoring 12.3 out of a maximum 17, compared to 10.9 for new students. But, says Skidmore, it wasn't good enough. "It also showed the risk of relying solely on simple public health messages about how to behave, without building a deeper understanding of why." For example, less than half correctly answered that handwashing was only effective as a way of reducing the spread of the disease if it was with soap or chlorine, not water alone.
Rather than choose between Ebola awareness-raising and improving more traditional subject knowledge, the ECHO team sought to achieve both through its "Ebola Awareness Week". For a whole week, the entire curriculum - more than 12 hours of instruction - was themed around Ebola, with reading, writing, math, science and social studies lessons all specially designed to build students' understanding of the disease and its causes. For example, in their science class students learned about viruses and other types of microbes and their role in causing disease, while in math they drew bar graphs to show how the epidemic had spread.
Ebola Awareness Week proved highly successful. Students were re-assessed at the end of the week and showed significant improvements in their knowledge and awareness. Average scores on the Ebola Knowledge Quiz rose 21% from 11.6 out of 17 before the intervention to 14.0 afterwards.
In fact the impact probably goes wider than this test captures. Several parents have reported to teachers how much the wider family has benefited from what their child has been coming home and telling them. And students see the benefit too. "I have learned so many things, like how germs enter our body", says Michael. Samuella agrees: "We even do Ebola sensitization and now I am challenging my friends".
Overall the Ebola epidemic in Sierra Leone looks like it is finally abating. But the road to zero is set to be long and bumpy, and one in ten of our students knows someone who has been infected with Ebola. Hopefully Ebola Awareness Week will have given them more of the knowledge and understanding they need to keep themselves safe.
In case other organisations would benefit from the materials we developed for Ebola Awareness Week, we are making them all available for download here. If you find the materials useful, please consider making a donation to support our work.