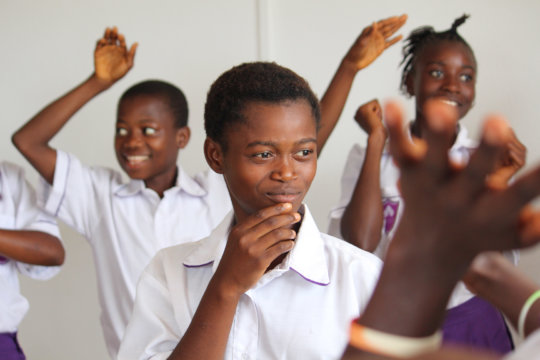 Just before Christmas, Mary, 15, got the best present she could have wished for: the news that she had passed her BECE exam, and with it secured a ticket to Senior Secondary School.
The BECE – which stands for Basic Education Certificate Examination – is an important staging post for students in Sierra Leone, marking the end not just of Junior Secondary School (JSS) but of the nine year universal basic education. It acts as a gateway into Senior Secondary School (SSS) or into technical and vocational study.
After her outstanding performance in the BECE – passing all 8 subjects, and receiving a "credit" in 7 of them including both English and Maths – Mary's dream of going to college and one day becoming a lawyer remains firmly on track.
A few years ago, things didn't look nearly so rosy for Mary. Primary school had not been kind to her. Her teachers often got angry or beat her if she made mistakes. She squeaked a pass in the national primary school leaving examination by the narrowest of margins, but her underlying literacy and numeracy skills were five grades below their expected level for her age.
Mary's mother Stella, a single parent struggling to make ends meet as a petty trader, was determined to help Mary get a better education but wasn't sure she'd be able to afford it. Luckily, thanks to a scholarship from the Solon Foundation, she was able to enrol Mary at Rising Academy Regent, a new school opening in her neighbourhood.
Unfortunately for Mary, that wasn't the end of her challenges. She should have begun JSS in September 2014, just as the devastating Ebola epidemic forced all schools in Sierra Leone to remain closed. Fortunately for Mary, she benefited from the Ebola Crisis Home Outreach (ECHO) program: an initiative, generously supported by GlobalGiving and other donors, to provide daily Ebola screening and safe, high quality literacy and numeracy instruction in homes for children kept out of school by the crisis. In spite of the challenging environment, Mary made rapid progress in her literacy and numeracy thanks to the program.
When she was finally able to start JSS properly in April 2015, she had to deal with a truncated academic calendar for the first and second year, with six terms' worth of material compressed into four in order to make up for lost time. But even this disruption wasn't going to hold her back.
To put Mary's remarkable achievement in context, the national BECE pass rate in Sierra Leone has typically hovered around 50% in recent years. Performance in the core subjects of English and Maths has been particularly weak. In 2011, for example, less than a quarter of students passed Maths and the proportion getting a credit was less than 3%.
Mary's story shows what an incredible difference the gift of a good education can make.
It shows that just sending children to school in itself is not enough; what matters is what happens in school, and the type of education they receive when they get there.
Above all, it shows there really is something very special about Mary.