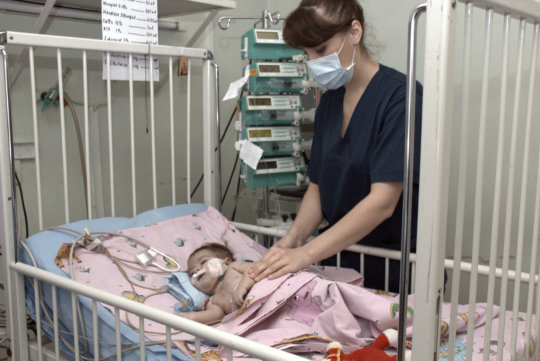 Thanks to your generous support, RVF has been able to raise $25,631 – over halfway to our total fundraising goal! RVF directors and staff visited Georgia last month to see the life-saving heart screening program for newborn babies in action and we were very impressed with what we saw. Local health care workers are enthusiastic about the program and have seen a marked improvement in the survival of their young patients. We were able to visit those young heart surgery patients, like the one pictured above, recovering well at the Jo Ann Medical Center.
Since August, an additional 6,681 newborns have been screened, bringing the total number of newborns screened since the program began in June 2014 to nearly 38,000. To date, all 99 babies with confirmed heart defects and 27 with confirmed critical congenital heart defects have received prompt emergency treatment free of charge at the Jo Ann Cardiovascular Center in Tbilisi. All of the babies have survived.
For second-time mother Tamar, the benefits of our program are very clear: "I am thankful to everyone, they saved my baby's life" Our screening program caught her son Giorgi's life-threatening critical heart defect while there was still time to treat it. Without early detection and prompt treatment, Giorgi may not have survived. Tamar explained,
"My son Giorgi was born with a complex heart disease. We came to the Jo Ann Medical Clinic and he received three surgeries and they were all successful. I am thankful to everyone, they saved my baby's life."
With the success of the heart screening program in Tbilisi, demand for the heart screening program in other areas of Georgia has continued to grow. RVF needs to raise $15,000 to expand the program to the Kvemo-Kartli region, where newborns urgently need this screening program. Please consider donating to expand this life-saving program.
Review the report attachments below for more information or visit our website at www.rostropovich.org. Have any questions or feedback on the program? Comment here, or contact me directly at kmm@rostropovich.org.
Links:
Attachments: