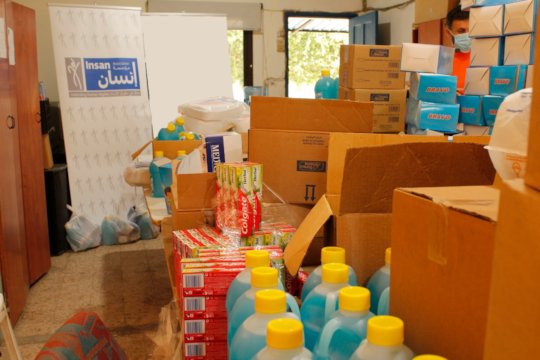 Marhaba from Insan,
As you might assume, the most urgent assistance that we mentioned in our previous report was provided in the first months following the event. However, the damages caused by the explosion were huge and even now, almost 9 months later, you can spot plenty of broken buildings while walking or driving around the city.
One of the reasons why these houses are still not fixed is the country's dire economic situation which has led to rampant unemployment, skyrocketing prices and shrinking salaries. Many people cannot even afford food or any other basic necessities, so clearly, they have no financial means to fix their houses.
To help the affected communities continue their recovery, Insan distributed food boxes, hygiene kits, mattresses, pillows and bed sheets to around 80 beneficiaries in the last 4 months. We also continued with house renovations which included fixing broken doors and windows and repairing or replacing household appliances such as washing machines, fridges and TVs.
We also provided clothes, personal protective equipment such as hand sanitizers and face masks to keep the beneficiaries safe from the ongoing Covid-19 pandemic, baby products, cash assistance etc.
Additionally, MHPSS (mental health and psychosocial support) and PSS (psychosocial support) activities were offered to the affected people to help them cope with trauma and psychological distress caused by the dreadful state of the country. At these sessions the beneficiaries were able to discuss, reflect upon and engage in interactive activities on topics such as emotions, parenting, physical safety, non-violent communication etc.
Thank you for supporting us and the vulnerable communities in Lebanon.

Best regards,

The INSAN team