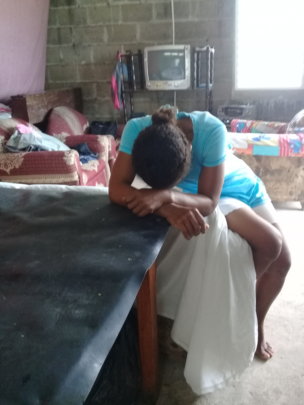 Mary Open Doors foundation is built on love and support from those of us caring for each person in our community. This is an accumulation of experiences, ideas, finances, knowledge, and plain love for families, and keeping families together by helping them to live lives with dignity and knowing that we care.
We depend on support from you and many volunteers who have left their homes on missions to help this cause. Domestic Violence is a worldwide epidemic and our only hope is coming together to assist those in need. A huge thank you to all those who have help us over the years and our new supporters. We appreciate each and every one of you!
Today, we are happy to report that our meeting with our partner government agency (Women's Department) mentioned in our last report have provided us with a grant of BZE $10,000 to assist with the administration of the shelter. This finaical support comes at a critical time and is tremendously motivating for us. We are grateful that the Belizean Government recognizes the value of our service to the community and the plight we have endured in our continuous effort to support our cause financially. We hope that this is the beginning of a long and fruitful working relationship that can only lead to success in realizing our mission to eliminate domestic violence.
Additionally, we are excited to share that a new Board of Directors meeting is scheduled to strategically recruit community organizations and new donors to join our cause through increased involvement in leading the organization. We have solicited organizations such as banks, credit unions, (some already existing donors) member of our town council, Women Development Officer, and others to have a more efficient and effective leadership that will keep us engage and growing.
Furthermore, we are in communication with the Center for Social Impact Learning, Frontier Market Scouts at Middlebury Institute for International Studies in the U.S. to recruit a volunteer for the position of Organizational Development Office for two years starting in June, 2017. The objectives of this position is to revitalize the organization, increase its effectiveness, and social impact. Conduct an organizational needs assessment; design a 5 year strategic plan, including media and communication strategy plan. Review the current organizational and financial structure and make recommendations for reform, review draft operating budget and include salary for either a CEO or Executive Director. Review and redesign the annual report for donors and governmental stakeholders, design a plan to nurture and grow local and international networks, design a fundraising strategy that further strengthens current partnership with Global Giving, while identifying key grants with the potential to fund operating budgets aimed at increasing capacity, review and recommend further updates for the website and assist with administrative tasks.
We are pleased to share with you our valued donors' news of our successful recruiting of two in-country volunteers from Galen University, the only private university in Belize to assist us with daily operations and communications.
Mary Open Doors Impact – A Survivor Story
"I didn't have any knowledge of domestic violence. I didn't know there was help. I didn't know how to live alone with ten children. I was so afraid of him."
"My sister-in-law was also a victim of domestic violence and she told me that there was help. But I was scared to approach them. In 2008, both of us went to jail, and it was his fault. I was in jail for three months, and my kids were taken in by Social Services. This is when I realized that I had to get out of this kind of life, for myself and for my kids. I was scared because I felt alone, I had no family support. This is why I put up with him for twelve years."
"In January 2009, in the morning, he got up and beat our daughter, I defended her and he beat me as well. In 2007, my mom died, and I wanted to visit her grave, so I asked him to take me to the cemetery. It was in the evening that we went, I prayed and asked my mom for a sign. It was getting late and we left. He was a taxi driver, and he had me behind the steering wheel to practice my driving by the seashore. Here he was trying to be nice to make up for the beating that he gave me and my daughter. While I was driving, there were three ladies that stopped the taxi, so I got off the driver seat for him to drive. What happened next was an experience that made me really focus on my life. The three ladies that got into the taxi were two old ladies, one who was very sick in a wheelchair, and her granddaughter that accompanied them. The old lady who was sick with Alzheimer said, 'Terese are you okay?' as she looked back at me. I didn't know this old lady, how did she knew my name? Even he looked back at me. She touched me, and continued 'Terese, am talking to you. Are you okay? I know you aren't okay.
Do something with your life.' I felt something through my body, I can't explain how I felt. My mom answered me. She talked to me through this old lady. 'Thank you Lord.' I said in my mind."
"I decided no more. No more bruises. No more headaches. No more swollen mouth. No more living every day in fear of him."
"First of February, he left for work, and I told my kids to get ready; no packing up of everything, only one pair of shoes, clothing, anything, but not everything. So we could just leave. He returned home quickly. I told the children to drop everything, he almost caught us. He sensed something was off and said, 'Bunch of hypocrites'. This was still in 2009. The third of February, I told him a lie. I told him that I needed to go see the lady that took care of my kids when I was in jail. He gave me some money to catch a taxi. He said that by 10 a.m. I should be back at home. For some reason he couldn't take me. I went to Social Services for help. I talked to the lady, I couldn't take it anymore. I broke down in front of her. I was so emotional, couldn't help but cry. I asked her to tell me if she could help me, because if they can't help me, I need to be back at home by 10 a.m."
"She explained all the things that we had to do. Everything including the restraining order. I told the lady that I wanted to go far away from the city. Far from where he could reach me, I couldn't describe the fear I had for this person. And that's how I came here at Mary Open Doors, in the Cayo district, far from Belize City."
"I didn't know how I would make it here alone with my kids. But I was free. We were finally free from him. I was happy with this new life with no fear of what he might do to us. This peacefulness."
Mary Open Doors really was a blessing and and a place of safe heaven for me and my children. I did not know how I would survive, but with the encouraging love, support and direction I was able to ovecome my fear of being on my own.
"I am struggling with house bills and tuition. That's the sacrifice I made for my kids. I want them to have the education I never had. Two of them are in primary school, and three in high school. Even after eight years has passed, my kids are still angry. They don't forget what they went through with their father. That's why I talk to them about domestic violence. I want them to be somebody in their lives and not walk down the same path as their father."
"Abuse was nothing nice. He physically, mentally, verbally, and sexually abused me. He never had a heart."
"I am a happy survivor of domestic violence because Mary Open Doors were there to provide shelter and support through the difficult times and throughout the healing process."
Ms. Teresa W., Survivor (SUCCESS STORY)
Mary Open Doors impact - A victim's Story (currently in the suitation)
Hopefully with the assistance of Mary Open Doors this thirty-five year old creole woman with five children (three teenagers) and common-law living in a domestic violence situation for over ten years will get the couragae and support needed to leave her situation.
Interviewer: Can you explain your current situation and abuse experienced?
Client: I did not grow up with my parents and have not experience love in a good way. I wish I had my mother to give me a hug and listen to my cries. He has beaten me about four times. I was living with his mother. He came home late one even without anything for us to eat. Both me and the children were hungry and he did not bring anything. I decided to go and try to get something to eat from my friends.
He taught I was going to see another man. He followed me and came at me kicking and punching me i immediaely went to the police he was arrested and release. He came and the honeymoon cycle began all over again.
Client:Second hitting broke three of my ribs I still suffer the effects of that even as we speak today. During this time I have changed I have develop a hatefull feeling towards him since then to present. There is no peace in my home constant fighting sometimes I feel like I am going crazy. I try my best to control how I feel but this is hard.
Interviewer: Will you leave?
Client : I cannot leave because I have no family alive, no education and no job I have got to stay and live like this feeling like S..T all the time.
Interviewer: If you had help would you leave?
Client: I most definately would LIKE TO LEAVE and one day I will leave?
This and many other stories similiar to this is what we at Mary Open Doors experience as we struggle to keep open the doors of the organization. This need to support women and their children in our community will help in the restoration of our family units and family values to create a better environment for the future generation.