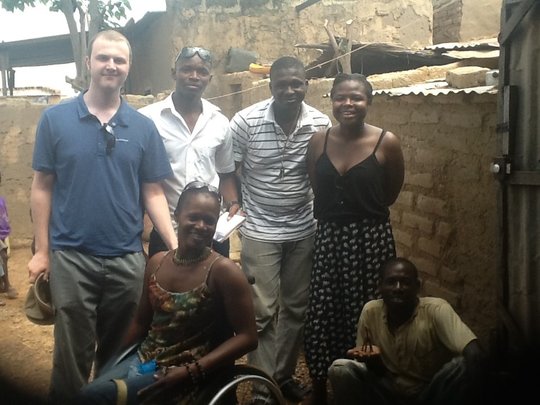 Tigoung Nonma thanks all those who have contributed to supporting our cooperative since our last report three months ago! We are accumulating your gifts in our cooperative's Bank account here in Ougadougou as we continue to plan for our acquisition of a site closer to the center of town, where customers can visit, observe TN's artisan-members at work, contract for our catering services and purchase our craft products.
As we describe on GlobalGiving's site, Tigoung Nonma is a cooperative of artisans with physical disabilities, whose members are fighting poverty through the manufacture and sale of handicrafts as well as the provision of catering services. The co-operative benefits from technical assistance from European and Burkinabe volunteers recruited and placed here by the British government's "International Citizen Service" programme. These volunteers work together to improve the livelihoods and promote the rights of TN's members. Every three months marks the arrival of a new cohort of volunteers who engage with Tigoung Nonma's leadership and long-term members, learning about the cooperative's achievements and challenges in order to help as much as possible before returning to their ordinary pursuits in Europe or Burkina Faso.
During the last month, under the guidance of Burkinabe volunteer leader, Melodie, the new cohort of volunteers has helped us investigate Tigoung Nonma's existing situation and challenges in the areas of production constraints, sales and marketing, and awareness raising. The following report discusses these topics with specific reference to two TN members, a bronze sculptor and a fabric craftperson (See figures 1 and 2) and concludes with our current activities and our recommendations for improving Tigoung Nonma's sustainability.
Production constraints
We discussed at length the production problems facing the bronze and fabric crafts. Crafting bronze figurines and other objects requires constructing a wax model of the final product, casting a mold from the wax model, acquiring the bronze raw material, melting and pouring the bronze into the mold. The poverty of Issouf, our bronze-working member, hampers him at every stage of this process. Because the knife he uses to carve the wax models is too big for the detailed work, his work would be faster and more detailed if he could acquire one or more smaller sculpting tools. He lacks the resources to buy bronze in bulk and thus spends much more per sculpture. And, because he does not own a kiln, he is forced to travel four hours to use a kiln belonging to another bronze maker. Our member's handicap makes this travel very difficult.
Brigitte, the fabric worker we visited, also faces production constraints. Due, perhaps, to the ongoing political problems in Mali, she is no longer able to buy Malian cotton from her old supplier. Burkina Faso's cotton is of lower quality than the Malian cotton she used to buy. And cotton prices are increasing. For 3 bundles of cotton, the price has risen from 3,000 CFA to 7,000 CFA and the material is not as durable as it used to be. Despite these production difficulties, our fabric worker feels she could use as many as three additional sewing machines, which would cost 55,000 CFA, but she cannot afford to buy them.
Sales and Marketing
Our two representative Tigoung Nonma members also discussed the challenges of marketing their products. While the fabric craftswoman does sell some of her products from her home, the bronze craftsman says he very rarely is able to sell from home. Both of these members value the opportunity to sell their products through Tigoung Nonma's outlets.
In addition to their office in the outskirts of Ouagadougou, Tigoung Nonma's sales outlets include a display case in the Calao Hotel (see figure 2 below) and sales through the online kiosk. Observing that the only cost of such a display cabinet is the time of a volunteer or member to staff it, we asked other hotels whether they are willing to host one of our displays. The Golden Tulip (formerly called the Silmandé Hotel) has agreed to do so.
In the last few weeks, Tigoung Nonma volunteers and officers have also visited Ouagadougou's Artisan's Village and its Grand Marché in order to assess our competition and to explore the potential for retail outlets in these locations.
Awareness raising and brand development
More abstract ways we are approaching marketing include attempting to increase overall awareness of the challenges and potential contributions of disabled people and to improve recognition of and loyalty to the specific Tigoung Nonma "brand".
Organisation of a disability festival promoted by TN
As a way to increase overall awareness confronting individuals living with physical disabilities, we have decided to work with other parts of the Ouagadougou community to organize a disability festival sometime within the next year. As a first step, we have sent letters to the different cultural, business and art's Ministries, asking them to support a disability festival. Several of these organizations have agreed to help and have given advice for the good organization of the Festival. In addition to raising awareness about physical disabilities in general, such a festival could be a venue for the sale of Tigoung Nonma crafts and catering services. In addition, it would improve Tigoung Nonma's brand recognition in the Ouagadougou community and could induce to folks to donate to our organization. We would use any resources raised through such a festival to invest in Tigoung Nonma's long-term expansion, including the investment project which is the objective of this GlobalGiving campaign: the acquisition of a retail shop/workshop close to the commercial center.
Increasing Tigoung Nonma's brand recognition
We are launching several efforts to improve Tigoung Nonma's brand recognition. For example, we are designing a new logo. We are also planning to produce and sell clothes and products featuring this logo. We intend to feature the logo on business cards and adverts around town and to use it at disability events such as the disability festival described above and in direct fund. We will also display the logo on the GlobalGiving site.
Awareness Raising
In collaboration with the previous cohort's in-country volunteers, we participated in a lecture given to the students of OuagadougouUniversity. Our contribution to the presentation featured this video which features the TN workshop, its artisans and products for sale. https://www.youtube.com/watch?v=Bh1wNCb15Ao
In addition this (IC's 13th) volunteer cohort collaborated with Handicap Solidaire Burkina (HBS) and Handicap Solidaire Burkina- Inclusif Sport for the Dévelopment (HSB-ISB) to organize an awareness-raising day in the market of Gounghin. (See Figure 3.) The volunteers were split into two teams. One team stayed at the marquee whilst another went around the market, looking for people to send to the marquee. At the marquee, volunteers asked questions about disability, to which the public (ranging from young children to adults) responded. This was a good way to help eradicate stigmas and misconceptions concerning persons living with physical disabilities. The children participated in games, dancing and answering questions regarding disabilities.
We volunteers were very happy with the event and believe it was a success. For the 480 people who came, we publicized the TN brand. We not only distributed flyers containing information about TN, but also sold some TN products to the public. Another success of the day, was that other physically disabled artisans became aware of our organization, visited the TN office two days later, and enquired about becoming a member of Tigoung Nonma. Two new members will be trained by one of TN's members in painting.
Volunteer activities and recommendations
Training
As started by previous cohorts, and as recommended, we continued the training of members in IT skills and English language. In addition, we are downloading information and videos to help the artisans learn to expand and develop their crafts.
Current Volunteer Support to TN
The current volunteer cohort has identified two primary tasks for completion while we are here. First, cohort 13 has funded and built a ramp to aid the access of blind pupils to a school "Saint Peter of Kouka" down the road from the TN office. Second, our long-term aim is to increase the link between TN ICS volunteers past, present and future, so as to bring more continuity to continued support of Tigoung Nonma. We intend to further this objective by building on TN's current presence on social media, which will enable past volunteers to keep up with TN's progress and to use their experience and understanding to guide future cohorts. We also hope to raise awareness among past volunteers of ongoing Tigoung Nonma projects and activities and of mechanisms like this GlobalGiving site through which they can support these endeavors.
Lessons and Recommendations
From our visits to the representative TN members who work in bronze and fabric and from our investigation of TN's current marketing outlets and of the competitive environment, we conclude that the project described here on GlobalGiving's site continues to be the best hope for improving the well-being of TN's close-knit community of persons living with disabilities. Both Brigitte the fabric-arts craft person, and Issouf, the bronze artisan, have described their difficulties in buying raw materials and essential equipment. By grouping the purchases of bronze for several bronze sculptors and/or of cotton for several fabric artists together into a single purchase, Tigoung Nonma could potentially save them money on their inputs, allowing Brigitte and Issouf to earn more income for themselves and their families. Furthermore, if Tigoung Nonma had a larger, more centrally located workshop, the cooperative could buy larger equipment, such as kilns and sewing machines, and then share them among several people, which would both strengthen the solidarity of the members and increase their productivity. Finally, the value of a larger and more easily accessible and attractive centre would clearly help Tigoung Nonma to market the products and services of its members, thereby greatly strengthening the organization. All of these conclusions lead to the recommendation that Tigoung Nonma continue its efforts to raise the full amount necessary to build its new workshop/retail venue as described on this project page.
Again we thank GlobalGiving for your past support. Please consider making another contribution now.