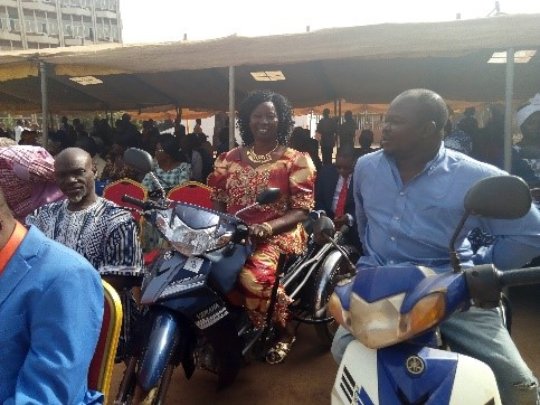 1. Meetings
Tigoung Nonma (TN) has held monthly meetings which included both the Executive and General Committees in order to plan and carry out activities and to report the results of these activities to members. TN also participated in meetings held by the government and other NGOs.
2. Official Honours
On Tuesday 8 January 2019, TN was invited by the Ministry of Women, Family and National Solidarity to receive official awards for the various actions it has taken to contribute towards the well-being of people living with disabilities in general and, in particular, that of its members.
3. Craft Sales and Orders
Some members of the co-operative received orders for hand-stitched teddy bears.
TN received an order for various art and craft works from a French tourist.
TN received some revenue from craft sales in the UK (following the UK fundraiser in November.)
4. The Eléanore Couldiaty Commemorative Fund
In February, the NGO International Service (which used to partner with TN) set up a small fund of 90 000 CFA (about £120) in memory of International Service Burkina's late Director, Eléonore, who sadly passed away in July 2018. This fund will provide grants to help women and those living with physical disabilities to become more independent.
TN applied for a grant for the purchase of equipment for the Catering Service which was approved. They were able to buy a double stove and a 12 KG bottle of gas in order to facilitate large orders.
5. Catering Service Orders
From January to March 2019, TN received 3 orders from the NGO Humanity and Inclusion and from the State. This enabled TN to make some profit and to provide income for those involved.
6. Permit for Urban Habitation (PUH) for TN's Plot
Since TN's land purchase, TN has completed the necessary procedures in order to obtain the PUH.
The last stage was to pay tax of 500 000 F CFA (roughly £660). After the payment, we were informed that it may take several months before the permit is processed.
7. The Difficulties We Face
The insecurity of the country has paralysed all of TN's activities.
It has impacted craft sales
Some members fear leaving their homes to participate in any activities in general, and in particular TN's activities
The cooperative has not participated in FESPACO (This is a huge West African film festival, which used to be a great opportunity to sell).
8. Results and Impact
The profits from the Catering Service meant that TN was able to pay the members who participated and that TN was able to cover their expenditure (electricity, water, rent, wages etc).
9. Conclusion:
Despite the immense difficulty that the whole of Burkina Faso is now facing in terms of insecurity, on the ground, TN's leaders are fighting relentlessly to improve the living conditions of its members and to maintain the sustainability of TN .
10. UK-based Fundraisers:
In November we organised a fundraising evening as was mentioned in the last report. £1,180 was raised towards the construction project and we sold £107 worth of Art and Craft objects. It was a fantastic night which was only made possible by friends and family being kind enough to volunteer their time, energy and expertise. A huge thank you to everyone who came to support the event.
The founder of LAFI (Lasting Action for Inclusion) and Alice are organising another fundraiser for this November. It will consist of a film-showing and will take place during Reading's International Festival.
Les activités menées
1 Les rencontres et réunions
TN a tenu des rencontres mensuelles de bureau exécutif et du comité pour planifier, exécuter des activités et rendre compte de ces activités menées aux membres.
Elle a également participé à des rencontres organisées par le gouvernement, des ONG, etc .
2 Décoration de TN
Le mardi 08 janvier 2019, Tigoung Nonma a été conviée au Ministère de la Femme et de la Solidarité Nationale et de la Famille(MFSNF) pour recevoir des honneurs à travers ses différentes actions pour le bien être des personnes vivant avec un handicap en général et en particulier celles de ses membres.
3 Vente et Commandes d'artisanat
Des membres de TN ont bénéficié de deux commandes des peluches (animaux cousus) ;
TN a reçu une commande des différentes œuvres d'une touriste venant de la France ;
TN a reçu de l'argent de la vente de ses œuvres en Angleterre ( par Alice) .
4 Le projet Fonds Commémoratif d'Eléonore Couldiaty (FCEC)
En février, International Service a lancé un projet de petite subvention de quatre-vingt-dix mille francs C FA ( 90 000)Pour L'Autonomisation des Femmes et des Personnes Handicapées, Burkina Faso , pour commémorer en la mémoire de Eléonore Couldiaty, ex directrice de IS Burkina , décédée en juillet 2018TN a participé avec un projet d'achat d'équipement pour son service traiteur son projet a été approuvé. Voir les photos ci-dessous(Le double foyer n°30 et une bouteille de gaz de 12 KG) pour pouvoir exécuter des grosses commandes.
5 Commandes de service traiteur
De janvier à mars 2019, TN a reçu trois commandes venant de l'ONG Humanité et Inclusion et de l'Etat. Cette activité a permis à TN de réaliser de bénéfice afin de pouvoir rémunérer les participantes.
6 Permis Urbain d'Habité (PUH) de la parcelle de TN
Depuis l'achat de la parcelle de TN, nous avons effectué des démarches auprès du guichet Unique pour l'obtention du PUH.
Nous avons effectué la dernière étape pour l'obtention du PUH qui était de payer une somme de taxe qui s'élève à cinq cent mille (500 000) F CFA. Après le payement, on nous a fait savoir que le processus peut prendre quelques mois après qu'on nous livre le PUH.
7 Les difficultés rencontrées
L'insécurité du pays a paralysé toutes les activités de TN :
Sur les ventes des œuvres ;
La peur de certains membres de sortir de chez eux pour participer aux activités de façon générale et en particulier celles de TN ;
Sur sa participation au FESPACO 2019 ;
8 Résultats et Impacts
Les bénéfices des différentes commandes de service traiteur ont permis de rémunérer les membres qui ont participé et de prendre en charge les dépenses (l'électricité, l'eau, le loyer, salaires, etc.) de TN.
9 Conclusion
Malgré les difficultés que rencontre le Burkina Faso en matière d'insécurité, les responsables de TN se bat sans relâche pour améliorer les conditions de vie de ses membres et de maintenir la durabilité de TN.
10 Collecte de Fonds en Angleterre
En Novembre 2018 nous avons organisé une soirée de collecte de fonds qui a été mentionée dans le dernier rapport. Nous avons pu collecter £1,180 (environ 896,746.39 FCFA) pour le projet de construction et nous avons vendu des œuvres artisanales s'élevant à £107 (environ 81,347.82). C'était génial et a pu avoir lieu grace à la gentillesse et l'engagement de mes amis et de ma famille. Un grand merci à tout le monde qui est venu soutenir l'évènement.
La femme qui a créé l'organisation LAFI (Lasting Action for Inclusion) et moi (Alice) sommes en train d'organiser une autre collecte de fonds pour Novembre 2019. Nous allons monter un film Burkinabé pendant un Festival International qui aura lieu à Reading (une grande ville pas loin de Londres).