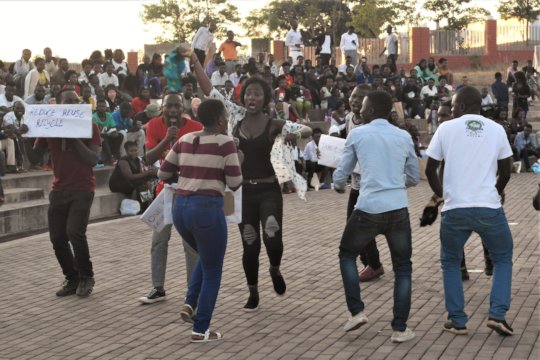 The last few months have been really exciting for our MASA Squad members. Word is spreading about their unique interactive performances, and they've been invited to perform at several high-profile events.
A huge highlight was performing at the UN's celebration of 55 years of Malawi being a UN member state. The reception at the UN Resident Coordinator's residence brought together high-profile people, including UN Representatives, Ambassadors and Government Ministers. The MASA Squad members were very excited to have the opportunity to engage such an esteemed audience, and discussed at length the topics they would like to raise, and how to approach them.
For 'Good health and wellbeing', the squad chose to focus on mental health as they believe that this is a growing issue in Malawi, particularly among young people, but there are ongoing cultural taboos around talking about it. They also felt it is an issue that is not receiving adequate attention from high profile players. Their piece sparked an active dialogue, with several audience members referring to recent news reports about a high number of suicides in Malawi, particularly among men.
On 'Climate Action', the squad reflected on their experience and learning from the Art for Action tour. One thing that came out was that young people don't feel empowered to engage with decision makers (particularly those from Western countries, where the vast majority of emissions come from) about the causes of climate change. The squad developed a play focused on interaction between young people and a Chief (who was represented through his messenger), with the overall message that there needs to be more dialogue between youth and leaders. They also wanted to highlight the global nature of climate change, and the need for collaboration with players at different levels doing their bit to tackle it. Audience members (including Ambassadors!) shared examples of how climate change is affecting their country, building a feeling of common purpose towards tackling it.
On Gender Equality the squad performed an excerpt of a poem, combined with audience interaction on gender equality. In the interaction, one audience member focused on how some of the negative attitudes and behaviours brought out in the poem have always been there and will never change. Due to limited time it was difficult to fully unpack this, but on reflection after the performance, the squad members were surprised that someone would bring out such a blatant view in a high-level event, and felt it showed that there is far more to be done on gender equality at all levels in Malawi.
The MASA Squad also performed at the UNFPA@50 and UN @55 Youth Action Concert, which brought over 1000 young people, with appearances from some of Malawi's top musicians like Sangie, Fikisa and Piksy. Creating a performance to engage such a huge audience was a challenge the squad rose to, developing high energy pieces with a lot of interaction.
They kicked off with a piece on youth climate change protests, and the youth audience got in the spirit, joining the performance on stage. The interest rose even more when the squad moved on to a piece on sexual health. The squad felt from their experience youth have heard messages on sexual health, but there is still a mismatch between knowledge and behaviour, so their piece focussed on bringing out some of the reasons that youth still don't practice healthy sexual health behaviours (particularly condom use), and possible solutions.
The youth strongly asserted that they are aware of messaging that it's important to use a condom and practice safe sex, yet many young people don't do so. They were very vocal in voicing out barriers to safer sex. These included the view that the freely available condoms are not appealing, the perception that asking to use a condom is a sign that someone doesn't trust their partner (for example it implies that they think they are having sex with other people), and the idea that it is the male who is responsible to have a condom but they often conveniently 'forget'. They also said young women with condoms are commonly seen as sex workers. They shared that while condoms are available, particularly in health settings, youth find it embarrassing to access them (particularly if the staff member isn't youth friendly and they feel judged).
Solutions the audience came up with included making flavoured or more appealing condoms freely available, making condoms available in a wider range of settings and making sure the people distributing them are youth friendly. They also believed there was a need for more engaging education, particularly on social issues such understanding that trust shouldn't be shown by agreeing not to use a condom, and breaking taboos to girls accessing and having condoms.
As well as the UN Celebrations, the Squad was delifghted to perform at Malawi's International Mountain Day celebration in Mulanje, and AFIDEP's strategic plan launch. It's also been exciting to see how Squad members are taking what they've learned from being part of MASA in to their own arts practice and initiatives. For example, emerging poet Mwandie has taken learning from MASA and is using it to raise awareness on Gender-Based Violence and sexual health through poetry, and Adorah has started her own youth arts initiative 'The City'. With your support, we're looking forward to training more young people to use the power of the arts to engage their peers on sexual health, HIV and more in 2020!
Links: