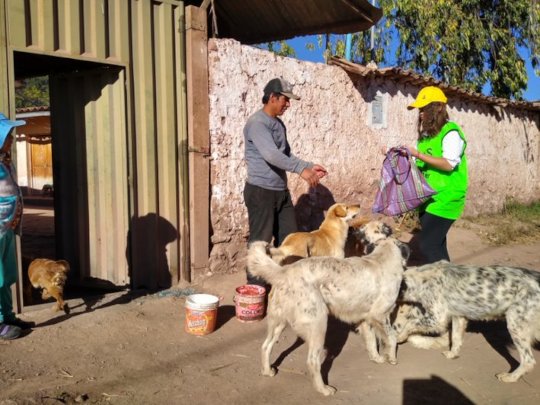 The Covid-19 pandemic is affecting the entire world, and Globalteer is no exception. While many of our projects are on pause due to government-mandated lockdowns and our partners cannot accept volunteers, in both Peru and Cambodia, we are still managing to assist our communities, while respecting social distancing.
Peru – Peru Animal Welfare Society (PAWS) Project
Due to Peru's strict lockdown, most restaurants in Cusco have been completely shut down for more than 2 months. Many street dogs without homes rely on these restaurants and their scraps for a steady supply of food, and without this source of a daily meal, the welfare of these dogs is far worse than it was before the pandemic.
In one of the villages where we have been running dog welfare campaigns, a local citizen has taken it upon himself to make sure that the village dogs are being fed every day. Our staff began working with Froilan during the lockdown to help provide him with food for the dogs, and we spoke to him about becoming a "Dog Warden" for PAWS, meaning that with our assistance, he will be in charge of making sure that the dogs in his village without homes get the care that they need. We are looking forward to our partnership and to have Froilan as part of the PAWS community.
With harsh restrictions still in place, we will continue to do what we can to provide for the dogs in our community village. Once restrictions are lifted, we will begin our traveling campaigns in the mobile clinic once again.
Cambodia – Helping Hands Cambodia Project
At HHC school in Siem Reap, we may not be able to continue in our normal pursuits, but the health and well-being of our students is now, more than ever, our key concern and responsibility. After numerous discussions with the Village Chief and Commune Leader, we're very happy to report that we've been given permission to visit our students at home.
Our dedicated team, armed with soap, toothpaste, workbooks and homework are out and about, making visits to each family. Beginning with thorough lessons on handwashing, they are then checking in to see how our students and their families are coping at this difficult time. Reminding them of the importance of good hygiene, spending some time practicing reading and writing with the students, and setting homework and activities for them to do over the coming week.
We're so grateful that despite these uncertain times, we're able to maintain a strong support role in our local community and keep the vital connection between students and teachers alive.
We look forward to welcoming volunteers to our wonderful projects once conditions allow. For more information about any of our initiatives and projects, please visit www.globalteer.org. Thank you for your support!