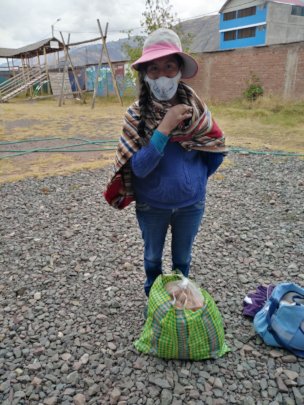 Food Deliveries
Because Picaflor still cannot open its doors due to government regulations, over the last few months, we have been caring for our students and families in Oropesa in other ways. Thanks to some of Picaflor's generous donors, we have been able to assemble food packages for our students' families that are most in need. These are families who are struggling to find work during these difficult times and have little or no other forms of financial support. Luz, our project manager, along with our kitchen staff, has been putting together bundles of essential items that our families can use to ensure everyone has food on the table and delivering them each month. This program will continue until we are able to re-open our doors and begin serving hot, healthy meals to our students once again!
Sights Set on 2021
The Peruvian government is estimating that they will re-open schools in March of 2021. Therefore, we are setting our sights on this date for our official re-opening of Picaflor and initiation of classes for the school year. We will be ensuring our hygiene requirements and practices are up to code on our site, and we will make sure to keep our students, teachers, staff, and volunteers as safe as possible. We will also be keeping up to date regularly with any news from the government regarding any changes to their plans for next year.
There is a chance that the government will allow playgrounds and outdoor recreational parks to open much sooner. If this is the case, we will at least open Picaflor's play park to the community so that our students can get much-needed playtime and exercise, while still remaining in a safe, outdoor environment.
Until our doors officially reopen, we will continue serving our community, and we look forward to seeing our students and volunteers on Picaflor's grounds once again!
Thank you for taking the time to read our update, and as always, thank you for your continued, invaluable support. If you would like to donate, and we hope you do, please visit our page to do so!