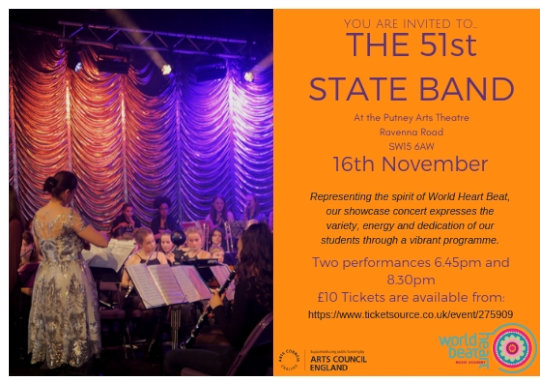 Welcome back to World Heart Beat! We are thrilled to continue to grow and to develop the young jazz musicians of our future.
Further to an invitation by Baroness Floella Benjamin OBE, it was an utter pleasure to take several of our students to give a jazz and gypsy fiddle performance at Speaker's House in October. The venue was an amazing place to perform in and to both showcase the talent of our students and to give the audience a real sense of how their lives, and the lives of hundreds of others, are being transformed through the power of music.
You might be interested in seeing a short video from the evening: https://youtu.be/uRxADEHaIW0
We would love to invite you all to our annual showcase concert on Friday 16 November 2018 at 6.45pm or 8.30pm featuring the 51st State Band. It promises to be a thrilling and uplifting experience, expressing the variety, energy and dedication of our students.
You might be interested to learn that the 51st State Band came from a doughnut party held in a small living room one afternoon in the year 2000. Since then, the band has grown to well over 100 young musicians and is perhaps the largest and most vibrant community concert band in London. Young musicians of all ages, backgrounds and abilities learn together and play in a band where every member is a vital part of the complete whole.
With a vibrant programme, ranging from jazz standards and film scores, to the greats of Stevie Wonder and George Gershwin, our annual concert will be a sensational and inspirational evening of music.
World Heart Beat has some bold plans to double its impact and reach hundreds more children and young people every year. Having been granted 750m2 of space in Embassy Gardens we have an incredible opportunity to expand and enhance our work. But we need vital financial support to make this space come to life. If you or anyone you know might be interested in playing your part in shaping London's rich cultural tapestry, whilst helping to transform children's lives, please do support us here through GlobalGiving. We need and value your support! And very excitingly, one of our supporters has agreed to match any donations we receive up to a total value of £25,000, so this is a great way to double the impact of your gift. We would be delighted to hear from you!