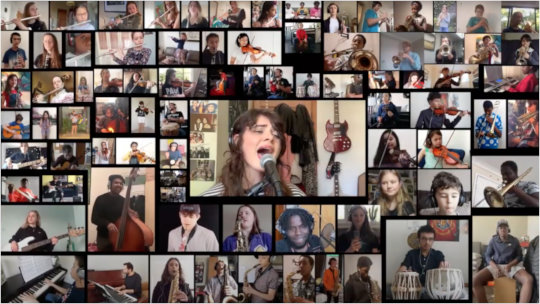 We hope that you and your loved ones are all keeping safe and healthy, and we would like to bring you some news of what World Heart Beat has been up to in this extraordinary time.
"In these times, oneness, and the feeling of community and humanity are so vitally important. Music has the unbelievable magic of being able to bring these feelings into our lives. I can't imagine a life without music."
Sahana Gero, World Heart Beat Founder and Artistic Director
We believe this is a critical time for us to support our students, and therefore we have taken World Heart Beat Music Academy online and are offering music making sessions to include 1:1 lessons and supported practice, as well as social sessions, for EVERY young person. That's 350 students and 475 sessions every week!
The coronavirus crisis is making life very tough for some young people, particularly those living in challenging circumstances who may feel heightened levels of anxiety and loneliness. Being unable to continue with music lessons can make our young people feel disconnected from not seeing their World Heart Beat 'family' who provide them with support which they may be missing at home. It's also a change to their weekly routine at a difficult and isolating time, and a discontinuity of their music learning which gives them a sense of purpose and helps boost self-confidence.
With these factors in mind, World Heart Beat Music Academy has launched its GlobalGiving BE THERE campaign to request funding to support all our young people with the opportunity for music learning, particularly those living in difficult circumstances. Please help us by supporting our campaign now!
To help drive awareness of our campaign, more than one hundred of our young musicians have come together online to produce their own lockdown music video #worldheartbeatathome. Stevie Wonder's legendary and uplifting classic 'Another Star' was chosen; the perfect track to reflect the academy's joyous and passionate spirit to our friends, supporters and the world at large. We are delighted to share our music video with you here https://worldheartbeat.org/lockdown-video-fundraiser/.
We also have two further video projects to be announced shortly, which are expected to reach an international audience when shown later on this month. Please watch this space for more updates!
We have been given the amazing in kind support by A-lister Nick Cohen (top UK session bassist and songwriter whose credits includes Eurythmics, Roy Ayers and Massive Attack) who arranged and mixed the audio of one of our lockdown videos, and by two times Grammy award winning Producer-Mixer-Engineer Craig Cameron (UNKLE, Adele, Annie Lennox, Grace Jones, Tina Turner, Suzanne Vega, Amy Winehouse) and edited by Michael Csanyi-Wills, award winning composer with credits that include feature length film scores.
We are proud to announce our partnership with ZEDRA who are sponsoring our Jazz development programme. ZEDRA's partnership will fund the participation of eight talented young musicians with significant promise, for whom support is needed to enable them to reach their full potential. Our jazz students are receiving tuition from exceptional musicians even during this lockdown period.
Our Widening Horizons Programme supported by the Jack Petchey Foundation for young volunteers (aged 15 - 25 years) has now launched. We are delighted to announce our Heartbeat Collective, a group of seven young people selected for their passion for music and a desire to make a positive contribution to the academy and the local community.
To get you in the mood and to awaken the vocal chords, the highly talented vocalist and lyric soprano Ilona Domnich has started her Morning Wake Up classes which are FREE and open to all young people, every Wednesday morning. Please email us if you'd like further information.
We have taken part once again in the Wandsworth Arts Fringe (8 - 24th May), the annual festival highlighting local music, arts, theatre and dance this year from the comfort of your own living room. We contributed six performances from our World Heart Beat musicians including vocal wake up sessions, guitar and piano solos, a voice instrumentalisation session and our lockdown video.
We are also delighted to announce our new, updated website with all the latest information on music learning options and teacher blogs, news and updates, fundraising activity and within the local community.
We hope that when brighter days return, our young people will be well and happy, and ready to come together once again to play and perform for you again in person!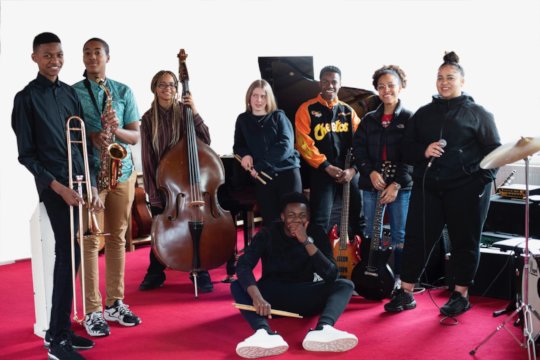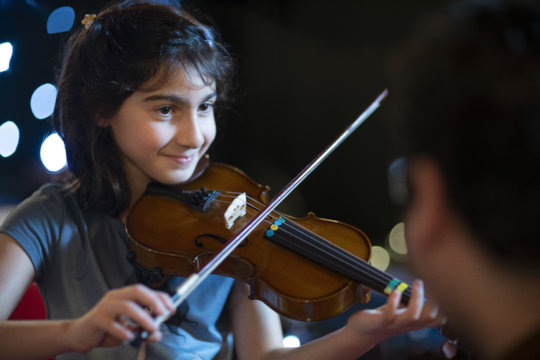 Links: