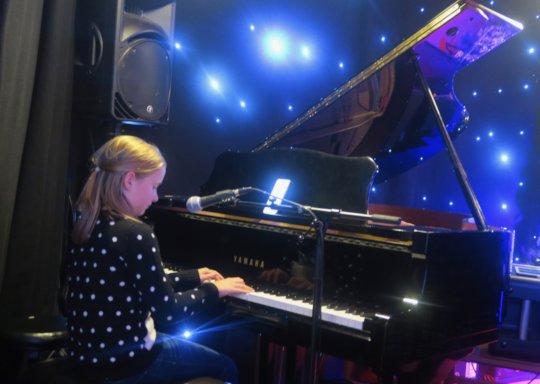 Thank you so much for your generosity this past year. We are truly grateful for your support which has opened up the world of music to so many children. Not only that, it has enabled these young people to receive training and develop their innate talent.
We do appreciate everything you have done and our doing to make their dreams come true. You are providing a platform from which they can spring into ever greater things through the universal language of music.
We have had an amazing year at the academy. It has been vibrant, sometimes challenging but rewarding in so many ways.
We started the year with a flash mob at Southfields shopping centre. Everyone of all ages took part. It had a Brazilian flavour since we were fortunate enough to have our good friend Pepe with us and also Almir a maestro on the caipera guitar. Also in the current time of unrest in Rio de Janeiro, our Youtube flashmob has been shared to give people peace and hope and as a reminder of the beauty of culture.
Flashmob Southside Shopping Centre https://www.youtube.com/watch?v=LsTmMCdw6Xw
We went on to give numerous concerts in a great many different venues including our tango summer school performance at the renowned 606 Jazz Club and the 51st State Band concerts at the Putney Arts Theatre. The performers were these young people that you are supporting and to see how their confidence grows with these opportunities is really touching and amazing. We have also hosted many smaller events at the academy such as piano parties, violin recitals, jazz concerts and friends of the academy nights. We would always welcome you to these. Just email in advance so we know you are coming.
51st State Band in concert November 2017 https://youtu.be/nzfeMn9fjlA
Two new ventures this year which have been enthusiastically embraced is the setting up of a New Orleans 2nd line band, complete with costume to go out and provide a carnival atmosphere. We have also introduced a classical orchestra under the direction of Michael Csányi Wills, and Michael is also writing and arranging his own original compositions and film scores for our World Heart Beat orchestra. We have a great little recording studio so our students can write their own music and record. We are proud of our students past and present who are doing so well at their universities and colleges and many have continued in the musical field. Quinn Oulton has just launched his first debut solo album. Quinn has grown up through World Heart Beat since a very young boy and we are very proud of his achievements please check out his new music video- its beautiful!
Quinn Oulton Debut album -music video https://youtu.be/AHeSROX4W1E
Another wonderful award we just recieved before the close of the year was the Kids Count, Inspire the House best Community group award. Thank you for this lovely honour which always inspires and encourages us with our work.
We could go on and on with news items but most importantly we have to thank you for supporting the academy and investing in the future of our young people. We could not begin to give the quality of tuition or the facilities for development without your help, so sincere thanks from everyone at World Heart Beat. We are really looking forward to 2018 and the opportunities and developments that it holds and wish you a really happy and fulfilling New Year.