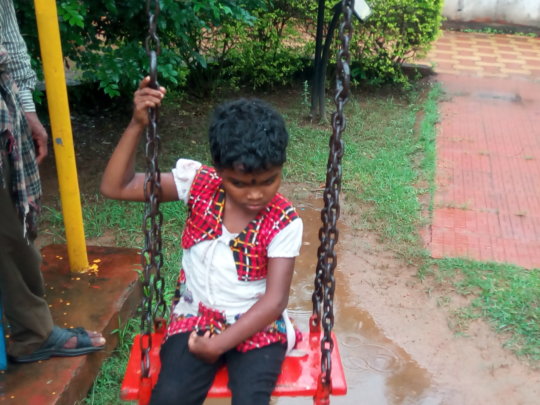 Last quarter Aaina had a wonderful experience of being a part of special online fundraising for Indian NGOs during Joy of Giving Week (Oct 2 to Oct 8) in partnership with Global Giving and Impact Guru. Aaina was able to raise $2700! It gave Aaina an opportunity to explore the power of local network. The funds were targeted to meet the needs of 200 most vulnerable children including children with Cerebral Palsy and Autistic children in getting quality education. Funds have been dedicated to provide adaptive learning materials and provide training to special educators. Thank You Global Giving and Impact Guru for providing this platform.
Aaina is now dedicate to raise funds specifically to help deafblond children Deafblind is a separate category of disability requiring special attention. Children with particular disability in society have been refrained from participation in social, educational and economic systems. Their condition puts them in severe isolation. Aaina has taken an initiative to promote inclusion of deaf blind children and children with multiple sensory disabilities through extending support in education mainstreaming by collaborating with SSA-OPEPA and also through explicit programmed planning for the children.
It has not been easy at all first to identify the children in the remotest areas and then convincing parents of the children, most of them uneducated that their deafblind children are capable of much more if efforts are put in. Nonetheless, our dedicated staff Ms. Jasinta Tirkey, special educator and Ms. Gayatri Bisoi, community organizer have been on their toes to visit community every single day to provide therapy to the identifies children and transfer skills to their care givers and mothers. Other activities include physiotherapy through home visits, teaching children daily living skills such as brushing teeth, taking bath, hand washing etc., and through resource centers further develop their motor and communication skills. Two resource centers have opened where children are provided therapy. Slowly but steadily, there has been a big progress in the lives of the children and attitudes of their caregivers and community. From the state of hopelessness by the parents to a state of willingness to get their children enrolled in school has been seen in few cases.
Arpita, a 6 year old girl with deafblindness and locomotor disability could not get up from her seat in the beginning now walks confidently holding a wall. Her mother had never put in the dedicated efforts to improve her skills. But seeing the progress she is now excited and willing to get Arpita get enrolled in school.
Aaina is working with 25 such children. Though there has been progress, Aaina needs materials for its resource centers. Tactile materials, aids and appliances, special chairs for children with Cerebral Palsy are few of the major requirements to develop the skills of the children more effectively. As such funds to meet the needs are of prime importance. Also, parents of the children often do not have enough cash to pay for transportation to visit resource center.
Aaina requests its current donors and other well wishers to donate on Giving Tuesday, Nov 29 and make an impact in the lives of one of the most marginalized children. The funds raised will be utilized to get required materials for the resource center for children with deafblindness and multi sensory disability and to provide transportation allowance to the parents of the children to visit resource center.
So PLEASE DON'T MISS IT THIS GIVING TUESDAY. It is MatchaMillion Campaign. Bill & Melinda Gates Foundation will match up to $1 million in donations on GlobalGiving! There will be 50% match with $500,000 in matching funds! Thanks so much in advance and as always please spread the message among your friends.