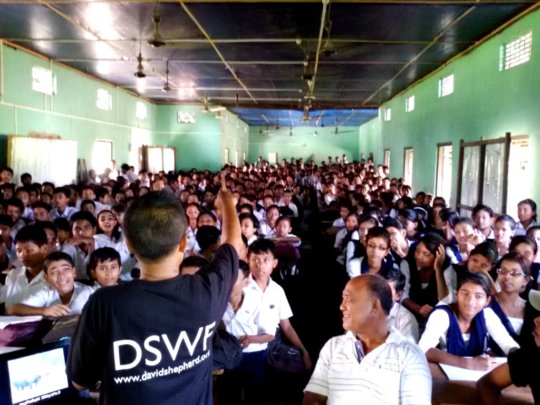 Protecting tigers in the wild is about much more than regular anti-poaching patrols. It's about changing hearts and minds, helping every stakeholder appreciate the value, not just of wild tigers but of wild spaces, for them, their communities and for the future. For over twenty years the team at DSWF have been working with Assamese conservationists to find the right balance between park protection, community outreach, undercover intelligence and education in the battle to save the tiger.
Since 2007 the Nature Orientation Programme has been engaging children from the fringe villages around Assam's national parks. Students are selected from families living below the poverty line, those who have been involved in human-wildlife conflicts and those from areas most effected by poaching or close to ecologically important sites.
The aims are to create awareness about the importance of wildlife conservation, to nurture a group of enthusiastic young conservationists who return to their families and friends to spread a positive message of conservation and who help others develop skills for taking up conservation efforts in the future.
In 2015, 80 students joined the programme.The three day course, run by ten staff and volunteers, revolves around field work (to gain an appreciation of wild places and wildlife) and learning through drama and conservation workshops. One of the students, a boy from a family whose cattle had been attacked by tigers, was reluctant to join the programme but at the end of the three days was even more reluctant to leave! He returned to his family with a positive attitude and some simple ideas about how to prevent wildlife conflict in the future. One of the simplest was to ensure that domestic dogs were kept on leashes during times of flooding in the park so that they would not chase and kill deer (important tiger food) fleeing from the rising water levels.
The alumni of the 2015 programme (and those from other years) still meet to discuss ways to spread awareness about the importance of wildlife conservation and many have gone on to study conservation at university. Along with the children from over 70 schools who are visited by the Rhino and Tiger Goes to School programme, these young people are the conservationists of the future taking on the baton of responsibility to protect what is too precious to lose.
Thanks to your generous support we can continue to reach out to young people and help to change the hearts and minds that will ultimately protect what we all hold dear. And, when you consider that just £50 ($66) can help us reach 300 children, we think you'll agree that it is money very well spent.
Links: