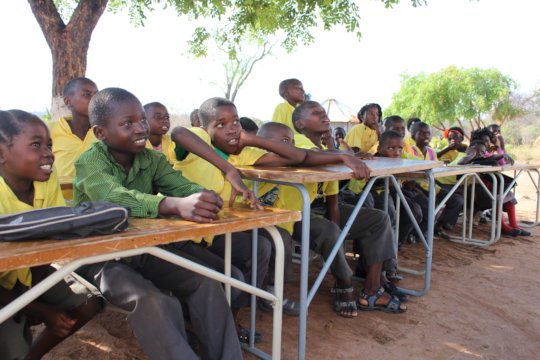 Thank you for supporting David Shepherd Wildlife Foundation through GlobalGiving. As well as providing you with your bi-annual Conservation Education project report full of fantastic news and results of this project we would also like to inform you about an exciting campaign.
The David Shepherd Wildlife Foundation has always believed that people lie at the heart of conservation and that education and community participation is fundamental in ensuring a sustainable future for both people and wildlife.
We are proud to run an influential and far-reaching UK based conservation education programme alongside ground-based projects across Africa and Asia inspiring and motivating children to become the environmental leaders of tomorrow.
Whilst the Covid-19 pandemic initially hindered education initiatives, our ground-based conservation partners have adapted to ensure our engagement with local communities and children has continued to make an impact.
Here are a few highlights of this year's achievements:
In Russia, DSWF supported a number of online lessons, an art competition with 922 entrants and 90 ecological lessons at an eco-centre where 1,622 children received in depth knowledge about the Amur tiger, its biology, ecology, habitat, threats and conservation methods.
The education team we support in Guinea, despite restrictions, were still able to reach around 280 children to foster positive coexistence between humans and chimpanzees in remote areas.
In Kyrgyzstan, DSWF funding was redirected towards developing a new remotely delivered conservation education program for children. This initiative aimed to encourage positive values for nature and to equip children with knowledge as a basis for conservation action and continued learning. The team were able to reach over 300 children and their teachers from 18 rural schools.
DSWF have been working to increase conservation awareness to empower communities to protect wildlife in Zambia. DSWF supported a series of teacher training workshops to empower and equip 50 teachers to become Conservation Club Leaders. The teachers have since established Conservation Clubs with their grade 5-6 students and began delivering weekly environmental classes in an extra-curricular setting to more than 1,000 children.
In the UK, DSWF's education manager has continued to visit schools to provide free of charge assemblies, talks and workshops to raise awareness about endangered wildlife and conservation. We believe that the young people of today are the wildlife guardians of tomorrow, and we aim to inform, encourage, and inspire children, in the hope that when they grow up, they will have an interest in the natural world that will last a lifetime. Despite the closure of schools due to Covid-19, virtual school talks were prepared, and 51 virtual talks were given between September 2020 and 31 March 2021. Despite its virtual format, our international youth art competition, Global Canvas, received 2219 entries from 26 countries and the competition final was held online with people attending from around the world in their classes and schools.
How can you help this vital work continue?
This week GlobalGiving are hosting their annual Little by Little Campaign this means that all donations donated through GlobalGiving to David Shepherd Wildlife Foundation between Monday 13th and Friday 17th September will receive 50% match funding from GlobalGiving. So, if you donate £20 today, we receive £30 towards Conservation Education making your contribution work that little bit harder!
We are hugely grateful that you have chosen to support us to help turn the tide on extinction. Thank you.
Little by Little Campaign T's and C's
Campaign runs from Monday 13th to Friday 17th September.
Donations up to the amount of $50 / £36 will be match funded by 50%.
One donation per unique donor will be match funded.
New monthly donations set up this week will be 50% match funded and your 4th donation will be 100% matched!
All DSWF GlobalGiving projects are eligible for match funding.