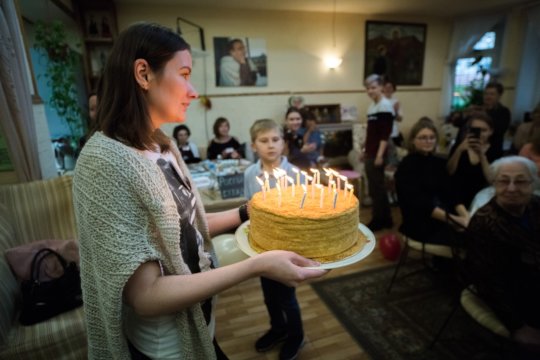 In the First Moscow hospice, which turned 25 in October, we spent Sunday with the concept of Last Christmas — when all family members gather in a large house, make decorations, decorate the house and do cleaning. At the same time, they enjoy spending time together and prepare for the climactic event in a relaxed atmosphere.
Such a friendly gathering and celebration of life would be the best gift on the birthday of the founder and first chief doctor of the First Moscow hospice!
We were worried that it would be empty — and even wet, unpleasant snow. But there were almost as many guests as registered. This is wow! After all, the First Moscow hospice is the warmest house in which it is not scary, because people love each other here.
Volunteers, neighbors, employees of Vera Found, doctors, hospice residents and their relatives all gathered under one roof. Among the guests is Yulia Karabanova, who 25 years ago became one of the first hospice volunteers. This holiday is special for her. Flipping through an album of archived photos, remembering faces.
Someone washes the Windows outside, someone washes the walls in the food hall inside. One of the hospice residents is Smoking in the hallway and petting a huge Labrador. Someone changes records, someone is invited to dance. Here and there flash "Want and help" t-shirts, children make chocolate candies, and the candles on the cake burn out by themselves.
It was an amazing double holiday-the anniversary of the First Moscow hospice and the birthday of Vera, who would have turned 77 on this day.
All these three months we held hands, were close, talked about important things and tried to fulfill our wishes. And we got even closer to hospice patients – our colleague Olga even celebrated her birthday there.
"I don't really like my birthday. I just don't like it.
When my friends asked me how I would celebrate it this year, I remembered that I had celebrated my 33rd birthday at the Tsaritsyno hospice (I worked as its coordinator at the time) — and realized that it was actually my dream birthday.
I decided to celebrate my birthday at the Rostokino hospice.
It was scary. You come to a hospice with a personal holiday, you don't know how people will react. In addition, I was warned that the hospital is "heavy" - when residents are not able to sit and, especially, walk; someone, for example, sleeps almost all day. I thought two or three people would be fine. But on the appointed day, a crowd gathered! Someone went into the hall in a chair, someone on the bed. One patient said, " I'll sleep here, but I'll Sleep with you."
I called my friends, and everyone did something to make the holiday happen: I bought cheeses, fruit, ice cream, flowers, cooked fragrant Uzbek pilaf, and cooked compote. They brought Monya, a volunteer dog.
Every hospice resident wished me well: "I Know what's most important."
The coolest thing is that Sergey and Irina arranged a concert.
Imagine what the relatives of those people who are being prepared for hospitalization thought: they go to the hospice — and there Galanin plays the guitar and everyone around him smiles. Even the guards.
One patient at first sat on the sidelines, her arms and legs barely noticeably twitching in time, and then as if she went into a dance! No one wanted to leave — they wanted to live and dance."
Thanks to the help of volunteers and benefactors, hospice residents had an amazing autumn — with its rustling leaves, baked apples and short walks. And after the fall came the pre-holiday, cozy winter time and a magical New year.
We want to tell you about the little things that made the residents of different hospices happy this year — about a rowan branch, Dickens, the black cat Herman and the orange horse Tolyunchik.
The interactive postcard contains 12 stories from different hospices — https://www.fond-vera.ru/ny2020 — lick on the asterisks and read the stories that happened because of you.
Thank you for being with us all this year and filling hospices with light.
Our foundation has been spending the average of 159889$ to cover for the following needs of Moscow hospices:

01.10.19 through 31.12.19

Meals – $2129
Medical equipment and its service – $6338
Medical equipment and its service - $19716
Coordinators' work – $123393
Other expenses - $8313