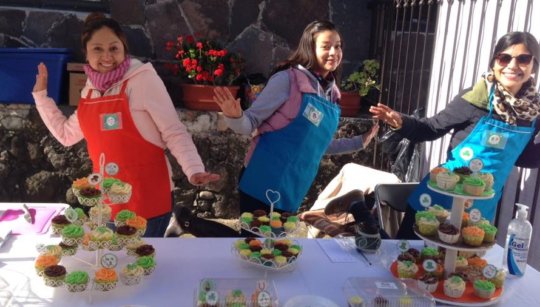 Building a cupcake making business has many challenges. Some may be obvious, others not so obvious. Please let me explain...
It is almost six months now that Carla and her sister Azucena have been practicing their craft. They have had dedicated, wonderful volunteers like Laura and Linda, helping them improve their chocolate and vanilla recipes to make the cakes moist, denser and with amazing flavor, allowing too for the high altitude recipe adjustments necessary for San Miguel de Allende. Toppings are the most fun! Smiles all around while creating velvety smooth buttercream, in many, if not all colors of the rainbow with sprinkles and adornments to present the cakes in a way that makes them attractive and desirable for holidays and events such as Christmas, Super Bowl, Valentines Day, Special Birthday Celebrations, St. Patrick's Day, to name a few.
The most successful venue for sales so far has been the Saturday Organic Market where one Saturday each month they are granted a table spot at no cost (as they represent a non-profit organization) to display and sell their delightful creations. So far you may be thinking, the business doesn't sound all THAT challenging. But making and decorating the cakes is only the tip of the iceberg, there is so much more that goes on behind the scenes.
First challenge; planning what's needed, sourcing, ordering/shopping, and paying for the ingredients required for baking day. Some of the ingredients can only be found at a store in a town 40 minutes drive away.
Second challenge, arranging for the space at the market on the dates prior to the upcoming special holiday dates.
Third challenge; transporting cupcakes, tables, umbrella for shade, table clothes, napkins, platters and stands for display, cash float to make change, boxes to pack cupcakes for takeaway, business cards, etc. etc. and remembering all of these details and more so that nothing important gets left behind.
Forth challenge; marketing and selling to the public on the day.
Fifth challenge; gathering everything back up, bringing it all home, and preparing the supplies for the next time.
Sixth challenge; counting the sales proceeds, paying those who you hired to help you that day while taking into account the budgeting required for overhead, supplies and ingredients.
Again you might be thinking, well maybe its challenging but not really all THAT challenging! Well think again...Carla and Azucena cannot hear and cannot speak. They are deaf and they are mute. They live in Mexico, a country that does not provide the opportunities for those with disabilities to receive a proper education. Their family has very limited financial resources. More challenges, or perhaps more opportunties. The sisters certainly haven't allowed their disability, their lack of education or their lack of resources from believing that they can make their dream a reality.
Carla and Azucena, and the people who volunteer to help them, look at these challenges as opportunities for them to practice, grow, and learn. Practice helps their challenges seem less daunting, especially when it requires them to be up front in a public space with little means to communicate with potential buyers. It helps them grow by building self-confidence and providing them with the knowledge that they can do anything that they set their minds to. It allows them to learn new things by first being shown how and then doing for themselves. And as each market day passes the challenges seem smaller and easier to overcome. This is how building a business empowers two deaf young women in Mexico.
Links: