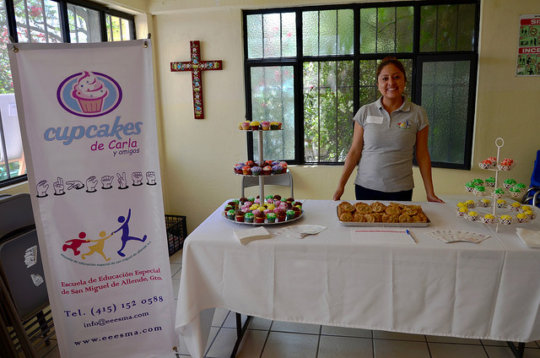 During the past school year many wonderful projects, all represented by items handcrafted by the students themselves, grew and grew until on March 15th the Spring Bazaar was born!
Friends and supporters were invited to attend, refreshments were served, a lovely musical interlude was performed and best of all, the students were all smiles and full of pride as they showcased thier special creations for sale! Their products were made with the help of expert guidance in woodworking, jewelry making, sewing and baking workshops at the school. And sales were indeed brisk. You can only imagine how the students self-esteem levels were raised as a result of the honest and credible feedback of those invited. A portion of the sales proceeds goes back to each student, so that is another good reason for smiling!
We have witnessed a very steady upward trend in the quality and market appeal of the students products. As they continue to learn and improve their craft plans also grow for future business prospects to help each of the students become self-sufficient and independent in their adult life.
A picture tells a thousand words, as they say, so please follow the link and see all of the pictures first hand.
https://www.flickr.com/photos/ronfel/sets/72157679977791680/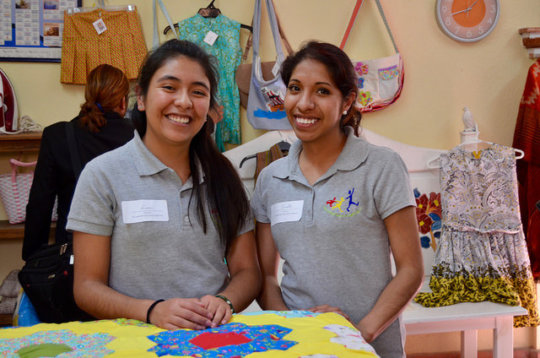 Links: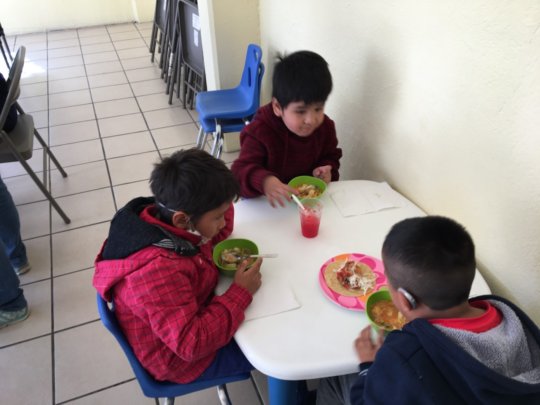 Eric arrived to school with his father Paulino for the first time this year last Thursday. It was obvious that both were excited and very pleased to be there. All at school were also very pleased to have Eric back as he is a special child who, although profoundly deaf, engages most around him. Eric immediately joined his fellow pre-school friends in class. Maricruz, a very expressive seven-year-old, was particularly pleased to see Eric back at school. With a big smile on her face she held up four fingers to indicate that this morning there were four children in their pre-school class!
Another particularly comical moment occurred later when lunch was served. Eric looked at his bowl of soup and, perhaps thinking that it looked a bit hot, began blowing on the small soup bowl to cool it off. The other three children watched Eric quizzically for a few seconds, then looking one to another, they all began blowing on their own bowl of soup! Too cute!
Paulino was provided the help he needed to pay for bus fares to bring him and Eric to San Miguel de Allende from Dolores Hidalgo, 25 miles away and an approximate one hour bus ride, two days each week. Although we had hoped for Eric to come three days each week, all agreed that this would be a good place to start. Twice a week to school is within Paulino's comfort level considering his work and other family obligations. We feel confident that starting slow and working up to more days is the best way forward. It has been our experience that the answer to a challenge will often present itself at the appropriate time, all that is needed from us is patience.
Thank you to all who have made this project possible; bringing Eric to participate in pre-school and to learn Mexican Sign Language. We will continue to keep you updated in the future as Eric continues to grow and thrive at Escuela de Educación Especial.
Links: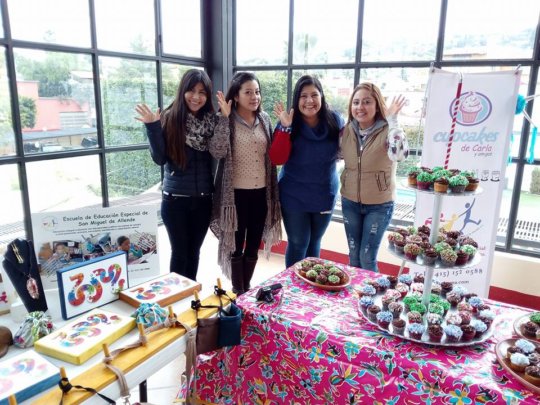 At this time of year we become increasingly aware of the importance of the support that community often provides to us and, in particular, the value to our well being that this support provides. This past December the students from the School for Special Education were invited to participate, along with other local artisans, in the UU Fellowship of San Miguel artisan fair. UU Fellowship is a community of socially aware and active members who have been big supporters of the school for many years and we are ever grateful. The artisan fair however gave the students a rather unique and generous opportunity to showcase and sell their handcrafts in a supportive and caring environment. This not only created business value but also provided encouragement and positive feedback, much needed and appreciatived by our students.
Older students, all Deaf or hearing impaired, attend Vocational Training Programs at Escuela de Educación Especial. These programs, instructed by volunteers for the most part, are a place where the students receive training in creative and marketable skills that will help each of them achieve greater independence in their adult lives. The students brought many of their beautifully handcrafted articles to the fair including creations from the jewelry making, carpentry and the sewing workshops. Front and center were sisters Carla and Azucena, both of whom are Deaf, presenting their beautifully prepared and wonderfully delicious cupcakes to sell at the event.
The fair was a big success, for our students and for everyone attending. We want to thank our friends at UU Fellowship for making this opportunity possible. The students are now even more appreciative of the value that the support from their community provides to them. Next, an important life lesson for our students...in order to truly demonstrate one's gratitude we must pay it forward. In early 2017 the students will visit ALMA, home for the elderly in need, to share smiles and bring joy to others.
Links:
WARNING: Javascript is currently disabled or is not available in your browser. GlobalGiving makes extensive use of Javascript and will not function properly with Javascript disabled.
Please enable Javascript
and refresh this page.