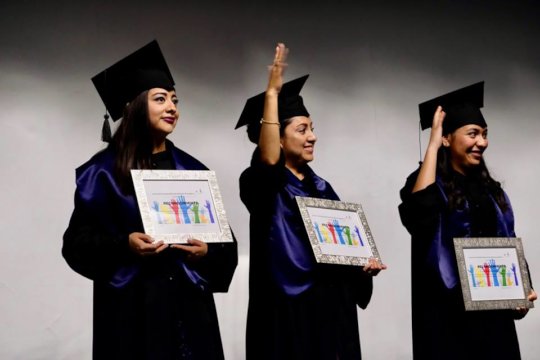 Many young people take high school graduation for granted. What could be more normal? Attend
classes, complete assignments, and before you know it you are on to the next exciting chapter in your
young life. It's not quite that easy if you are a young woman living in Mexico; especially if you are one who just
happens to be deaf.
Three young women at Escuela de Educación Especial de San Miguel de Allende challenged all obstacles
in their path, attaining their life dream of graduating from high school in spite of their deafness. Celebrations took place in San Miguel de Allende in April 2019.
It may have taken each of them much longer than most to reach this point; much longer than should have been necessary. Unfortunately they come from a place where their formative years consisted of languishing in public school, virtually untaught, because the teachers had no sign language. But with the help of tutors hired
at the school, one who is deaf himself, all worked diligently over the past three years to achieve this
educational success, to graduate high school. This is a huge milestone for them personally. Also one that their families' never thought possible and are now especially proud.
We are reminded that, even in this day and age, many young women around the world are not
encouraged to pursue an education. To be even more precise, we know they are discouraged from such
pursuits. To their families, often because of economic necessity or as a result of cultural or social
customs, girls are considered to be more valuable either working or marrying at a young age. On top of
this, there is an even greater challenge for a child born in a developing country and who is deaf. There is
little special education provided by the state, therefore there are few places where sign language is
available to communicate with the Deaf, let alone teach them. Escuela de Educación Especial de San
Miguel de Allende is one of the few non-profit organizations in Mexico that has taken a lead in filling this
exceptional need.
Carla, 37 years old, joined the school in 2014 as Teacher's Assistant for preschool aged children. At the time Carla was helping her mother clean houses. She is proficient in Mexican Sign Language and eager to
pass her special knowledge and skill on to others. Carla attended high school classes in the afternoon after work.
Azucena, 28 years old and Carla's sister, has attended EEESMA since it opened its doors in 2012. Bright,
inquisitive and with a happy disposition, Azucena has always displayed strong leadership skills. She
excelled in middle school and benefitted greatly from communicating with her older sister in sign
language at a young age. She aspires to starting her own baking business.
Laura, 20 years old, is quiet yet self assured. Intelligent and curious to learn new things, Laura's strong
subject is mathematics. Her dream, after graduation, is to pursue a career in sewing and fashion design,
assisted by vocational training and work transition programs at the school.
There is a renewed sense of pride and accomplishment shared by all at EEESMA. Young ones at primary
and middle school levels now have close-knit role models to look up to and to emulate. They too can see
first hand that their dreams of an education are within their grasp. The staff, teachers and director also
join in a shared sense of achievement. All the hard work has indeed paid off!
Join us in congratulating Carla, Azucena and Laura in their graduation! Join us in wishing them the
best that life has to offer! We know they can accomplish anything they set their mind to! And please consider joining us today by helping make education accessible to all children in San Miguel de Allende, regardless of their abilities, by sponsoring a deaf child to attend school in Mexico.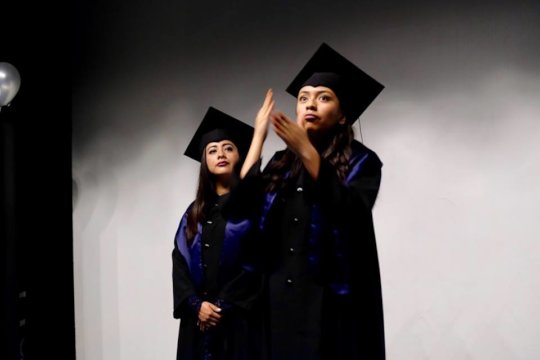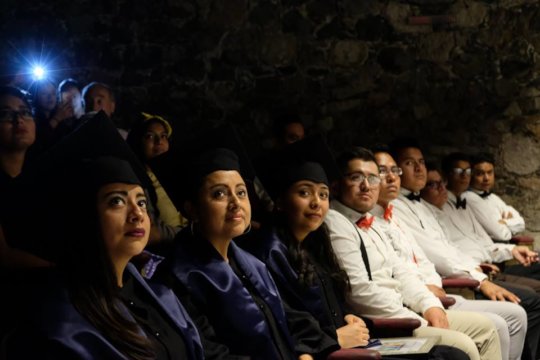 Links: